Sydney's Suggestions: Taquerias in San Diego
My rating on popular taco stands in San Diego
Tacos are like great stories. The perfect combination of ingredients that pair beautifully, a hint of surprise and acid to balance it out, and an element that wraps it all together.
Over my time living in California, I've tried a fair number of tacos. On one hand, I've tasted ones that are incredibly overpriced, dry, and overly salted; but on the other hand, some taquerias are so good that I can imagine myself eating them dishes everyday. In San Diego in particular, there are more taco stands than I can count. And although some are amazing, there are others that are heavily overrated.
Now, you may be thinking, why should I trust your opinion in particular, Sydney? Have you been making tacos ever since you were little? Did you go on a taco-tasting trip in Mexico over spring break? Unfortunately, the answers are no and no again. But what I can tell you, dear reader, is that we're just beginning our great food journey together. It's up to you to decide if you want to strap in for the ride.
1. Tacos El Gordo – 556 Broadway (5/5) 
Even though this article will feature some taco stands that I think are overhyped, I want to start it off on a high note, with my favorite of all time: Tacos El Gordo. An originally little restaurant in Chula Vista slowly grew into a larger business with their current location. Finally, it's big enough to feed the hundreds of hungry Californians that stroll through their doors every day.
Yes, this is going to sound cheesy, but the main reason I love this place so much is because of how evident the heart and soul is. Some of you may be questioning if I'm going through a midlife crisis. But just trust me; when you taste that dish, the one that had so much time and effort put into it, you'll immediately know what I'm talking about. Each detail in every taco, tostada, or burrito is so intentional. So let's break down two of my favorite tacos from Tacos El Gordo.
First up are the adobada tacos. Adobada is a widespread term that refers to meat marinated in a very thick, flavorful, chile-based mixture. Oftentimes, like at Tacos El Gordo, the meat of choice is pork. Slow cooked and roasted on a metal rod and then shaved off to order, this taco is a fan favorite: the adobada line often creeps out the door. Topped with a green cilantro crema and freshly diced white onions and cilantro, it's the perfect bite. The flavors overwhelm your pallet in a way that you just can't stop yourself from coming back for more. I have no complaints.
And next up are the lengua tacos. What you'll learn about me early on is that I often try a lot of strange things. If you remember from my hotpot article (if not, go read it), I've eaten sea urchin, chicken hearts, and even monkfish liver. So when I read the big sign inside the restaurant, eating cow tongue never really struck me as something strange. 
I'm so glad I have always gone into food with an open mind, as these tacos are a very close second. The beef is tender and flavorful, and is topped with salsa verde that adds the perfect, low burning heat. This taco is truly one to remember.
More often than not, restaurants try to get overly creative with their ideas, and soon enough, the flavors get muddled, and the dish is over seasoned. Tacos El Gordo don't try to make anything fancier or more complicated than necessary, a quality I truly admire. I love this place, and you will too. The end.
2. The Taco Stand – 621 Pearl St. (3.5/5)
As a Tower writer at Bishop's, I felt slightly obligated to add The Taco Stand to this article. Sure, it's good; but if I'm being completely honest, which you know I like doing, it's really nothing special.
But just to set the tone, let's start off with a few of my favorite items from this restaurant: the camaron taco and the al pastor burrito. In the taco, the shrimp seasoning is pretty spot on, and so far, after multiple trips to this place after school, the shrimp has never been overcooked, so good on them. The chipotle crema is a great addition. It adds a smokiness that compliments the grilled shrimp perfectly, and it adds the bit of acidity and creaminess that the shrimp is longing for.
The al pastor burrito is also pretty good. Packed with a lot of meat and a chopped pineapple (I'm not ashamed to say I'm a pineapple on pizza person), this is a great after practice meal. It's quite filling, and is flavorful to say the least. My only problem with this burrito is that I think it could use some sort of creamy aspect. Not necessarily a chipotle crema, but something else that could break the fattiness of the pork and compliment with the tartness of the pineapple. May I suggest a cilantro crema or a salsa verde?
Some of their other dishes are just lacking in other aspects (I can already feel the outrage emerging, but stay with me here). The carne asada tacos, for example, are really quite dry. For those who like spicy things like me, sure, we could just add salsa for some added moisture, but for everyone else, they are faced with an unbalanced taco. Overall, not a terrible place, just not an exceptional one either.
3. Puesto – 1026 Wall St (0.5/5)
Inhale, exhale. This is just me preparing for the backlash I'm probably going to receive from what I'm about to say, but I mean, an honest writer is an honest writer, right? The tacos from Puesto are overpriced, oversalted, and overhyped. End of story.
I went to Puesto with some friends for dinner a few months ago, and to say the least, I haven't been back since. Sure, you could make the argument that trying something just once isn't enough time to form an opinion, but I could also tell you that one of the main priorities of a restaurant should always be making a good first impression to their guests. And the first impression they gave me was not good.
We started off the meal with some chips and salsa. The chips were fine, and the salsa was mid, but when I got into the tacos, everything went downhill from there. I ordered three tacos: the chicken al pastor, the short rib quesabirria, and the tamarindo shrimp. So let's break it down.
First up we've got the chicken al pastor, which was overall just very, very salty. Although the flavor of the marinade wasn't bad, the chicken was drenched in the same, monotonous flavor of salt and an occasional kick in the back of your throat. I hesitated to put salsa on the taco in an attempt to save it because of the chance that it would get saltier. I was right.
Then came the short rib quesabirria, which I was the most excited to try. I, like many others, had watched this taco blow up on TikTok, so when I saw it on the menu, I ordered it in a heartbeat. Unfortunately, I was equally as disappointed. The idea of the quesabirria is truly a great one, but it seems like the chef didn't think about how the flavors of the cheese and the ribs would blend together. (No, I'm not a professional chef, and no, I haven't been to culinary school; but I've watched enough episodes of Top Chef, MasterChef, Chopped, and all of the above, to pretty confidently make these statements.)
And finally, we have the tamarindo shrimp taco, which actually wasn't too bad. I was pretty surprised when the shrimp was well cooked, and the tamarind sauce added a nice smokiness to the shrimp. (If you can't tell already, I have a thing for shrimp and smokey sauces.)
Could I have just gotten a bad batch? Maybe. But will I be going again? Most likely not. In short, I don't recommend.
4. La Playa Taco Shop – 3973 Mission Blvd (4/5)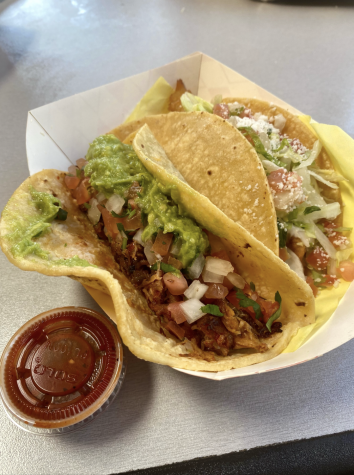 Sure, I may have sounded a little harsh in the last one, but now, let's move past subpar tacos and towards what I think is the best fish taco in San Diego.
I've been to La Playa Taco Shop countless times: after field hockey practice, post-bike ride, you name it. Their dishes just have the familiar taste you crave when you first think of tacos. So let's talk about a few of my favorite ones!
First up is the fish taco I was raving about earlier. No joke, it is the best fish taco I've ever had. A lot of taquerias struggle with getting the right crisp on the fish while keeping it flakey, but this place knows their stuff. The soft corn tortilla paired with the flavorful Mexican rice, crunchy lettuce, tomato, and acidic tartar sauce perfectly compliment the fried fish.
Another one of my favorites from La Playa is their carnitas taco. It's not overly salty, and they pack a good amount of meat into the tortilla. I also think their salsa is pretty good, even for all of you spice-devils-in-training. It's light, has a slight kick in the back of your throat, and definitely makes the taco a favorite for me.
Sure, these tacos may not be as authentic as the ones from Tacos El Gordo; but they're good all the same, especially if you don't want to drive all the way to Chula Vista. It's a great little spot.
5. El Rey Moro Taco Shop – 2710 Garnet Ave (4.5/5)
And speaking of great little spots, tucked away in PB is El Rey Moro, a mom n' pop taco shop (she's a poet?!). This little hidden gem has everything: breakfast burritos, tacos, soup, quesadillas, tostadas, you name it. And a little bonus: they're only five minutes away from my house! Let's end on a high note and talk about my favorite dishes.
We're starting off strong with the carnitas taco plate. Paired with diced onions, tomatoes, cilantro, and a lime wedge, customers can doctor up their taco to their liking. They also add a good amount of ingredients for the price. They also give you some refried beans and Mexican rice. What a classic.
And yes, I know it's not a taco, but I couldn't write about this place and not mention the pollo soup. My family gets this every time we order takeout from El Rey Moro because of the comfort and hominess of it. A slightly spicy chicken broth paired with tender, fall-off-the-bone chicken, garbanzo beans, and avocado makes for the perfect lunch if you add in some rice. It's so good.
But my absolute favorite part about this restaurant is their salsa bar. Dare I say they have the best salsa in San Diego? Keep in mind though, their salsa is HOT, even for me! So add at your own risk. Please support this little place; I guarantee you won't regret it.
And that's it! Congrats for making it through this pretty long piece. Sorry not sorry to you Puesto lovers out there; I just don't get the hype. So without further ado, here's to bright, acidic salsa and properly seasoned tacos. Until next time.