Chinese Hotpot 101
The guide to everything Chinese hotpot from an expert
What's your ultimate comfort food? A grilled cheese sandwich with hot tomato soup that just melts all your worries away (yes, pun intended)? A carne asada burrito stuffed full with grilled steak and creamy guac? For me, it's hands down, Chinese hotpot. 
I can't remember when my family first had hotpot on Christmas Eve, but what I do remember is, at my insistence, it has been our family tradition ever since. Hotpot is special because it's more than a meal; it's a culinary experience. 
First, given there are usually more than a dozen ingredients that go into the hotpot, it takes quite a while just to get ready for dinner. Next, since hotpot is the type of cuisine that you cook as you eat, it, in a way, forces you to slow down from your everyday busy life for a couple of hours. Last, hotpot is usually enjoyed by friends and family gathered around the table to cook and eat while catching up and enjoying each others' company which makes it so very memorable. 
While having hotpot is good at restaurants, in my humble opinion, it is so much better at home. The ingredients are fresher and more organic options are available. Especially during the raging pandemic, some are not comfortable eating at restaurants indoors. Having hotpot at home means you can actually hang out with friends and family with less concerns. 
If all of the above have intrigued you to cook hotpot at home, you are in luck. I am about to share with you everything that I've learned from the expert, aka my mom. 
Step 1: gather your equipment
Hotpot is usually cooked on a table, and therefore, you will need some kind of a portable cooktop. There are small-sized induction cooktops as well as small gas cooktops with portable gas cans. You can also use an electric hotpot like my family, that can easily be plugged into an outlet. 
As for the actual pot, it can be as simple as a shallow pot you already have at home. If you want to have a hotpot with two flavors of soup side by side like my family does, buy a pot with two compartments. They can be pretty easily found at a Chinese supermarket or ordered online (the one my family uses looks like this).
Step 2: the soup base
There is no hotpot without a good soup base. It has to serve as the perfect supporting cast and it should be flavorful without overpowering the natural flavors of the meat and veggies you're cooking. Luckily, there are lots of pre-made soup packs that are delicious. If you're a spice devil like me, I recommend the Haidilao Hot Pot Spicy Pack (the packaging looks like this). You can find it in most Asian markets like 99 Ranch Market and H Mart but also online (super accessible! Love it!). Out of the many spicy soup bases I've tried, this is by far my favorite because the flavor is not too strong, yet it is plenty spicy and "má" (if you know pinyin), which means numb in Chinese, which is caused by the Sichuan peppercorn.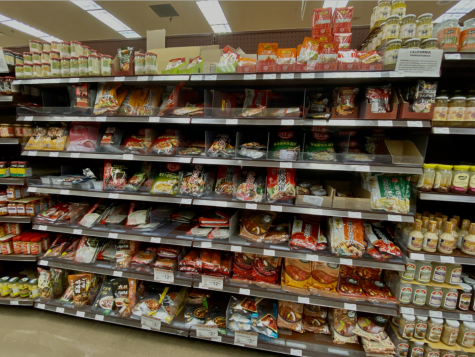 If you're not as crazy about spicy food as I am, don't worry, there are plenty of non-spicy soup bases out there. However, in my opinion, they're pretty much just salt and lots of artificial flavoring, aka, MSG! I would recommend you to just grab some chicken bone broth (not the regular chicken broth from the carton) and season to taste. My mom usually makes her own, and it is honestly so easy that I can do it. 
Here is her recipe for chicken bone broth: Put ten quarts of water in a stockpot and add the carcass of a roasted chicken, five slices of ginger, one tbsp of salt, and one tsp of white pepper (keep in mind that the amount of spice you put in is really up to your personal preference!). Bring it up to a boil on high heat, and then turn down the heat to medium and cook it for around 45 minutes. Voila: chicken bone broth. When you're ready for dinner, transfer your broth to the pot that you are using on the table and add some green onions and optional cilantro. It's simple but so good. 
If you are a vegetarian, hotpot can still be very enjoyable. Everything can simply be cooked in a pot of hot water flavored with a few slices of ginger, a stalk of green onion washed and cut in pieces a couple of inches long, and some salt and white pepper. All the other flavors will come from the dipping sauce. 
Step 3: the ingredients
Now we're getting to the good stuff! I think it is safe to say that there are an infinite amount of things you can cook in your hotpot, and there are a few big categories: meats, seafood, vegetables, and the extras. Here are some of my personal favorites.
Meat: 
All kinds of meat can be cooked in the hotpot; it all depends on your taste, cultural backgrounds, and preferences. The most common meats used in hotpot are lamb, beef, and pork, and they come frozen or fresh. Whichever you choose to use, you have to make sure the meat is sliced extremely thin and is cut specifically for hotpot use, or shabu shabu in Japanese. Fresh meat is much better in my opinion but not always available if you don't get to the market early during a traditional holiday. It is also more expensive than frozen meat but is completely worth it because it really makes a big difference in taste and texture. When cooked, fresh meat is more tender and soaks up the dipping sauce much better.
Here in San Diego, Korean and Japanese grocery stores tend to have better variety and quality selections of meat. My mom likes to buy the Mishima Reserve brand's "Top blade/shabu shabu American wagyu/thin." The beef is sliced super thin and is incredibly tender. There should be a brown circle sticker that says "Best for Shabu Shabu."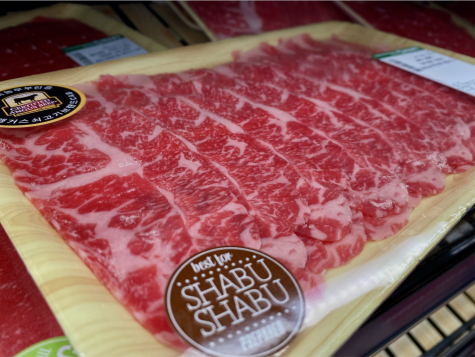 Seafood:
My family loves seafood (we are lucky to not be allergic to it), so we cook a lot of it in our hotpot. 
The most popular types of seafood that people cook in their hotpot are fish filets and shrimps. Any boneless and skinless filet of a white fish would be great. We also like to cook clams, and fish balls (meatballs made with super finely grinded fish) in our hotpot. There are many fish ball brands, but after lots of tasting, our favorite is the one by MushRoom (the packaging looks like this). It has sweet-ish fish roe inside that makes for a nice flavor and texture contrast. Don't knock it 'till you try it! 
One of our favorite seafood to cook in the hotpot is homemade shrimp paste. It's kind of hard to explain how to make it, but here we go! First, you have to find some small, uncooked shrimp that is already peeled, cleaned, and deveined. Defrost the shrimp if they are frozen, squeeze it dry, and with a cleaver (the big flat knife), smash each shrimp down with the flat side, and then smear the shrimp on your cutting board. At this point, the shrimp should be close to paper thin. When all the shrimps have been smashed, chop your shrimp for another 5 minutes until it is in a pasty state. Then, put your shrimp in a bowl and add some salt and white pepper to flavor it a bit, as well as a tbsp of cornstarch and a tbsp of water to help the shrimp paste bind together. That way, it won't fall apart during the cooking process. Now, give it a good mix, and you're ready!
Veggies:
Any vegetable you add into your hotpot will be delicious. What you choose is really all up to your personal preference. I recommend any leafy vegetables you like, such as spinach, napa cabbage, Chinese pea chutes, and any type of mushrooms. My personal favorite is enoki mushrooms. Chinese people also like to cook winter melon and Chinese lettuce stems.
I eat a lot of weird stuff like sea urchins, chicken hearts, and even monkfish liver. Yet even I was a little skeptical about eating Chinese lettuce stems. I finally gave in one night, and I was pleasantly surprised. It's really nice because it provides a neutral flavor to balance out all the more flavorful things you add. 
Don't pass out on the veggies! Chinese spinach is great; while I don't like regular spinach, Chinese spinach is different because the flavor is more aromatic, and it doesn't get as wilted and soggy as quickly. Winter melon is in lots of other Asian soups and tastes amazing in hotpot. It does take a long time to cook (I reference this more in Step 4) but is totally worth it. It also has a pretty neutral taste but is quite fragrant and delicate. Now for the mushrooms, I can feel the rolling eyes through the screen. Look, I'm not a mushroom gal either, but enokis are special! They're crunchy, and are the perfect little vessels for soaking in all the soup and chilis. They're like the pasta of the mushroom world and are arguably my favorite thing we add in.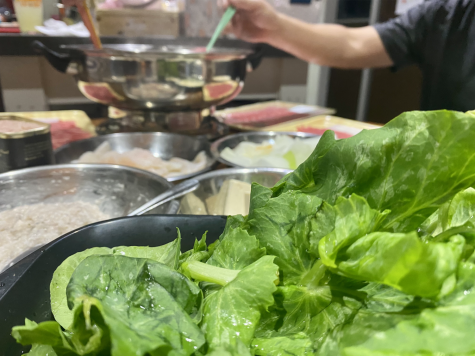 Extras:
You can literally cook everything and the kitchen sink in the hotpot. My family puts in firm tofu which is plenty soft when it's cooked, and trust me, it is much easier to get out of the soup than the softer versions even with superb chopstick skills (speaking from experience). Many people also love to cook spam in the hotpot. Personally, I am not a fan, but my little sister likes it.
Other yummy additions to your hotpot can include but are certainly not limited to dumplings and noodles of all kinds. They are usually cooked in the broth after you are done eating all the meats and seafood. However, we often are too full for this part!
Step 4: the dipping sauce
Now is the time when we get into the science of making the perfect hotpot dipping sauce. The one I'm about to share with you is what I love. Just like most Asian cooking by a grandma, there are no measurements. You just eyeball and taste your way through it until it is perfect for you. It all starts with a base sesame (tahini) sauce, then some soy sauce and Chinese dark vinegar, some chili oil if you're like me, some cilantro if you like it, and finally, some soup broth to dilute it just a little bit.
The sesame sauce we've been using for ages is the Lee Kum Kee Sesame Sauce (the packaging looks like this). The sesame paste always gets stuck at the bottom, and the oil is usually floating on top, so make sure you loosen up the sauce by shaking it up and down before you pour it into your bowl.
My mom's favorite soy sauce is the Qian He brand (the packaging looks like this). She says the reason she loves this brand is because it does not have any added flavoring. The vinegar we use is the Beauideal King Le Vinegar (the packaging looks like this). It's not too sharp and strong like many other Chinese dark vinegar. 
My absolute favorite store-bought chili oil is the Lee Kum Kee Chiu Chow Chili Oil (the packaging looks like this). In my humble opinion, it makes anything taste good. It is my go to for eggs, rice, noodles, and of course, hotpot dipping sauce!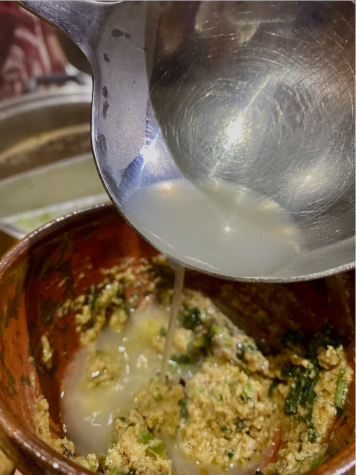 Step 5: cooking
Hotpot is a self-cook type of food. If you've ever had Korean BBQ,  the concept is very similar, just replace the grill with boiling soup. As soon as your soup starts to boil, you are ready to go!
As for the meats, they just need to be barely cooked through. As soon as the meat slices are not red anymore, it's ready. This ensures that the meat is tender and not too chewy. You should only cook a few slices of meat at a time and not a whole plate full. After you cook a good amount of meat in your broth, you will see a foamy substance swimming on the surface of the soup which is caused by the blood in the meat. Just take a small ladle to scrape it off and discard. Continue cooking!
The seafood, meatballs, and tofu take a little longer to cook, maybe 3-4 minutes, so take that into account and put them in earlier. Let them hang out in the soup for a few minutes while you cook some meat and leafy veggies. If you took the time to make shrimp paste, you can roll it into little balls using two spoons and gently place it in your soup. It's pretty delicate, so use a spoon or small ladle to take them out. Like any other mollusk, wait until your clams open up before you eat them. 
Leafy veggies cook super quickly, and most of the mushrooms don't take that long either. However, others such as winter melon take at least 6-8 minutes, so put them in as soon as your soup starts to boil. But be patient! The melon soaks in all of the soup and is absolutely delicious when it's soft. 
…
And that's it! As you can tell, I'm really passionate about hotpot. With Lunar New Year, the most celebrated holiday for Chinese, Korean, and a few other Southeast Asian countries, right around the corner, I hope this (arguably) overly detailed hotpot 101 manual will inspire you to give it a try with your family! Here's to a great year filled with less stress, more fun, and lots of enoki mushrooms.