World War Three?
How will the rest of the world react to a possible invasion of Ukraine by Russia?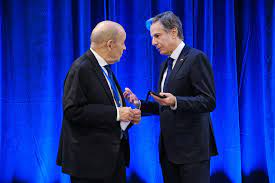 The new year started off with a world issue that could affect countries worldwide, and people around the world for years to come. There are high tensions between Russia and Ukraine regarding Ukraine's wishes to join the North Atlantic Treaty Organization (NATO). As a result, Russia continues to pile troops at the border. There is a high probability that Russia could invade. How could this affect families, especially those in the military?
Russia and Ukraine's relationship dates back to when the Soviet Union existed, from 1922 to 1991. Yet, in 1994 the United States, Britain, and Russia agreed that Ukraine would be recognized as a sovereign state for giving up "an arsenal's worth of nuclear weapons," according to the New York Times. However, Ukraine still has deep ties to Russia. For example, they share similar religions and many Ukrainians speak Russian to this day. This has created a complicated relationship between the two countries.
In 2013, Ukraine's former president, Viktor Yanukovych, described as "pro-Russia," voted against joining NATO. This spiked revolutions and he was removed from office in 2014. He was replaced by Volodymyr Zelensky, the current president. The removal of President Yanukovych angered Russia. In response, Russia seized and annexed the Crimean Peninsula in February and March of 2014. Additionally Russian-backed separatists, rebels against Ukraine, captured Donabas in the eastern region of Ukraine. There were also numerous cyber attacks against Ukraine between 2015 and 2017 causing much damage and many blackouts. According to Global Conflict Tracker, since April 2014, there have been 10,300 deaths and 24,000 injuries due to the conflicts between the two countries.
The relationship between Russia and Ukraine is strained, and when Ukraine decided to join NATO it only became worse. Vladimir Putin, the president of Russia, claims Ukraine and Russia are one country. Upon learning that Ukraine chose to join NATO, Russian troops have been deployed to the border between the two countries.
At least 70,000 troops were there around December 3, 2021, and currently there are 130,000 troops. Russia has deployed these with no explanation as to what the intentions are. Russia has also offered Russian passports to 500,000 citizens of pro-Russian Ukrainian areas. This enables them to argue that they are protecting their citizens if there is an attack. 
There have also been reports of Russian operatives, who are like secret agents, who "are "trained in urban warfare and in using explosives to carry out acts of sabotage against Russia's own proxy forces," White House press secretary Jen Psaki said Friday"(CNN). This will also give them leeway to invade. In accordance with all of this, Russia has also been spreading propaganda that pictures Ukraine as a mess.
So far Russia has made a series of demands for NATO. Russia never wants Ukraine to join NATO. On top of that they want NATO to pull out of Eastern European countries, so, no military action in Poland and the Baltic republics of Estonia, Latvia and Lithuania, and no missiles in Poland and Romania. They also demanded that no nuclear weapons be deployed from the United States, and they want to return to pre-1997 borders. NATO refuses to withdraw from the eastern bloc. If they were to do so, this would leave those areas largely unprotected from Russia and others. And, according to NATO's open-door policy, not one person has control over all the states, so they cannot veto Ukraine on joining NATO. These demands are also angering Sweden and Finland who are not part of NATO, because Russia could pose a threat to their countries and both do not have protection from NATO.
If Russia attempts to invade Ukraine, the United States will remain by Ukraine's side and try to support them and it is possible the United States will get their own military involved. According to the National Public Radio (NPR), the United States has placed 8,500 troops on alert for possible deployment to Europe.
San Diego is home to a large military base and many military families reside here, some part of our own community at Bishops. While active duty military personnel require prior approval from the Public Affairs office in order to comment on politics, retired service members are allowed to speak out. Wayne Gluf is a retired Naval neurosurgeon, and he recently retired from being a civilian neurosurgeon at the Balboa Naval Medical Center. Mr. Gluf believes there will be a war because "Russia can easily defeat [Ukraine] militarily in an invasion," but the United States will not get directly involved because this "would completely destabilize the region and spill into Europe," creating a world war three scenario. With respect to that, Mr. Gulf does think "there will be large scale deployments of ships, planes and some troops to the region" and as far as the military community in San Diego is concerned there will be "ships and planes primarily [deployed, but] most notably one and likely two US Navy nuclear super carriers based at North Island in Coronado." This will affect the military community here in San Diego.
National Security Expert, Ron Bee claimed in an interview from the American Broadcasting Company Ten (ABC 10), that San Diego ships will not be deployed, but many from the east coast will. However if it is decided that the San Diegan troops and ships located around Asia are pulled out, China could invade Taiwan. On a worldwide view Bee believes this will affect those San Diegan troops. 
The possibility of an invasion of Ukraine is very real unless the United States and NATO can find a way to avoid it. The British Broadcasting Corporation wrote, "The US has made clear it is committed to helping Ukraine defend its "sovereign territory."' In addition to this, Finland's prime minister, Sanna Marin, said "We will not let go of our room for manoeuvre" (BBC). 
There are a number of consequences Russia will face if it takes any action against Ukraine. The United States and allies will disconnect Russia's banking system from the international Swift payment system, convince Germany to stop Russia's Nord 2nd Stream Gas, place restrictions on banks converting roubles into foreign currency, target Russia's RDIF sovereign wealth fund, and deploy lots of military troops to the country, reported by BBC. Most of these actions will put Russia in a very bad financial spot.
At this time, there is hope for a compromise. Antony Blinken, the United States Secretary of State, had a meeting with Russia's Foreign Minister Sergey Lavrov, on January 14, 2021, in Geneva, in an attempt to de-escalate the situation carefully. Presently, "Blinken is "150% committed to seeing if there is a diplomatic offramp here" and that is the impetus for this engagement, the senior State Department official said " reported Cable News Network (CNN).
Ukraine and Russia are continuing to have conflict, and tension but with luck it is possible that diplomats can come to a compromise and violence will be avoided.