Holiday Baskets for Heroes
Sending love, one firehouse at a time
The holiday season is upon us once again. Whether your holiday traditions include decorating the tree, spinning the dreidel, lighting the Kinara, or none or all of the above, they are most likely enjoyed with family and friends. But not everyone gets to spend the holidays with their loved ones; instead, some have to spend it on the job in order to ensure the safety of others. So this winter break, let's not forget to show appreciation to those heroic service workers who are making the sacrifice. 
Holiday Baskets for Heroes is a community organization that shows our service workers how much we truly appreciate them by visiting local firehouses in December. The group was founded by violinist and teacher Ms. Healy Henderson after the 2017 Lilac Fire in San Diego, and it originated with a few people baking and donating pies for her to drop off at the firehouses. Since then, it has grown more than tenfold and now has just under 100 involved members.
Ms. Henderson's dad was a career firefighter who retired as a division chief in Orange County. Growing up, she recalled celebrating Christmas on different days in December to accommodate for her dad's work schedule, and she wouldn't get to see him for weeks on end when a big fire hit southern California.
"These are just a few of the many sacrifices that the service members of our community endure on a daily basis," she said. "They put their lives in danger in order to ensure the safety of others… And some ended up making the ultimate sacrifice with their lives." Ms. Henderson's brother, a volunteer firefighter in Wyoming, sadly lost his life in the line of duty. While there is nothing that can fill the void left in her heart by his passing, Ms. Henderson is comforted by the enthusiastic response by those who have helped build Holiday Baskets for Heroes.
Four years ago, Ms. Henderson herself delivered both donated and homemade pies to 14 fire stations which served in the Lilac and Cal fires. This past holiday season, fire stations from 12 states in the U.S.–as well as four countries–received goodies from local community members; the farthest was in Australia. Treats have also expanded from pies to include snack packs, baked goods, and other holiday favorites. Some of the most interesting, creative, and gourmet treats included homemade maple and bacon donuts as well as hot sauce, in honor of Ms. Henderson's father who loved spicy food.
But the baskets don't need to be extravagant to be meaningful. One year, Ms. Henderson's seven-year old student baked a batch of imperfect cookies for her local fire station, and they stole the show. Everyone loved them. "It is the time and effort that matter," Ms. Henderson emphasized. "It really is just nice to feel appreciated," Mr. Marc Dunn, a former Olympian and a 27-year veteran firefighter from Toronto, added.
Dustin Alewine, a five-year veteran firefighter from Station 13, the Bishop's School's local firehouse, smiled from ear to ear when asked about what the community support means to him and his crew. He shared that most firefighters get into this line of work for their love of helping others, and that it is heartwarming to see the outpouring of appreciation during Thanksgiving time, when the kitchen counter at the firehouse is filled with delicious pies. It never gets old, he explained, and it's still "so cool when families show up and say, 'Hey, thank you for your service. Thank you for helping us out'; it's just such a great reminder of why we do what we do."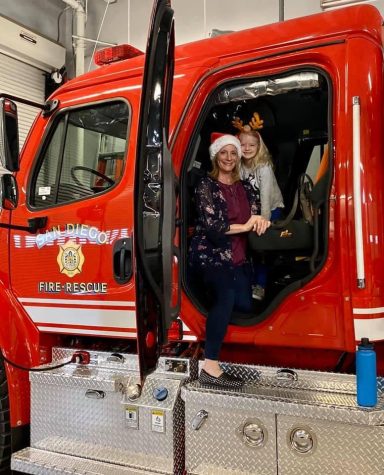 Ever since the formation of this group, lots of support came from families with school-aged kids. "This project offered such an amazing opportunity for my kids to learn that sometimes a simple gesture signifies so much more than that. It carries the appreciation that we feel for those who give up so much to serve our community, and that's the true meaning of Christmas," said Ms. Missy Lukin from Carlsbad, who has a daughter in 9th grade and a 10-year-old son. Ms. Lina Piatt, a resident of Carmel Valley, agreed. "When we go to the firehouse to drop off holiday baskets, we are always met with a big smile and appreciation. We look forward to it every year."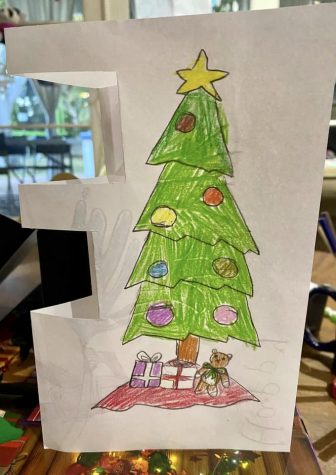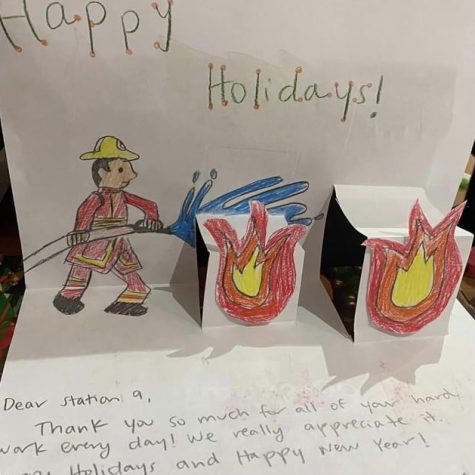 Ten-year-old Alexa has participated in Holiday Baskets for Heroes for three years. Her favorite way to show her appreciation is by drawing creative cards for the four fire stations that she visits with her family. "I love watching the firefighters enjoying reading my cards with smiles. And once, I even got to sit in a huge fire truck. That was the best," Alexa gushed.
Another holiday season is fast approaching. During this winter break, whether it be Holiday Baskets for Heroes or another club that you already participate in or want to start, don't forget to take a little time to bring some holiday cheer and show appreciation to those who put their lives on the line to protect us every single day. It's the little gestures that truly go a long way.