Ms. Sweet Hangs Up Her Apron
After 40 years of dedication to Bishop's, Director of Kitchen Services Ms. Sara Sweet leaves a lasting legacy
"Oh yeah, this is home," Director of Kitchen Services Ms. Sara Sweet said, remembering when she first stepped foot onto Bishop's campus in 1983. With her background in nutrition and public health, Ms. Sweet has served as the key ingredient in Bishops' Dining Service for 40 years. She has led the planning and preparation of the milk break and lunch that students enjoy every day, as well as the cultural cuisine for various Global Education Initiative celebrations at Bishop's. Ms. Sweet will be retiring at the end of the school year.
To Ms. Sweet, "Food is everything." She has a passion for growing the produce, cooking the ingredients, and, of course, eating her dishes. Growing up in Louisville, Kentucky, her love for food started when she was very young; and as she grew up, her love focused more on the nutrition and dietary parts of cuisine.
Before Bishop's, Ms. Sweet was a nutritionist for the Louisville Health Department and also worked as dietitian in a hospital, both of which Ms. Sweet explained "were not for her." Then, at 27, when she was interviewing for a number of jobs, she found Bishop's. Ms. Sweet remembered going into her Bishop's interview feeling uncertain; but as soon as she stepped onto campus, she had an almost automatic sense that "This is home. This school just looks different." At that moment, she knew she wanted the job. 
Ms. Sweet has transformed the Bishop's dining experience from average school lunches into a variety of culturally diverse and nutritional dishes. Global Education Initiative Leader Dr. David Moseley explained that he is in awe of how "she and her wonderful kitchen staff manage to prepare delicious ethnic dishes with care and appreciation and respect on a mass scale necessary to feed over 1,000 [people] on campus per day." Ms. Sweet noted that she was able to elevate the food because of the support of the administration, something she believes to be unique to Bishop's. 
Ms. Sweet does not only cook distinct and healthy lunches for the Bishop's community, but also helps manage events ranging from holidays and homeless dinners. "Ms. Sweet has played an important role in our monthly Hunger Supper through St. Andrews Church in Pacific Beach, where we feed 40 to 60 of our homeless neighbors," Director of Community Service & Social Innovation Ms. Jacqueline Gomez said. 
Ms. Sweet also manages the Hunger Suppers, special events in which members of the Lucky Ducklings service club prepare food from scratch in the Bishop's kitchen to serve the San Diego homeless community. Her willingness to always help, lend equipment, and provide ingredients perfectly embodies her selflessness.
 Adelaide Kessler ('25), a member of the Lucky Ducklings club, noted Ms. Sweet's generosity as well. Adelaide said, "No matter how busy she was, [Ms. Sweet] always made time to help the Lucky Ducklings with cooking. She knew it was for an important cause."
Ms. Sweet has also been heavily involved in the Global Education events at Bishop's since around 2008 to 2009. These events — such as the Lunar New Year Celebration and International Potluck — are specific days or weeks dedicated towards learning about different international heritages and cultures of students on campus. 
Dr. Mosley explained that Ms. Sweet has always been an  "immediate and enthusiastic supporter, eager to involve the kitchens in contributing menus and recipes that reflected the culture we were celebrating." He added that she is "willing to learn from Bishop's families [on] how to prepare and cook food that represented their identity," He continued, "Her answer to our global events requests was pretty much always 'Yes!'"
Parent Co-Chair of Bishop's Global Education Initiative Mrs. Jamie Gover (Lily Gover ('24) and Mia Gover ('25)) — shared that Ms. Sweet will also be missed by all of the parents at Bishop's. "Her passion for food and genuine curiosity about other cultures has really enhanced all of the Global Education Initiative celebrations." Ms. Sweet and her team never take the easy option, "but instead works with parents' and grandmas' special recipes or does her own research to make something authentic and unique," Mrs. Gover said. "I'm sure she has created generations of adventurous foodie explorers!" Mrs. Gover exclaimed. 
Parent Co-Chair of Bishop's Global Education Initiative Ms. Shu Fan (James Hou ('23) and Henry Hou ('27)) added, "[Sara,] your kitchen is truly magic!" 
Ms. Sweet wanted to thank parents for their kind words and remind the community that her kitchen isn't complete without the magical kitchen staff. When asked how she would describe her staff in one word, Ms. Sweet immediately responded, "Amazing…They're really amazing."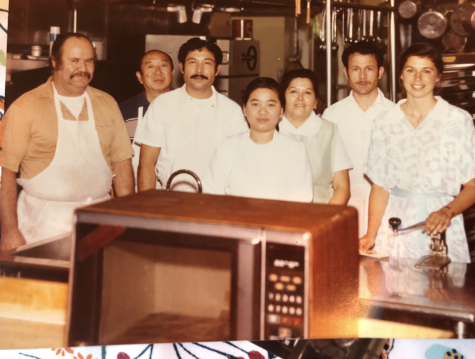 Once she retires, Ms. Sweet said that she's going to miss the community the most. She explained, "When I thought about my career, I never thought what it would really mean to me to be in this community." But as she reminisces on the privilege "to see students growing up, to celebrate holidays,….and be able to give cookies," she realized how much she will miss this special place.  
Ms. Sweet is not only going to miss Bishop's, Bishop's will certainly miss her as well. Nirvana Shiwmangal ('25), a vegetarian "foodie," remembered that Ms. Sweet "loved to make sure every student was well fed and nutritioned" and always had great vegetarian options.  She added, "I will miss having her smile warm [her] day in the cafeteria line every day." 
Eddie Qiao ('23) shared that he "loves how excited [Ms. Sweet] gets when others enjoy her food. It shows how much effort and love she puts into every dish." He noted that the lasting presence Ms. Sweet had on the Bishop's community "will be impossible to replicate." But Dr. Moseley said it best, "I simply cannot imagine Bishop's without her."   
So, as Ms. Sweet closes the longest chapter of her life — one that she began before both motherhood and marriage —  she reflects on how difficult it is to say goodbye. "It's hard to leave….It's a very special place. I feel very fortunate." She cherishes Bishop's so much and hopes everyone can find their own special community throughout life. 
The last thing she said, with her warm, familiar smile across her face, was, "I tell [my children] 'I hope you find your Bishop's School.'"