Bobboi Natural Gelato: A Little Sweet Treat
When you see the ocean over the balcony, sit on the wooden patio chairs, and taste incredibly fresh gelato that tastes identical to the ingredients its named after, you know you've made your way to Bobboi. As students that attend school in La Jolla, we have countless restaurants and shops within walking distance from campus, one of them being this popular, not-so-hidden gem.
In February of 2013, Mr. Andrea Racca, a Sardinian native, opened Bobboi Natural Gelato in La Jolla California, along with his longtime friend Mr. Marco Saba. Gelato has always been a great passion of Mr. Racca's, as he would always make this Italian sweet treat for his friends and family. Now, with three locations across San Diego, the two founders, along with Mr. Racca's wife, Mrs. Monica Racca, the head gelato chef, are able to share this cherished dessert with locals and tourists alike.
In Sardinian language, "Bobboi not only means a little sweet treat," Mr. Racca shared, "but also a party, a gathering of friends, and joy. So we thought it was the perfect name for what we wanted to express." And after a little less than a decade, it seems like the gelato is living up to its name.
"
Bobboi totally matches the energy of La Jolla as a city."
— Renee Wang ('24)
"Personally, I [see it as a] place to get a pick me up or a celebratory treat with my friends or family," Renee remarked.
Surprisingly to some, the founders' jobs and upbringings were not originally directed at creating a gelato shop. Mr. Racca was originally an executive manager at a big multinational company in Italy; Mr. Saba was a Certified Public Accountant (CPA), and Mrs. Racca used to be an engineer. But they all changed their lives at a certain point to reach a goal that at first, was just a dream.
"There were actually a lot of coincidences," Mr. Racca explained. It was a normal day at the swimming pool with friends, when he remembered saying, "Marco, you know what? I'm just gonna quit my job and forget about office politics and corporate life. I'm going to go back to California and open a gelato shop," he narrated. At first, Mr. Saba thought Mr. Racca was making fun of him, as he said the exact same thing to his wife the day before. It wasn't long before they reached an agreement: "What a coincidence," they said, "let's work on it."
When Mr. Racca woke up on his first morning in La Jolla, his body was riddled with jet lag; but as he began to walk around the cove, he saw the landlord putting up a sign. "Thankfully, the landlord liked us, and we found the perfect location, the first day," Mr. Racca said. "I think you need luck [when starting a business]," he mentioned, "but you also need to look for luck," he continued.
From then on, they worked on the location by themselves. They painted the walls and built the floors. "This place wasn't the way you see it [now]," Mr. Racca clarified. "And we wanted to do it by ourselves. It wasn't just a thing of investment, but we wanted our soul to be in it."
Now, Bobboi is less of a mom and pop shop and more of a little company with procedures and targets, Mr. Racca reflected. It's also a summer job for some Bishop's students. Emma Myer ('23) works at Bobboi during the summer from June until mid-August when school starts. "Working at Bobboi is incredibly rewarding. [Throughout my time as an employee], I've learned to make every customer's experience unique. It's more than a 'Hi, what can I get you,' and instead, a genuine connection and conversation," Emma shared.
Sarah Kaplan ('23), a past Bobboi employee, agreed. "I loved how busy the establishment was, and the energy of the shop. My general experience at Bobboi was overwhelmingly positive." Another coincidence along this gelato shop's journey is that both juniors' favorite Bobboi flavor is Sweet Olive. "I personally hate olives," Sarah joked, "but this flavor is actually a caramel and olive oil blend that tastes like the creamiest caramel cake batter. It's perfect!"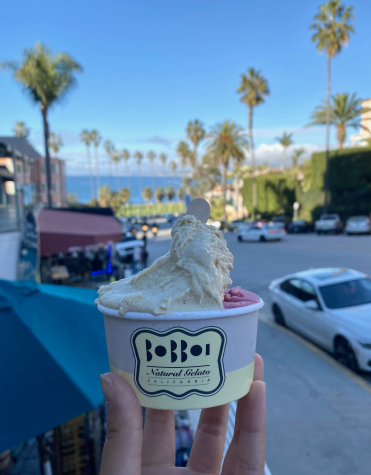 The creation of these beautiful flavors is a trial and error process, Mr. Racca shared. "The base of our flavors is from the traditional flavors in Italy, but also simply from observation," he Racca added. "You take inspiration from what you see and when you travel. And you try. When you try, I can tell you, most of the time it's terrible," Mr. Racca laughed, "but once in a while, you get that flavor out. And that's beautiful."
From Stratticiatella (vanilla gelato with chocolate chips), to Blood Orange, to Dark Chocolate Sorbet, Bobboi is serving up the fresh flavors that keep the people coming back for more. Here's to another decade of little sweet treats. Bring on the friends; bring on the parties; and bring on the joy.