Where Will Your Turkey Be?
Student Plans over Thanksgiving Break
Florida, Cabo San Lucas, New York. Bishopians travel around the continent to be with their loved ones during the holiday season, especially so during Thanksgiving break. Students are ready to connect with family and friends in new locations. 
The break allows the entire community to travel and be with their nearest and dearest. To Lilian Franqui ('25), Thanksgiving is a time to bond with family. "I love it so much because it gives me a chance to show my gratitude to everyone I love; family and friends," she said.
With more freedom to travel, the Thanksgiving break truly serves as a reminder of how far we have come in the pandemic. During the past two years, it was incredibly difficult for students and their families to travel because of COVID-19. Last winter, the country experienced the largest surge of COVID-19 cases ever seen. But this year, the previous restrictions have been eased. 
Public health officials like Dr. Anthony Fauci, Chief Medical Advisor to the President, said that we should feel good about being with others this holiday season no matter wherever we are. He states that time at home during the break should be enjoyed with family. Additionally, it has also become much safer to travel.
More people can freely travel to visit their relatives, friends, or just for fun. Students used the break as an opportunity to also go on vacations or visit their relatives. Sashi Chuckravanen ('25) expressed her excitement to visit her grandparents. "I [went] to Florida for a week and [met] up with my aunt there as well," she said. Lillian said she went to New York and Vermont. Katie Fandrey ('25) detailed that she went to New York City to see her grandparents and hang out with her old-school friends. Nicola Xanthopoulos ('23) traveled to Cabo San Lucas, Mexico with her family and friend Kate Donnelly ('23) and, "it [was] also my birthday!!" Ashlyn Garrigan ('25) flew to Kona, the big island, with her parents and younger sister.
Other students stayed at home for Thanksgiving break. Zoe Yi ('25) explained that she stayed in Bishop, California for a few days pursuing her rock climbing passion. "It's about 6 hours away from here and it's basically a desert with a bunch of boulders. I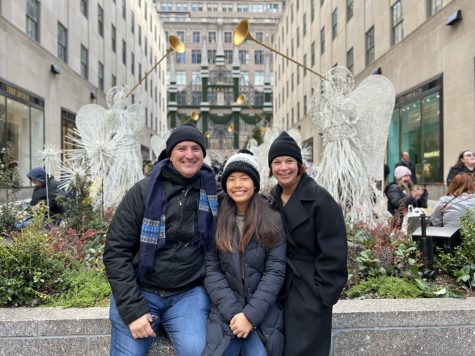 [went] with some people on my climbing team." As she continued about her trip to Bishop, Zoe also alluded to her Thanksgiving dinner and how wonderful it was to be at home spending time with her family.
Juliette Levy ('22) said, "I was pretty excited to just stay home for Thanksgiving. My mom always makes a purposefully untraditional chicken. I would say we take pride in straying from the norm a little." However, she noted that she did not eat all of it but distributed some of her family's baked treats to her peers, like an anime series she watches. "It's almost like Kiki's Delivery Service," she laughed.
With such a diverse array of activities planned across the student body, there truly is no one way to celebrate the upcoming break. Whether students are relaxing in their beds or exploring new places, Thanksgiving is sure to be a very festive holiday!