Meet the Stage Manager: Sabrina Fogel
On show days, actors skip and swirl on stage, but behind the glitz and the glamour are musical interludes and sound effects, electronic cues and prop logistics, all bathed in beams of color-changing lights. At the show's helm is its stage manager, guiding her cast and crew towards theatrical success. Meet the stage manager of this year's fall play, She Kills Monsters: Sabrina Fogel ('20).
While some tech components of the show may come later on in its process, Sabrina is with the show from the very start and led it to its closing night. "I start working on the show at the beginning as opposed to coming in during Tech Week like the other tech crew. I usually just helped actors learn their lines," she said. Sabrina also joined the cast in playing a game of Dungeons and Dragons, a key theme in the play.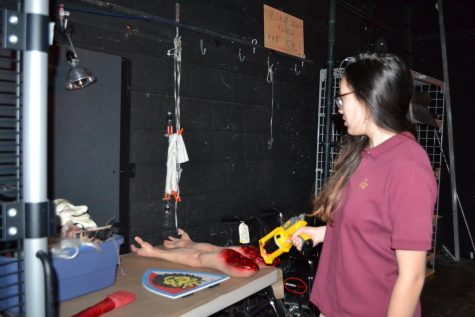 In these early days, Sabrina also played a role in the physical cues of the show. After learning the lines and while taking their time to memorize them, the actors had to begin blocking the play, or in other words, figure out where they were supposed to stand or sit and how at every second. After each decision was made, Sabrina made a note in her Stage Manager's binder. She, along with cast member Sydney Gerlach ('20), also choreographed fight scenes in the show, something that took many of their free lunch times.
With lines and blocking down, the actors turned towards fine tuning their roles while Sabrina moved into the electronic world of the show, starting by practicing sound cues.
"Every sound in the show, from the background wind effect to the transition music to the sword clashes, needs a sound cue, so I began to familiarize myself with those," she described. "I have to listen to the actors on stage (although, from the booth it's incredibly hard to hear them) and 'call' every cue, basically just saying 'Sound 1, GO. Sound 2, GO.'" In addition, Sabrina also controlled the lights and projections.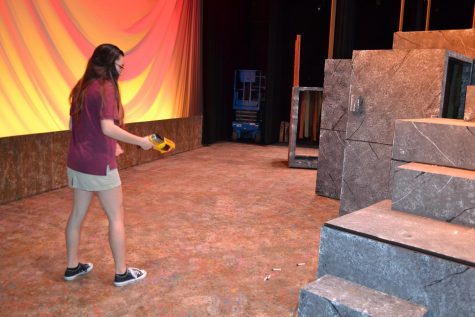 With these details sorted out and show dates fast approaching, the cast and crew turn towards Tech Week. Sabrina explained, "The last stretch of any show is called Tech Week; this is when the other tech crew (deck hands, light board operator) join the production. Tech Week is the time when I move to the booth and run both sound and lights with my light board operator."
The responsibilities of the Stage Manager seem demanding for one person, but it doesn't faze Sabrina. "I mean, I don't do that much," she blushed, but Director of Technical Design Mr. AJ Paulin quickly interjected: "Liar. You literally hold this entire show together."
While her path to theater tech wasn't necessarily intentional, Sabrina found those demands to be worthwhile in the end. She shared, "I kind of stumbled into theater tech. I auditioned for last year's production of Les Mis but didn't get cast; I ended up being Assistant Stage Manager for that production instead. I ended up really loving it– even though it was probably the most stressful experience of my life."
When asked about her favorite part of the job, Sabrina found herself unable to pick just one aspect of being Stage Manager or of the play. "I love the community that I've found through doing theater. I love seeing how passionate people are about doing what they love; Gabe [Worstell ('20)] is a work of art whenever he acts and I laugh every time Joseph [Aguilar ('22)] gets on stage! I love the experience, even though it can be super stressful at times."
And stressful it can be — with so much control over the show, Sabrina had to bear every burden at once: what if the wrong sound played or a light didn't turn on? "It's terrifying to know that all of the sound and lighting cues rest on your shoulders, and it's your fault if something doesn't go right. It's also incredibly exciting to be in the moment and help make a show into its best version."
All the stress has taught Sabrina the importance of staying level-headed and taking deep breaths to reset. "As a stage manager you just have to roll with the punches and keep going because the audience might not know that something went wrong, and if you stop, they absolutely will. Being somewhat of a perfectionist, this has honestly been a really good lesson for me to learn."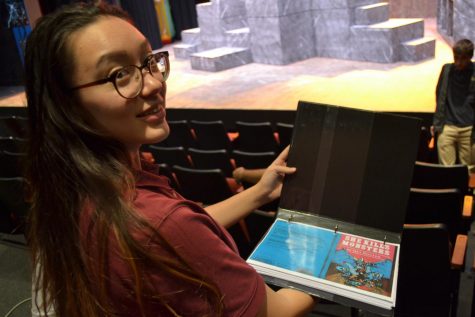 Leave a Comment
About the Contributor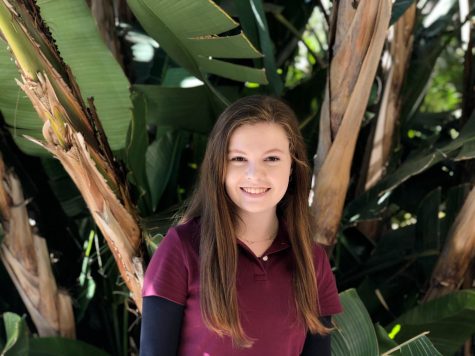 Amy Carlyle, Editor-in-Chief
Amy Carlyle is a senior and Editor-in-Chief of The Tower. She came to Bishop's as a sixth grader and joined the staff at the start of her freshman year....