BLACKPINK In Your Area
Billie Eilish. Juice WRLD. Khalid. The 2019 Coachella lineup featured all of the typical names one might expect – Billboard Hot 100 placeholders, Grammy nominees – but this year, one less-familiar name graced the list.
BLACKPINK is a South Korean female pop group comprised of four members: Jisoo (age 24), Jennie (age 23), Rosé (age 22), and Lisa (age 22). Their Coachella performances on April 12 and 19 made one monumental milestone: the group is the first K-Pop group or artist to take the Coachella stage.
The group's music career began in 2016 after the release of their first two songs, "WHISTLE" and "BOOMBAYAH." Since then, the group has skyrocketed in popularity both in South Korea and around the world. BLACKPINK has appeared on The Late Show with Stephen Colbert and Good Morning America; member Lisa is the most followed K-Pop idol on Instagram, according to E!; Spotify named the group the 128th artist/group in the world for most monthly listeners. The girls also had their own television show on Youtube called BLACKPINK House.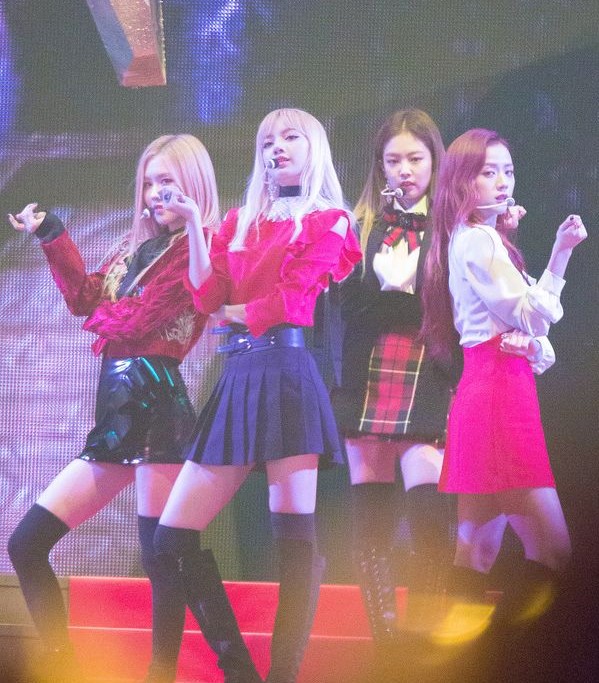 Their latest release, a 2019 EP entitled "Kill This Love," features four new songs and a remix of their 2018 hit "DDU-DU DDU-DU." The first on the EP, also named "Kill This Love," is the most powerful of the five – a loud, pop anthem, with strength reminiscent of Demi Lovato's "Confident." It kicks off with BLACKPINK's familiar chant: "BLACKPINK in your area!"
"Kill This Love" was seventh on BLACKPINK's Coachella setlist. Overall, their performance was high energy, featured intense choreography, and showed off each girl's individual strengths in addition to their power as a group — typical BLACKPINK.
 The show opened with "DDU-DU DDU-DU," a fan favorite from their earliest days as a group, and closed with "As If It's Your Last," their 2017 hit single. The set also featured "Kiss and Make Up," their collab with British pop singer Dua Lipa.
BLACKPINK's music also has a following at Bishop's. Maya Minagawa ('20) said, "'Kick It' just makes me happy and want to dance; 'Playing with Fire' is a bop too."
In addition to their group pieces as BLACKPINK, members Jennie and Rosé both have individual records. Jennie's "SOLO" entered Billboard's World Digital Song Sales chart in third place upon its release. Earlier this year, Rosé released her cover of Halsey's "Eyes Closed" and her solo song is rumored to debut soon according to fans, referred to collectively as Blinks.
Now, BLACKPINK will be remembered as the inaugural K-Pop performance at Coachella. 
"I'm really happy for BLACKPINK and proud they're getting recognition in the western world. They deserve it," Maya commented.
Jess Li ('20) remarked: "I was really excited for their performances. People listen to music in Spanish all the time, and there are Latin artists at Coachella all the time, but we don't really see the same thing for other artists. K-Pop is such a huge industry – I think it's really cool Coachella is globalizing. It doesn't matter who the artist is or what language the song is in."