"Made better by the friendship, laughter, and loyalty of this incredible team": The Puffs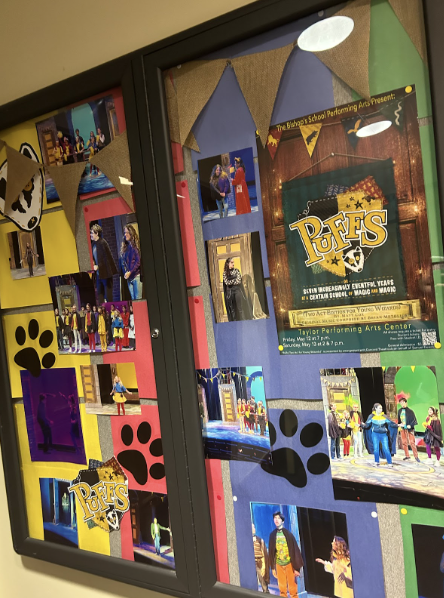 Whether or not you've read the Harry Potter books, or watched the movies, the story of the Puffs will impact your impression of the series. This comedic play portrays the message that "everyone is a hero to someone, somehow." The talented cast transferred their excitement and happiness into the audience, and during all of the shows on May 12th and 13th, the theatre echoed with laughter. 
Puffs follows the famous Harry Potter series, but in the perspectives of the Hufflepuffs. Abigail Wiener ('28) explained, "The Puffs are often the most overlooked house, and so it is very interesting to hear the same story in a very new light." The play included tons of sass and comedy, and even made fun of the books' original viewpoint. Logan Yockey ('27) described, "this show teaches the students to accept ourselves. We learn that the Puffs may seem weak, but are actually just as useful and strong as the other houses." 
In Ms. Korneychuk's director notes, she explained, "Braves. Smarts. Snakes. Puffs. In middle school, where this tale begins, we are all about sorting ourselves into categories; But no matter what house we'd sort ourselves into before this process, in the end, we were all made better by the friendship, laughter, and loyalty of this incredible team: The Puffs." 
The play introduces new and unique characters that weren't a part of the original series, and the cast did an amazing job bringing these new characters to life on stage. 
Logan, who plays aspiring hero Wayne Hopkins, describes his character as "a pop culture nerd from New Mexico that has no relation with magic." After being whisked away to A Certain School for Magic, he realizes that his goal in life is to become the "Hero of his story," and for the next seven years he strives to do something big and important "at least once in [his] life." Throughout his seven years at school, Wayne gets wrapped up in magical adventures, wizard shenanigans, and even a few love stories. Logan explained how at first he wasn't sure if he even wanted to audition for the play because his schedule was extremely busy. But his love for acting led him to try out. "I've been doing shows since 4th grade, and it has been one of my hobbies since, so hearing about this show, and after seeing performances of it on Youtube, I was instantly hooked." 
Another character in the show is Susie Bones, who was in the original series. Abigail, who plays this character, explained, "She is a character who talks about death a LOT, because her whole family (except for her aunt) was murdered." Abigail explains how she found it super funny that Susie talked about death throughout the whole play, but she ends up being one of the few to not die at the end. Abigail laughed, "She was a very fun character to play because she is very emotional all the time so I really got to just let it out on stage, especially in the scene where I got to crawl on the ground and scream." This was Abigail's first year at Bishop's, and she described how she absolutely loved the Harry Potter books and acting, so when they released what the play was going to be, she knew she had to try out. Abigail concluded, "The production was such an amazing space with such great people, and you can learn so much while having such a fun time."
Logan agreed, and said, "Everyone in Puffs contributed to putting on such a good show, and every rehearsal everyone would make different acting choices that worked perfectly for the story." When asked about their favorite scene in the play, Abigail laughed, "I love the scene where I am at a secret meeting with some of my fellow Puffs and we accidentally 'stupify' each other. We just got to be funny and ridiculous in that scene, and it was also fun to fall on the ground."  
Logan explained how he loved the final battle of the show, because "there's just so much happening! There were spells being cast in every corner, everyone was running around, and it was just so much fun to be a part of." In the final battle, we see people killed, and we even (sadly) lose some of the Puffs as well, but Logan explained how the Battle did a great job of highlighting both the achievements as well as the sad losses. He said, "Everyone had their moment, and in Puffs fashion, it continued to be hilarious."
Puffs was definitely a show to remember, and part of what made this play so special was the hard work the cast put into it. The theatre courtyard was filled every day after school these past few weeks, and as it got closer to the play, the cast had rehearsal four or five times a week. Although it was hard work, both Abigail and Logan came out of the process with only happy memories. Abigail explained, "At first, there were rehearsals about two or three times a week, which I thought was nothing close to enough, as all I wanted to do was rehearse Puffs. We would all go out in the courtyard together and play games and just talk. It was such a fun experience and we all had such a great time." Logan agreed, saying "Getting to hang out with my friends and crack jokes and noticing the easter eggs hidden in each scene, or just laughing about a one liner, was genuinely one of the best experiences in my Middle school years, and a great way to end my Middle school experience." 
Abigail concluded, "I met so many new friends and bonded with so many people. It built such an amazing community that I will never forget." Logan was asked to look back at his experience with the play, and with no hesitation, he said, "Thank you to Ms. K and Tripp for being such awesome directors and making the experience so much more fun, thank you to Mr. Melton for creating the best set ever, thank you to Ms. Moroney for making such awesome costumes, and thank you to all of the tech kids (Tech 8 class) for making this play happen! (Especially Ella Foppiano '27 for being literally the best stage manager ever) This was my favorite play I've been in and I'll remember it for a super duper long time." 
Puffs was such a fun play to watch, and we can see that it was definitely a fun play to perform in too. The hard work everyone put into the process left a mark in the quality of the performances, and the middle schoolers did an amazing job at bringing the meaningful story to life. Like director Ms. Korneychuk says, "Love is the real magic, the most powerful magic there is. So, find the moments of love. It's what Cedric would do."