Once in a Lifetime
From scuba diving to service abroad, the Bali trip was an unforgettable experience
"Om Swastyastu, " (a Balinese greeting and prayer for the receiving person to always be blessed by the gods) we all recited back to our Bali Institute guides to begin orientation on the first night. While all 22 of us students may not have known it then, we were about to embark on the international learning adventure of a lifetime.
Not only did we indulge in incredibly flavorful Balinese cuisine on our trip, but we opened our minds and hearts to the new traditions and customs. Bishop's international Spring Break trips are not simply a time to add a new stamp to your passport; they're a time to bond with your peers, engage in learning different types of sustainability and lifestyles in another nation, and perhaps most importantly, have an amazing time.
Fun Activities: Hiking, Wood Carving, and SCUBA DIVING! (Sydney)
All seven of the students interviewed for this piece (all of which attended the trip), highly recommend all students to apply for a school trip. "It truly is an experience of a lifetime and you won't regret a single second of it. The memories you make, the people you meet, experiencing different cultures, it's just something so priceless," Alex Gonzalez ('23) said. From hiking in the beautiful jungles, to eating delicious cuisine, to having dinner with the King and Princess at the Royal Palace of the district of Blahbatuh, to learning how to carve wood placards, students "really liked the itinerary," Joy Udinsky ('24) said. Nonetheless, the favorite activities among the students interviewed had to be visiting Bali Mandara boarding school (a local high school) and snorkeling and scuba diving off of Menjangan Island and exploring the surrounding coral reefs.
Bali is the best known of Indonesia's 17,500 islands, making swimming in the ocean a must-do; and we were all blown away. "I've never been in water that warm. At that moment, I couldn't think of anything else; my mind was just so focused on everything around me," Anna Balsdon ('24) shared. While most of the group spent the day on Menjangan Island snorkeling, eight of us were lucky to have completed our open water diver certifications and scuba dive at three different sites.
Joshua Lee ('23), Ethan Marquez ('23), Alex, and I, would all count scuba diving as the most amazing part of the trip. "Scuba diving was a lifetime experience that I wish I could go back and do again," Ethan summarized. I agree; it just felt so surreal. While many of our scuba certifications were obtained at La Jolla Cove — an environment that was pretty cold in early February and had an evident current — diving in Bali was a dream. The water was so warm, it felt like bath water; and the water was so calm, you could comfortably stay in one position for however long you wanted to without flailing your arms and legs. But beyond that, the plethora of colors, animals, and plants that we got to swim alongside can not be topped. 
Towards the end of the trip, we also visited Bali Mandara boarding school, where each Bishop's student was paired with a local student. We toured the school and learned about the students' daily schedules. The campus was very inviting, just like the students that showed us around. "Going to the school and getting to meet those students [was really cool]," Joshua said. 
Service Abroad: Learning about sustainability from local NGOs (Sydney)
Since the trip was focused on science and cultural education — primarily marine biology and environmental conservation — we visited many non-governmental organizations (NGOs)  such as the River, Oceans, Lands, and Ecology Foundation (R.O.L.E) — an NGO that recycles various materials from the island and encourages village people to recycle more by offering them food vouchers — and Kopernik, a social innovation NGO that finds problems in Bali and works to solve them. 
The NGOs that left the biggest impact on me were the Idep Selaras Alam Foundation (IDEP) and BioRock. IDEP is an NGO focused on water conservation in Bali by assisting local farmers to more efficiently grow crops. Since more than 65 percent of Bali's water conserve is used by the tourism sector, this nonprofit works to combat that through an intricate system using the sun and other chemicals to help the local farmers. While we were at IDEP, we learned about the seed banks that they have, in which they receive different seeds from farmers all over the island and grow them to test planting methods. We learned how they grow the seeds and helped plant a new bed of seedlings which was a fun, hands-on project. Some students even made friends with the friendly cow at the organization.
BioRock is an NGO that uses electric circuits to help the coral reefs in Bali sustain themselves. Because of coral bleaching and other environmental impacts, the coral reefs have been fighting much harder to stay alive, but BioRock hopes to quicken the process of growth. Although we also didn't do any hands-on work, we had the opportunity to snorkel and scuba dive around these BioRock structures, which was absolutely fascinating to say the least. That afternoon, we also visited a turtle hatchery and learned about the importance of turtle conservation.
Learning all about the sustainable methods that the Balinese incorporate into their daily lives was really inspiring, especially when we got to talk with the dedicated staff members at each of these NGOs.
Lessons in Culture and Local Life (Isadora)
"Learning the culture was something I didn't think I would focus on that much over the trip, but it was something I ended up appreciating the most," said Joshua. I couldn't agree more – the simple list of activities on the itinerary that we received beforehand could not encapsulate the sense of immersion into a new culture that would carry with us everywhere we went.
All of the activities felt very authentic. We did not go to typical tourist sites or spend a lot of time in the hotels; instead, we were constantly engaging with locals and learning more about life in Bali. "I was surprised by what the school was able to plan, and what things we were able to do," said Jessica Luo ('24), "It blew my expectations away." Whether it was an informational NGO meeting, a hands-on environmental activity, or a tour of a religious site, everything was led by locals with an emphasis on culture. 
For example, meeting the princess of Blahbatuh was very memorable, and a prime example of what typical American vacationers would not get to experience. "The opportunity to talk with people in Bali was really cool," Joshua reflected, "For example, going to the cultural sites, being able to meet Gisa" – the princess – "and even talking to the scuba divers on the boat."
"What I'll remember most is just meeting so many new people," Alex agreed. "It was so fun meeting them, including our guides from the Bali Institute like Beni." The whole arrangement of activities was thanks to the Bali Institute, an organization of local guides that Bishop's worked with to execute the trip. Our four guides, Beni, Ketut, Dayu, and Alit, taught us a lot about the culture. On the first day, we received sarongs (a traditional skirt), and learned how to properly tie and wear them. They taught us how to count to 22 in Bahasa (the local language), so that we could use the local language to do headcounts. Throughout the trip, small details like this were an engaging way to incorporate Balinese culture into our experience. 
Jessica's family traveled to Bali at the same time as the school trip, and she met up with them to stay a couple extra days afterwards. "I kept telling my parents about the little things that we learned about the culture in Bali, and they had no idea, since they were mainly just sightseeing," she explained. "The things on the trip were way different than what I would have learned with just my family."
One night, we went to watch a singing and dancing performance of an ancient cultural story. This was the one event on the trip that felt tourist-like, as we were quite clearly surrounded by an audience of fellow Americans. The show was mesmerizing and unlike anything I've ever seen, however, I personally could not shake the feeling of an outsider looking in. I felt a sharp contrast between the other activities we had done so far. Although it was a fascinating display of Balinese culture, I realized how direct engagement and placing yourself in a new culture is where you truly learn. 
I was also grateful for the locals' hospitality. It was clear to see from the moment we arrived, whether it was the young kids who waved to us as we passed them on the street, the Bali Mandara school students' excitement to meet us, or the thorough tours and activities that the environmental organizations had planned for us. Our guides discussed hospitality as a main value of Balinese culture, and explained that Balinese people are always smiling, so much so that some outsiders tend to find it creepy. On the contrary, the locals' genuine friendliness and eagerness to share their culture made the trip more enriching overall.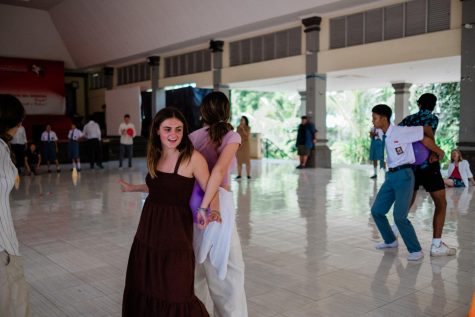 The Difference: Impact of Traveling with Friends (Isadora)
Traveling with a diverse group of peers from school makes an enormous difference in the traveling experience. From an outside perspective, the group of students may seem randomly assembled. We all come from different friend groups, different teams and extracurricular activities, and even a span across three different grades. However, I came to realize that we were really not so different from each other after all. Every student on the trip had to complete the thorough application process for the trip last year, showing a true dedication to the experience. Being Bishop's students, it is a given that we are driven and motivated students with an eagerness to learn. This group was made up of individuals who were truly willing to put themselves out there and experience the world. It only took this trip to unlock that quality inside of us, and we all became friends quickly, simply because we were in it together. 
"It was definitely a 'we're all in this together' moment," agreed Joy. "We were all going through such a shock in terms of the weather, being in a foreign country, and everything – we only had each other, so there was no point in icing people out." 
Additionally, skipping out on activities seemed pretty much off the table, simply for the reason of FOMO (the fear of missing out). To be completely honest, in many instances, I could not have imagined myself showing up to certain activities if I was, say, on the trip with my family instead. The itinerary was packed: we got most evenings free, but during the day, we had a full schedule going from one activity to the next. If I was with my family, I may not have enjoyed trekking through humid nature trails or harvesting artisanal salt in a 120˚ greenroom, to name a few. However, being with a group of friends motivated me to be excited about everything that we did. I am so grateful for this, because I came away from the trip with a myriad of unforgettable experiences.
"I feel like a lot of people broke out of their shell," said Warner Vaccaro ('25). "It was nice seeing a different side of people that I'm not normally able to see because everyone at school is so focused on their work, their grades, their sport or whatever. You got to see their true selves – you couldn't cover it up."
With the diverse activities, cultural lessons, and opportunity to get away with a group of our peers, the Bali trip was a once in a lifetime experience that offered us a new perspective on the world. But none of this would have been possible without the opportunity to go on a school sponsored trip.
"The trip made my problems feel so much smaller," said Joy. "All the problems that I'm going through right now are not that big of a deal in comparison to larger issues going on – in terms of the environment, and also, there's just so much more out there." We encourage every high school student (tenth grade and beyond) to apply to an international trip with Bishop's. "You'll learn a lot about a lot of things, and you'll learn a lot about yourself," said Warner, who concluded, "If you get the chance to go on an international trip, take it."