Earthquakes in the Middle East: What if Southern California is Next?
The consequences of a possible earthquake in Southern California compared to the recent catastrophes in Turkey and Syria
As of March 8, the 7.8 magnitude earthquake that occurred on February 6 in Turkey and Syria, has caused 50,000 deaths. Turkey is positioned in one of the most seismically active — or earthquake-prone — regions of the world: our hometown of San Diego, lies on a seismically active fault line as well.
In Southern California, "There will be 7.8s in our future. Absolutely. We have the faults, we've seen it in the past, it will happen again," seismologist Lucy Jones, a research associate at the California Institute of Technology, told the LA times. When an earthquake of the magnitude of the one in Turkey and Syria hits San Diego, will the consequences be as disastrous?
Currently, Turkey has imposed a three-month state of emergency "to ensure that operations are carried out rapidly," said Turkish President Recep Rayyip Erdogan in a broadcasted speech on February 7. Its national emergency agency, the Disaster and Emergency Management Presidency of Turkey, and over 230,000 relief workers are mass-distributing tents and mobilizing excavators, tow trucks, and cranes, according to the New York Times. 
However, for Syria, because the Syrian President, Mr. Bashar al-Assad, has bitter relations with many Western countries, and in addition to the current political turmoil in the country, the deliverance of aid has been complicated. "In the early days, right after the earthquake, the only thing actually going across the border into northwest Syria was the bodies of Syrian refugees — thousands of them," said Natasha Hall, a humanitarian relief field worker of the Middle East program at the Center for Strategic and International Studies. It is estimated that 5.3 million people have lost their homes and 15.3 million are in need of humanitarian help in Syria. 
Syria also entered a state of emergency. On February 13, it opened two crossings at its border with Turkey for the first time since the beginning of its civil war to allow for the flow of humanitarian relief. In addition to the United Nations, 25 countries have provided aid by air transport to air bases and airports in government-controlled areas. International search and rescue teams helped during the aftermath of the earthquake and the United States issued a license to allow earthquake recovery-related transactions that would have previously been impeded by sanctions, according to Hall.
The destruction of buildings in earthquakes is what causes high death tolls. According to a tweet made by President Erdogan in 2013 on the anniversary of the Marmara (a region in Turkey) earthquake in 1999 that killed over 17,000 people, "Buildings kill, not earthquakes. We need to learn to live with earthquakes and take measures accordingly."
A magnitude 7.8 earthquake could be "so powerful that it causes widespread damage and consequently affects lives and livelihoods of all Southern Californians." – LA Times
However, Mr. Erdogan did not follow his own advice. After the earthquake on February 6, videos showing Mr. Erdogan celebrating new housing projects were released by Turkish media reports. The President signed off on over 40,000 zoning amnesties — or pardons for not meeting earthquake building codes in exchange for a fine — for housing projects in Gaziantep, one of the provinces affected the most by the quake, according to Istanbul city senior official Bugra Gokce. Mr. Erdogan took this risk to build homes for Turkish people more quickly. "We solved the problem of 144,156 citizens of Maras with zoning amnesty," he said in a 2019 campaign video.
Rebuilding the cities of Turkey and Syria will take at least a decade, according to Kevin McCue, a member of the Australian Earthquake Engineering Society. If an earthquake of this same magnitude were to occur in San Diego, would there be similar consequences?
In 1980, California started enforcing new earthquake building codes. However, over 50 percent of San Diego's homes were built before 1980 and are recommended to undergo retrofitting — the improvement of structures after a building's initial construction — by the California Earthquake Authority (CEA). School buildings Bentham, Gilman, Scripps, and the tower were retrofitted according to the building codes of the time, said Director of Facilities Mr. Brian Williams. The tower was renovated in 1990, but the date of the other renovations could not be confirmed as the retrofittings happened under the previous Director of Facilities.
Since 1800, about seven earthquakes have occurred in San Diego or have severely impacted it. 
A 7.8 magnitude earthquake is in the realm of possibility for San Diego. San Diego is located near several fault lines. According to the CEA, it is likely that an earthquake will hit the city in the near future, and that probability has only been increased by the consequences of climate change. Disruptions caused by climate change such as alternating periods of droughts and heavy rainfall, and melting glaciers could increase the likelihood of earthquakes worldwide. 
San Diego is located on the Circum-Pacific belt, or "The Ring of Fire," where 81 percent of recorded earthquakes occur. In fact, an earthquake as strong as magnitude 8.2 is possible on the San Andreas Fault, just a few hours away by car. A United States geological survey, called ShakeOut, determined that San Diego would experience shaking between MMI 5 and 6 (Modified Mercalli Intensity, a measurement of shaking intensity) depending on the neighborhood. Earthquake shaking with intensities above 6 MMI causes building damage. 
ShakeOut, a model of a probable earthquake scenario in Southern California, determined that a magnitude 7.8 earthquake would be "so powerful that it causes widespread damage and consequently affects lives and livelihoods of all Southern Californians," wrote the LA times. More specifically, the report estimated that the death toll would be nearly 1,800 and the earthquake would be considered one of the worst natural disasters in United States history.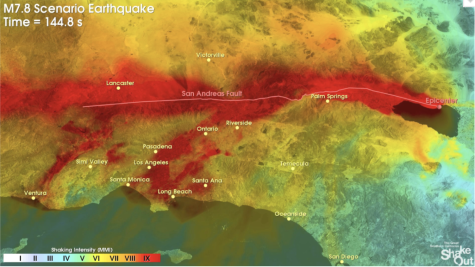 Additionally, the report stated that 900 people could die in fires, more than 600 people could die in building damage or collapse, and over 150 people could die in transportation accidents. Nearly 50,000 people would be injured, and between 500,000 and 1 million people would be displaced from their homes.
Following the earthquake, Southern California could lose gas, cell service, and power and be isolated for some time because the region is surrounded by fault lines and mountains. There would be an estimated $200 billion in damages.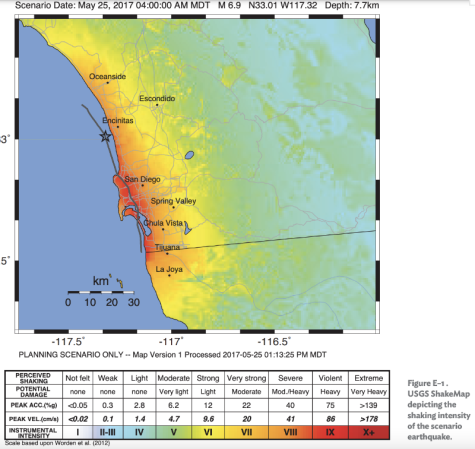 An even more devastating earthquake is possible in San Diego, however. An earthquake of magnitude 6.9 is possible at the Rose Canyon Fault, which passes through La Jolla and a large portion of San Diego. According to the San Diego Earthquake Planning Scenario, there is an 18 percent probability that an earthquake of magnitude 6.7 or higher will hit San Diego in the next 30 years. This earthquake would cause immense repercussions to our homes and community. There will be an estimated $38 billion in building and infrastructure damages, 8,000 buildings damaged beyond repair, and 36,000 households displaced.
Although these data points are frightening, especially in the wake of the earthquake in the Middle East, California's earthquake building codes are stricter and more heavily enforced than those in Turkey. Projects to retrofit old and hazardous buildings have been implemented to avoid consequences as extreme as those in Turkey and Syria. 
The earthquake in Turkey and Syria is an important event to keep in mind because an earthquake of a similar magnitude is a possibility in San Diego. However, it is likely that we will suffer less damage because of the relative preparedness of our city.