Just for Crocs
Crocs' comeback makes it a student-favorite — and a risk for a UV
Anyone can recognize crocs, those clunky-looking clogs with holes. In recent years, these shoes have become a fan-favorite on campus — especially during free-dress (and occasionally they infiltrate some students' uniforms). 
Although not part of the dress code, crocs are known for their comfort. "I like to wear them because they're comfortable like slippers but still can be worn in everyday settings," says A.J. Gwanthey ('25),  "ever since I was introduced to crocs I've always thought they were cool."
Malaya Taylor ('25), a collector of these shoes, agreed. "I wear them because they are comfortable, which is why I have seven pairs." Her collection consists of a variety of styles, ranging from Disney racecar Lightning McQueen shoes to a rainbow tie-dye style. 
Yet, Crocs weren't always popular. 
Although, in 2007, they produced $850 million in sales, their numbers quickly dropped by 15 percent in 2008, the total loss in revenue being $185 million according to the Complex. Their popularity in the early 2000s was short-lived due to a sense of dorkiness. Crocs President Michelle Poole said that the public perception of Crocs was unfavorable. "We were somewhat ridiculed as a brand," she said in the Complex in 2020.
But in recent years, Crocs have climbed their way back into the fashion scene. "I feel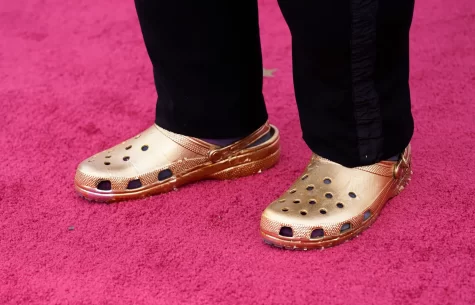 like I see a lot more people wearing crocs than I have in previous years," says Crocs-wearer Hugo Avila-Marquez ('25). In 2017, designer Christopher Kane showcased them during the Spring/Summer 2017 runway. Malaya theorized that "after someone claims that a specific shoe is in style then it makes more people want to participate in the trends." The hashtag, #crocs, has 2,376,141 posts on Instagram. Additionally, celebrities like Priyanka Chopra, a Crocs ambassador, and Justin Bieber who collaborated with the company only cement the brand's place in popular culture. 
Los Angeles-based fashion stylist Zoë Hennessy noted that, overall, fashion is "constantly going a little bit more casual and a little bit more comfortable." She says that the trendy yet casual nature of crocs is consistent with this trend.
The clunky clogs may appeal due to its comfortable style, but another aspect to their popularity remains: Jibbitz™ 
Jibbitz™ are shoe-charms that wearers can use to decorate their crocs. These charms allow a sense of customization and uniqueness to each person's pair of crocs. Malaya's favorites include the Ariel and Tow Mator Jibbitz™. Alex Moreno Adan ('26) cited his watermelon Jibbitz™ as his favorite; For A.J., his favorites include football and soccer ball ones. 
Alex noted durability as another reason why they are so popular. "I've put my crocs through so much and they still look relatively new," he says.
As someone who wears crocs whenever he gets the chance, Tyrus "Ty" Thompson ('25) agreed, noting that the shoes can withstand a variety of conditions like water and dust. "The only way I have managed to destroy a pair of Crocs was with extreme heat after accidentally leaving them in the outlet vent of a large heater overnight," he said, "needless to say, that was a sad morning realization as the heat had shrunk and deformed the Crocs overnight." Ty and his friends were even able to shrink a regular-size pair of Crocs into miniature versions; they ended up making a necklace out of the shrunken versions.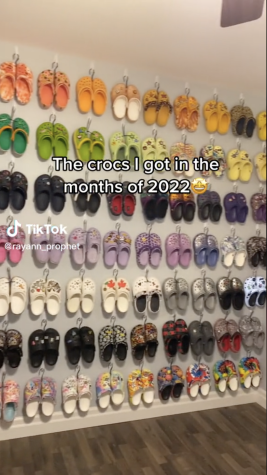 Others like wearing them as their pre and post-workout shoes. Crocs are known to have two modes: sports mode and regular mode. Sports mode means that the reversible band is flipped down to secure the ankle and improves one's athletic performance. 
However, although a student-favorite, crocs are still banned in the dress-code. On Thursday, February 9 at 3:30 P.M, Assistant to the Dean of Students Ms. Melissa Kirchberg sent out a reminder email explaining shoes that can and cannot be worn. "Slippers with soles are not part of the uniform and there are a lot of you wearing them," she wrote.
Malaya noted that she has seen people wear crocs on campus. "I have seen someone wear crocs to school but I'm not going to say their name," she says, "Also I don't think they have gotten dress-coded for it." Speaking as a staunch supporter of crocs, Ty says he "would support a revolution or coup to incorporate Crocs into the uniform."
Whether or not it is banned or not, there's no doubt that crocs have become a statement piece in popular culture — and maybe someday they'll become so mainstream that they can become part of the dress-code.