March [Madness] or [Magic]
Students share predictions and opinions on the 2023 March Madness Tournament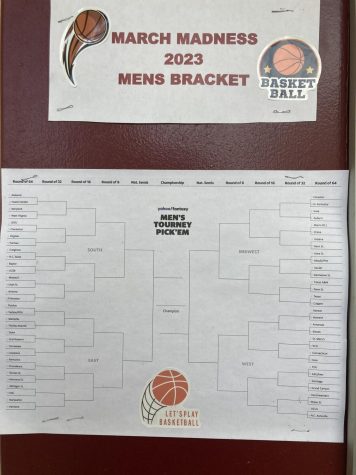 With 3.3 seconds left in overtime (OT), Gonzaga's freshman guard Jalen Suggs takes three dribbles, as the time hits zero, he releases the ball from almost halfcourt and bangs in a three. The three-pointer sealed the deal for Gonzaga as they beat the University of California Los Angeles (UCLA) 93-90 on April 4, 2021. This was just one of the many electrifying and buzzer-beater-deciding matches in March Madness history. 
Starting on March 14, March Madness marked the start of upsets, fights, blowouts, stars shining, and dark horses. One upset has already happened: on March 16, No. 15 Princeton Tigers beat No. 2 Arizona 59-55. Another upset occurred as No. 16 Fairleigh Dickinson Knights beat No. 1 Purdue Boilermakers 63-58 on March 17. Even though the 2023 March Madness Tournament is held far away from San Diego, this hasn't stopped many students and faculty members from The Bishop's School from expressing their own opinions on which players to look out for. 
Many members of Bishop's, for instance, Middle School Athletic Director Coach Nick Levine, Math Teacher and Basketball Coach Daniel Clark, Luke Ball ('23), Katelyn Wang ('23), and more, all talked about how they were looking forward to the underdogs beating No. one and No. two seeded teams. 
Coach Levine said, "The thrill of an underdog beating a favorite or of your favorite team making a run always has me excited for March." Girls Varsity Basketball and Middle School P.E. Coach Paris Johnson, who goes by Coach P, also said, "I love the competitive spirit of it, March Madness is a big thing in college sports for those teams who made it for the first time or the second time or teams who have always been in there." Also Luke said, "Definitely all the ups and downs because for some of these guys, it is their last time playing basketball and I think that it is really entertaining how much they value these games and everything like that."
In terms of ones to watch, many members of The Bishop's School cited Zach Edey of Purdue. Edey clocks in at seven-foot-four and 295 lbs. He uses this to his benefit as he has averaged 21.9 points, 2.1 blocks, and 12.8 rebounds per game and is ranked third in the NCAA. Ryan Arrowsmith ('23) also reflected this sentiment that not only is he tall but also the consensus #1 player in college basketball. Coach Levine said, "He has been a problem for opposing teams all year with his size physicality, and touch around the rim. Purdue is one of the favorites to win it all with Edey being a big reason why." 
Furthermore, Gradey Dick of Kansas was another player on people's radar. Not only are people a fan of him outside of school but also a fan of him when he's on a basketball court as he averages 14.1 points, and 4.9 rebounds and is deemed as Kansas's best shooter as a freshman. Luke even called Gradey a "true freshman" and Ryan followed up and said that "he gets too much hate." Shea Reuda ('23) said that he was not only a good shooter and a solid player in general but also he liked Gradey when he was coming out of high school. 
In addition to Gradey Dick, Brandon Miller of Alabama was also heavily mentioned. Brandon averages 19.6 points and 8.3 rebounds per game. Amid the controversy surrounding his involvement in a murder, he did lead Alabama to a No.1 overall seed in the NCAA Tournament for the first time in Alabama's history. Coach Clark said that he is a really good player and that he also won the Southeastern Conference player of the year. Shea said, "He is a really good shooter and an important piece on the Alabama team." Despite the controversy, Ryan still said that he was someone to look out for. 
With her parents going to the University of Virginia (UVA) and being born in the UVA hospital, Katelyn Wang ('23) has always been a fan of UVA. One player she noted was Kihei Clark. Keihei Clark has put on 10.9 points, 2.6 rebounds, and 5.4 assists on average per game. Even though Katelyn said that he is a grad student who has been given an extra year because of Covid-19, it is "really cool to see him come back and bring that sort of experience and professional manner to the team." Coach Levine also said, "I had a chance to watch him play in high school and I have loved his game ever since. A true point guard who controls the pace of the game."
Coach Clark also mentioned Marcus Sasser from Houston. Even though he left the American Athletic Conference (AAC) semifinals with a groin injury, if healthy, he will be a key asset to the Houston team according to CBS sports. He is the leading scorer with 17.1 points per game, 2.8 rebounds, and 3.2 assists per game. Coach Clark said, "He is a really tough guard because he makes a lot of difficult shots."
On a personal level, Coach P. highlighted Destiny Littleton ('17). Destiny racks up 13.8 points, 3.3 rebounds, and 3.7 assists per game. Coach P. said, "She is a Bishop's Alumni, she plays for USC[University of Southern California], give her as much support as you can, and shout her out on social media." Unfortunately, after this interview was conducted USC got knocked out in double overtime by South Dakota State University. Ultimately, look out for Destiny in the Pac-12 Conference. 
Additionally, Coach P. has had her own experience in the Women's NCAA Tournament. She said that it was a "Great experience, been in it twice, 2009 and 2010. We faced Dupaul first round and beat them and faced Stanford in the second round and Stanford whooped us. Great experience, experiencing that as my first time I enjoyed it I went out and competed and didn't care who's name was on the jersey, I just wanted to compete and I did that." As for the second time, she said that they made it to the Sweet Sixteen but barely lost to Duke. In the end, she said, "It was a great experience, I appreciated our accomplishments as a team and helping SDSU[San Diego State University] reach that platform and making it to the NCAA tournament, it is an experience I will never forget."
For some, March Madness brings the community together especially here at Bishop's. Ryan said, "I am doing a huge pool with 25 of my friends. If people who buy into it like it since it is a big communal thing." Luke further said, "My friends always make a pool of brackets together and it is usually a really fun time. I talk to people that I don't usually talk to, I talk to a lot about March Madness." Katelyn also said, " We are a lot of times rooting for teams of schools that are parents went to so we learn a bit about each other along the way which is really nice, and in that we find a sense of community."
Following this idea of a sense of community, through his experiences at this school, Coach Clark said, "I don't think so because this is my second year at Bishop's and I don't think that there's a school-wide bracket or tournament thing last year or this year." Moreover, Coach P. said for Upper School, "I don't really have a gauge of how everyone feels about it."
In regards to different punishments for losers in the bracket competition, Ryan said that a possible idea was running a certain amount of miles. Taking this to a new level, Luke said that a punishment could be eating loads of taco bell and running around a track. Some other consequences for the losers that Shea thought of were the waffle house challenge where one stays in a waffle house for 24 hours, or the loser has to wear a dress uniform every free dress day. Shea also said, "Something stupid like jumping into the pool in regular uniform." It's clear that March Madness stirs up not only excitement but great amounts of conversation—let's see what ends up happening!