Tiny Dinosaurs Invade Campus
Wheeler Bailey showcases 3-D printing
A little gradient dinosaur, an articulated slug, and a Rock-tupus. 
You may have seen these miniature figurines popping up around campus. Recently, the articulated dinosaur, also known as the "flexy-rexy," became a highly coveted item for students. This is all the work of two teachers who help run the Center for Creative Sciences, better known as Wheeler Bailey: Wu Tsai Endowed Chair in Science Dr. Lani Keller and math teacher Ms. Jessi Chyrstal.
After attending a conference in October that focused on the creative sciences and maker spaces, Dr. Keller was inspired to bring those ideas to Bishop's. "We were like 'let's go on a campaign for bringing students into the center for the creative sciences, getting them excited, having them ask questions,'" Dr. Keller continued.
Dr. Keller theorized that the trend began in Ms. Chyrstal's math classes. She said that after Ms. Chrystal started printing flexy-rexys for her son this summer, "she had some in her classroom and some calc students were interested in them, so she printed some more."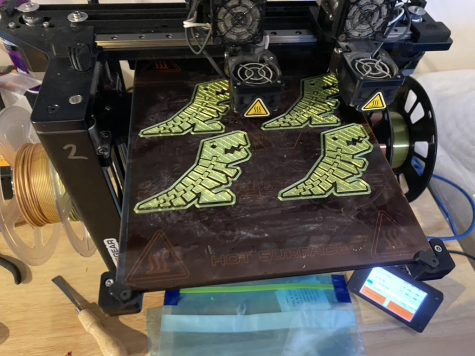 After that, word spread that Wheeler Bailey was printing these adorable creatures. A big fan of the trinkets and the owner of three flexy-rexys, Sydney Mafong ('26) said that she first heard about these figurines from her friend. "I was just at office hours and one of my friends had it," she said, "It was just so cute!" "For tests, I lay them out on my desk," Sydney said, "They are like my little emotional support animals."
Some students knew about these hidden gems long before they exploded in popularity. Member of the Keller advisory Hanna Liang ('25) remembered seeing these prints around the start of school year. "I asked Dr. Keller to print me a slug," she said, "It was great." Since then, the
Center for Creative Sciences started, as Dr. Keller put it, "printing for the masses" around the start of the second semester. Hanna's favorite print is the flexy-rexy. "You can put it on your laptop. I do like my Rock-tupus that has seven legs," she said.
Sashi Chuckravanen ('25) also collects the prints. She currently owns one gold and purple flexy-rexy and a yellow butterfly. "Especially as a stress object. I know for me if I'm really stressed about something, I just play around with
it," she said. She also expressed how she liked the structure of the prints. "I like the fact that they are super flexible. I think it just makes them really fun to bend around," she said.
The reason why they are so flexible is because they are articulated, giving birth to the names of many prints (the articulated slug, articulated lizard, articulated butterfly). However, it's not so much that these prints are eloquent, but that they have certain characteristics that categorize them as articulated. "All of them are articulated, meaning they all have joints that are fun to play with," Dr. Keller explained.
However, these adorable trinkets also have a goal behind them. Dr. Keller hopes that these trinkets can generate curiosity amongst students and lead them to explore different types of prints and even design their own prints using Tinkercad, an online 3-D modeling program.
Wheeler Bailey is also open at any time of the day, as there are no scheduled classes that take place there. Classes — or individual students — can come in and design anything they want. "The sixth graders have used [Tinkercad] in several of their classes, so they're getting pretty good," Dr. Keller said.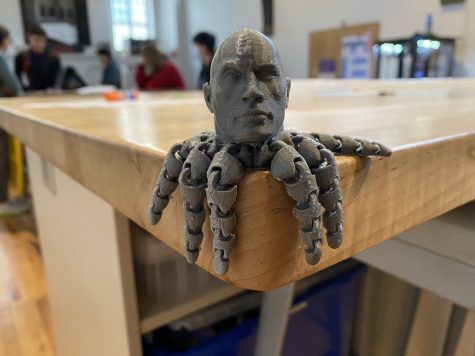 Right now, many of the popular designs can be found on the website Thingiverse, an online database for designs. 3-D printing can be time-consuming, though. "A little project takes so much time. I can only imagine how much time a big project takes," Sydney said. Many designs (like the flexy-rexy or the articulated slug) take around one to two hours. Yet, the reason why Wheeler Bailey is able to produce so many at a time is because they often print in sets of fours at multiple machines.
A special exception is the rock-tupus, an eight-legged print with the face of famous celebrity Dwayne "The Rock" Johnson. Considered a large print, the rock-tupus takes around eight hours to print. 
People have begun to show interest in creating their own designs too. "We also now have some people interested in making 3-D printed earrings by kind of modifying them," Dr. Keller said, "someone's making slug earrings." 
Sashi also found herself being more interested in 3-D printing itself just from collecting the tiny trinkets. Sydney remembered doing some 3-D printing i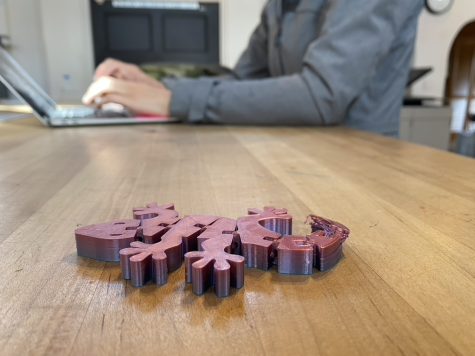 n elementary school, but ended up forgetting about it. This trend allowed her to realize "what [3-D printing] could actually make. I know that it makes parts for important technology that we use now." She's not wrong. 3-D printing has been introduced in multiple fields ranging from aerospace to engineering to healthcare. 
Dr. Keller did note a negative aspect of the trend being that when the toys break, students might throw them away, creating plastic waste. "However, we feel that the excitement and joy they're bringing kind of outweighs the waste," she said. Additionally, 1 kilogram of spool (the material used to make the toys) costs about $20. According to Dr. Keller can make many toys, more than enough to supply students with.  "It's a relatively cheap thing and it's really fun when you go into class and you see students have their computer and their flexy-rexy or their slug," Dr. Keller said.
Dr. Keller hopes that this trend will continue to generate interest in the Creative Sciences. "We just want to encourage more students to come in and if they have different ideas for 3-D printing, we're all ears! We would love to help!" she said.