Mark Your Ballot: YES Or NO
Students at The Bishop's School express their wide range of emotions as the midterm elections are finishing up.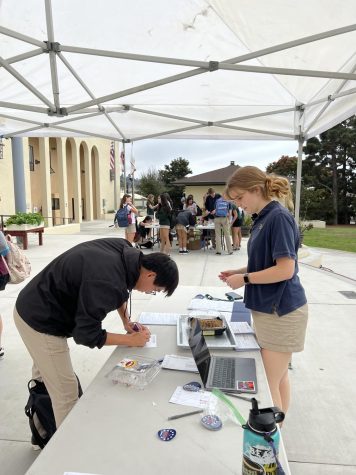 On November 8th, the 2022 midterm election was in full swing in the United States and voters flocked to the polls. Citizens of the United States decided who controlled the US Congress, including the House of Representatives and the Senate.
Every two years, political candidates run for various political positions such as "secretary of state, attorney general, or control of state legislatures" according to CBS News. Gerard Blake ('24) expressed the importance of midterm elections because they decide "who runs the U.S. Congress, who makes legislations which is signed off by the president". Some legislations could be tax hikes, abortion rights, etc. He added, "if a different party than the president controls Congress, they can stop any legislation from going through".
Many students felt concerned, frustrated, or have mixed emotions about the midterm election. The Democrats won the Senate and the Republicans won the House of Representatives. Gerard, who leans a little towards the Republican side, had mixed emotions. He pointed to the Democrat's economic policy: "high spending has been a factor in inflation. Democrats did well in this election, so most likely will not change their rhetoric and policy."
Jonas Pfefferman ('24) said, "I don't have enough faith in the political system, in general, to be excited." Jonas felt concerned about "the number of election deniers elected to office." He continued, "As a moderate, I'm glad that the Democrats don't have full power and may have to make some compromises to get things passed."
Dylan Navarette ('24) said,  "I am concerned that there won't be a stable balance of power until 2024." With the Democrats keeping control of the Senate, he said "for the final two years of President Biden's term, he will still have a Democratic Senate." Thus, President Biden will have an advantage in things like court appointments and the passing of bills. Adding onto how the balance of power might play out, Celeste Oder ('26) said, "I am interested to see how the balance of power ends up." Following up, Celeste said: "a simple majority is not enough to pass things in the Senate, so this will keep both parties at a relative standstill."
The midterm elections could affect the younger generation. Jonas wondered whether he could gamble as a Californian on his phone when he turns 21. Gerard said that legislations related to student debt relief or the reforming of higher education could affect the next generation.
Moreover, the midterm elections will also affect everyone in the United States today. Gerard said, "this election is a clear rebuttal to Donald Trump and his political supporters, even if most Americans disapprove of Joe Biden, they still think Donald Trump's rhetoric is worse." Especially in the handling of COVID-19, polling data from Kaiser Family Foundation in 2020 indicated that a majority of voters disapproved of Trump's handling but preferred Joe Biden's method. Gerard concurred: "this election may represent the final nail in the coffin for Donald Trump and his entire ideology."
Incorporating the whole world into the conversation, Celeste said that, for now, the midterm election has no worldwide implications. She explained that since the margins of control for the House of Representatives and Senate are so close, nothing will pass. Jonas said, "depending on how the Republican party is feeling, Ukraine may not get as much U.S. aid." Furthering the Ukraine-Russia war sentiment, Gerard talked about how unpopular with American citizens not supporting the Ukraine-Russia conflict will be for Republicans. Dylan explained that "since it affects a global superpower[US], it also affects the world."
In fact, The Bishop's School has its own voting registration club. A leader of the parent organization, Inspire2Vote, William Keefe ('23), said it is a national organization that directs voter registration. The Bishop's branch of Inspire2Vote gets their materials from the nationwide organization, says Willam. A minority of people at Bishop's are 18 years old, especially a lot of seniors. He said, "if we are going to inherit this country, we must be accustomed to its political process regardless of political standing. For this reason, voting is significant — especially for younger people."
With so many topics crashing down on the US like the recent overturning of Roe vs Wade, sky-high inflation, the Ukraine-Russia conflict, and a debt-ridden economy, this year's midterm election is one if not the most important midterm election ever.