Forever '80s
Diving into the perpetual popularity of this decade
What do acid washed jeans, "Blinding Lights" by The Weeknd, and the Stranger Things soundtrack have in common? They all have revived remnants of '80s culture. After the appearance of "Running Up That Hill (A Deal With God),"1985, by Kate Bush in Season four of the Netflix hit series Stranger Things, it was, for a while, the predominant sound teens heard on their Tiktok 'For You Pages.' 
Much like its lyrics state, the song's streaming numbers also went "runnin' up" after the release of the long-awaited Season four of Stranger Things. On Spotify, the song currently sits at 427,366,938 streams. The recent resurgence in popularity of '70s, '80s, and '90s culture is evidence that songs in modern media have allowed for older hits to become trendy once again. People of all ages are attracted to the media and culture from this time period due to nostalgia, for the older generations, and the era's trendification, for the younger generations.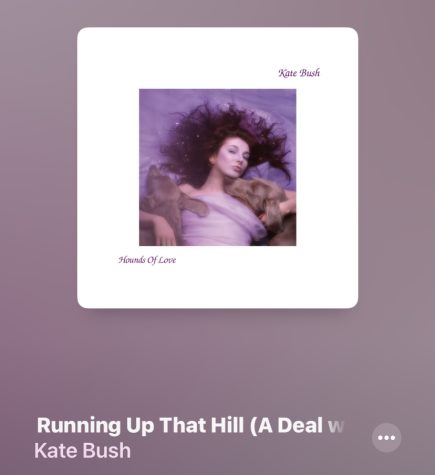 Director of Instrumental Music Mr. Robert Anderson said "I'm probably a little biased, but the late 1960s to the early '90s brought some of the greatest pop music ever" because "it innovated musically and stylistically in ways that popular music hasn't since," he said.
Although a new era, these hits have still sustained the same popularity. "I feel like we're on something of a 30-to-40-year loop when it comes to reevaluation and inspiration," English teacher Mr. Adam Davis commented. He, like many others, has noticed a constant trend recycling relics from the past, especially from the '80s. 
This cycle is exactly how shows like Stranger Things have risen in popularity. Whether it is due to nostalgia or the resurgence in popularity of '80s culture, shows have profited off of recycled hits. 
For example, set in the 1980s in the fictional town of Hawkins, Indiana, the gruesome monsters of the Upside Down and the popular cast were not the only things fans were looking forward to in Season four of Stranger Things. Like many of the previous seasons, the show's Season four soundtrack gained notable popularity—its Season 4 playlist garnering 1,747,614 likes on Spotify. The playlist consists of songs that were first released in the 1980s. Stranger Things has somehow revived old hits that much of the newer generation (Gen Z) had not heard of. 
Arguably one of the most popular songs in the soundtrack, "Running Up That Hill (A Deal With God)" is not the only '80s song that has been revived in the past few years.
Sophie Zheng's ('26) favorite song from Season 4 is "Master of Puppets" by Metallica, another hit that was first released in 1986. According to Billboard, the song has shown a 400% increase in streams ever since its appearance in the Netflix series. 
Director of Choral Music Dr. Christine Micu recalled a memory of one of her music classes that miraculously knew all the words to "September" (1978) by American band Earth, Wind, & Fire. "All of a sudden I had classes of 6th graders who knew all the words to this song that my parents listened to when I was growing up!" she said. 
Modern-day music has also been influenced by the '80s. Dua Lipa's song and music video of "Physical" shows background dancers in leg warmers and leotards. According to the British Broadcasting Corporation (BBC), "t​he track itself is heavily inspired by the disco and electronica" sounds, which were characteristic of '80s music. 
This sudden rise in popularity is not limited to just '80s music. Simultaneous with the rise in popularity of '80s fashion, such as biker shorts, bucket hats, and other older styles, is the popularity of these old hits. It is not just music being revived, but a revival of past decades' culture. 
A certain appeal and zeitgeist has to exude from '80s culture in order for this revival to happen. What has made the '80s so everlasting in a time where trends quickly fade away?
An enthusiast for '80s fashion, Safina Abraham ('25), said she enjoys utilizing the vibrant patterns —like stripes—of the '80s. Unlike current fashion which is very focused on creating one's own style, Safina feels that '80s fashion is "universal," meaning that everyone can adapt the trends from the decade. "There's individuality, but also a sense of connection," she said. This connection could possibly be a reason why the '80s has been able to retain popularity. The bright, retro feel of the time period seems to attract and apply to people of all ages."I think I am drawn to '80s fashion because of how loose and colorful everything seems to be," said Safina.
Writer for the website Film School Rejects Aline Dolinh analyzed the popularity of '80s culture. "Rather than attempting to literally recreate the decade, they merely invoke its spirit – that is, our broad, culturally-ingrained association of the '80s with impossible escapism or the earnest thrills of childhood."
Jen Chaney theorized in the Vulture that the rise in popularity could be due to Generation X, many of which are currently parents of Bishop's students. Growing up in the '80s era, Chaney wrote that Generation X parents introduced their children "to the same prized pop-cultural possessions that populated [their] childhoods." In other words, Generation X, by enforcing and talking about what was popular in their childhood, has led to the preservation of '80s culture. 
Shows like Stranger Things also served as an outlet for the everlasting nature and popularity of the '80s by incorporating certain nostalgic gems or music in their episodes. Four days after Season four was released, the number of listens for "Running Up That Hill (A Deal With God)" increased 8700% worldwide. 
These shows that bring forth '80s culture in current times have also introduced the newer generation to the '80s culture. Jack Rudy ('26) likes the songs "Separate Ways" (1983) by Journey and "Running Up That Hill (A Deal with God)." He and many of his friends were first introduced to these older songs through Stranger Things. 
"
I feel like we're on something of a 30 to 40 year loop when it comes to reevaluation and inspiration "
— English Teacher Mr. Adam Davis
Additionally, the social media platforms have led to the increased popularity Sophie said that TikTok audios containing these old songs have become popular due to everyone wanting to "jump on the newest trends."  She went on to say that the remixes of songs become popular enough so that people want to listen to the original versions. 
The older generations also watch Stranger Things because of the nostalgia it creates from its setting in the 1980s. Dr. Micu enjoys how the show can appeal to multiple generations. "My friends love the nostalgia and how accurately they show the things from our childhoods," she said. 
Of course, modern media like Stranger Things, TikTok, and more have played their roles in reviving these already popular songs by introducing them to newer generations. However, it is more the lasting impact that the '80s has had on people born in that time that has allowed the culture to carry down and thrive in modern-day times. Stranger Things is just another media form that reminds us all again that the '80s fever can affect everyone of all ages. Ironically, the shows that have revived '80s culture have made it "trendy" and "current" to listen to old hits.