Iceberg Ahead!
Students perform Titanic the Musical
Everyone has heard of the great Titanic, whether you've watched the movie, studied the British liner in history class, or were fortunate enough to snag a seat at the recent Bishop's production.
From April 27-29, the Bishop's Singers, Bel Canto, and other performing arts students joined together to tell this profound story to the community. The sinking of the Titanic is notorious for its tragedy. However, in this retelling by Peter Stone and Maury Yeston, the Bishop's cast worked to express the joy and uplifting parts of Titanic the Musical. And following the production, it seemed like the audience experienced every emotion possible.
"[It] made me cry," audience member Lila Hampers ('24) reflected, "and I would have to say it was probably one of the best [performances] I've ever seen at Bishop's. It just evoked so many emotions from me." She continued, "The whole audience was in tears at some points and laughing at others."
One of those superb emotional parts of the production was when two of the first class passengers, Ms. Ida Strauss, played by Flavia Valente ('22), and Mr. Isador Strauss, performed by Raphael Delgado ('24), declared their love for each other in a duet, passionately singing that they'd rather die together on the sinking ship than be separated after 40 years of marriage.
"It was really nice to know the effect of that duet on some of my classmates, audience members, and faculty," Raphael, who also played the role of Captain EJ. Smith, said. "Through laughter, love, and tears, this really was the perfect musical to bring people together," he added. Raphael has been a part of the Bishop's choir community since seventh grade, and has been participating in theater for a large portion of his life. To him, "the musical Titanic is absolutely beautiful, and every single character is rich with depth and is capable of filling eyes with tears. Allowing [himself] to experience those emotions on and backstage was just incredible."
This production not only illustrated the strengthening of relationships at the time of the tragedy, but also created a stronger "choir fam," Chloe Shiue ('24), a five year Bishop's choir member, shared. "In each scene, there were some funny lines and small moments that made the choir community even stronger. I know it sounds cheesy, but bonding with people over these songs was just great." Chloe also played two roles: Ms. Charlotte Cardoza and a stewardess.
Marcus Buu-Hoan ('24), another member of the Bishop's Singers and Bishop's choir member since sixth grade, agreed. "My favorite part of this production was the people," he began. "I love being a part of musicals, and getting to share that with the choir I'm so close to was such a special experience." Marcus performed as the ship's stoker, Mr. Frederick Barrett, and a first class passenger, Mr. Benjamin Guggenheim.
This was Dolce Feenaghty's ('22) last performance as a Bishop's choir member after five years. Before going onstage for the final time, the seniors each gave a small speech to the group, and she remembered saying,
"
It is a rare gift to be able to stand before a group of people and tell them that you love them all, but I get to do that today—I love all of you."
— Dolce Feenaghty ('22)
She continued, "There is so much love, care, and support in the Bishop's performing arts. I know I can go to any of them anytime, and they know they can do the same to me." Performing as Ms. Alice Beane, this Bishop's Singers veteran not only brought comedic contributions to the production but also touching ones.
Local dialect coach Ms. Vanessa Dinning, who attended the performance on the 27th, commented, "Very strong performances [from] all." Ms. Dinning has coached this production during her career with professional singers and actors, and was impressed with the work from the Bishop's performers.
When she coached an adult cast in 2016, she took a good amount of time to focus on the nineteen different dialects of the diverse group of characters in the musical; but commented that 
learning a dialect is like learning a new instrument: it's really hard. "When accents aren't well commanded, it can be distracting, and distance us from an empathetic/emotional connection," she expressed. "I was thrilled that Bishop's didn't attempt to do accents in the show, and instead focused on the quality of the singing and storytelling," she continued. "It served the production really, really well. Kudos," she concluded.
To most, choosing to perform Titanic was a somewhat unpredicted production choice, as the choir doesn't typically perform musicals. However, Joseph Aguilar ('22), who played the ship's builder, Mr. Thomas Andrews, and Dolce proposed a few possible reasons for this decision. Joseph, a Bishop's choir member and student actor for about six years, explained that Dr. Christine Micu pitched this idea two years ago, but it was canceled because of COVID.
Dolce made the distinction that Titanic was closer to a concert than a full musical: the choir learned the music, and then strung it into a show. This was primarily because the musical rehearsal process was shorter than a regular than a choir concert. Her understanding is that Bishop's does a musical every other year, alternating with the middle school musical, to ease the burden on the theater tech crew. But many people in the performing arts, her included, found this deeply saddening, since there are only two chances to participate in a musical at Bishop's throughout your entire high school career. Dr. Micu thought this production was a good compromise, since it wasn't too dance heavy and still musically complex. Chloe also mentioned that Dr. Micu wanted to pick a production that could fit many choral arrangements. "Since we're choir kids, you know, we need those harmonies," she laughed.
When Titanic was chosen as the spring choir production, and the directors soon realized how closely the event at the time paralleled current events in history, according to the Director's Note in the performance program, it was an opportunity they couldn't pass up. Joseph shared that it was actually the 110th anniversary of the sinking of the RMS Titanic a couple weeks before the concert. "That period of time was quite a remarkable age, with so many inventions and discoveries and advancements in engineering and technology," he said. "That craze of exploring new frontiers is finally setting in again as we're moving into an age of commercial space travel. Despite it taking place so long ago, the point of the musical still stands and rings truer every day. The themes, dealing with money and class, human ingenuity and hubris, all ring eerily true," Joseph expressed.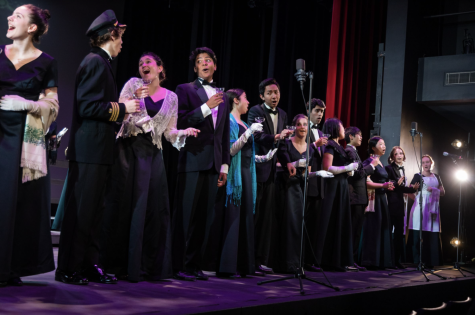 The rehearsal process was a little stressful at times, Mira Singh ('25), a Bishop's choir member since seventh grade, who played first class passenger Mrs. Marion Thayer, expressed. Given there were three groups of students in the production (Bishop's Singers, Bel Canto, and Guest Artists), they didn't have the opportunity to rehearse all together until closer to show time. But in the end, everything ended up working out beautifully.
Laurel Daly, a junior and choir member since her first year of middle school, added that this production was quite different to the usual Bishop's Singers concerts because of the blocking process and the decent number of dialogue scenes, but she really enjoyed the experience. Laurel performed as Mr. Henry Etches, the 1st class steward in this production.
Guest artist Kosi Eguchi ('23), a part of the Bishop's Performing Arts community since he joined the school two years ago, mentioned that although he's not part of the choir groups on campus because of scheduling conflicts, putting on this production with Bishop's Singers and Bel Canto was a blast because of how supportive and gifted the performers are. Kosi acted as a first class passenger, Mr. George Widener, and a second class passenger, Mr. Charles Clark.
Overall, the general consensus was that so many contributed to putting on this amazing production. "Shoutout to Dr. Micu for believing in us; to Adam for playing so well even when his wrists were hurting; to Ms. Maroney for hair and costumes; to Mr. Paulin for helping with the tech aspects; and to all the guest stars!" Chloe added. "It turned out to be a really nice show. I loved it." Between the powerful ensemble harmonies to the character relationships, it was certainly a show to remember. Sail on, sail on, great ship, Titanic!