Success in the Saddle
The Bishop's equestrian team isn't horsing around
All athletes know that the way teammates work together is one of the most important factors for success. For one Bishop's sports program, that teammate is your horse.
Since horseback riding is an individual sport, the success of a rider greatly depends on their horse. Co-Captain Paige Walker ('22) explained, "The major difference is that we're dealing with somebody who doesn't speak our language but has an incredibly pivotal role in what we're doing." This means that riders must listen to their horses in ways aside from speaking. "It is a team sport with your horse but it's not like other sports because you aren't able to communicate in a human way."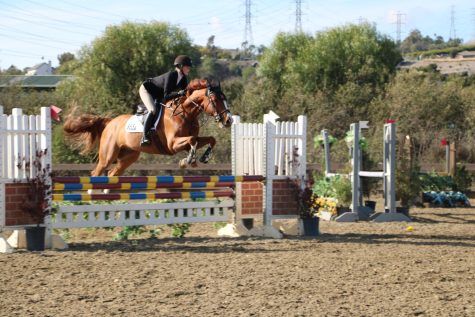 The presence of horses can also affect the team overall, because their wellbeing must come first. Paige remembered a time when one member of the team was going to go to a show, but was not able to since their horse had been behaving abnormally. "That kind of close relationship between the rider and their horses is definitely important in our sport."
Team member Reese Newlin ('26) observed that the relationships between each rider and their horse bring the team closer, maybe closer than those of other sports teams. She explained, "You're really putting your safety in the hands of this animal, and it's something you can all relate to, which really brings people together."
Since it is not necessary for the team to be together to practice and is logistically difficult, each rider practices on their own. However, the captains made it one of their goals this year to create an inclusive team environment. Co-Captain Emma Marshall ('22) said, "It's important to get to know one another and do things outside of school and outside of the barn."  
The bonding activities that the captains organize for the team include cleaning their tack, putting up their team tent, doing volunteer work, and driving up to Orange County for shows. Emma continued, "We definitely try and make it a point throughout the season—especially last year since we didn't get to have a season at all—to meet up and just kind of hangout, talk, clean our tack, and do the very horse-girly things."
The captains believe it is important to include these bonding activities since competing is very individualistic. Horse shows are the game equivalent for horseback riders, and in order to attend shows, the Bishop's Equestrian Team participates in the Orange County Interscholastic Equestrian League (OCIEL). 
The only San Diego high schools that Bishop's competes against are Cathedral Catholic High School and Canyon Crest Academy. According to Emma, many schools from Orange County participate, including St. Margaret's School and San Juan Capistrano High School. 
The Bishop's team has achieved quite a bit of success in this league. The team's Instagram bio declares that they are the "2020 3rd Place Varsity School." Their most recent post shows Paige winning Reserve Champion in the Varsity Jumpers category. Standouts riders on the team include Paige and Peyten Seltzer ('24). 
Following these successes, the team organized senior night. This isn't the typical posters and speeches ceremony that other sports have; the Equestrian Team makes a reservation at a restaurant for a fun team dinner, where they celebrate their seniors and sometimes organize a gift exchange. 
The inclusivity that Emma described includes trying to make the Equestrian Team open to more Bishop's students. That is difficult, since there are not that many students that ride horses, but the small team environment helps to bring the team closer. Additionally, this team is more independent than other Bishop's sports teams since they have a sponsor, English teacher Ms. Elly Smith, rather than a coach. 
One of the two middle schoolers on the team, Reese Newlin, highlighted the supportive culture that the Equestrian Team has. She remembered a show where she could not compete due to injury, but was still there to support the other members of the team who were competing. 
The team isn't necessarily close, but as Emma acknowledged, Bishop's is a tight community, so they do all know and talk to each other. Paige mentioned that one struggle for them is the gap in their ages. There are four seniors: Paige Walker, Emma Marshall, Charlie Johnson, and Cate Freundt, one sophomore: Peyten Seltzer, and two eighth graders: Reese Newlin and Ella Kaminsky. 
The seniors still manage to find ways to mentor the younger members of the team, regardless of the age gap. From the perspective of the middle schoolers, this mentorship is really special. At Reese's first team meeting, she remembered walking in almost starstruck. "[The team] was all so confusing to me: what it was all about, how it works. Paige really helped explain that to me and it was just nice to feel that." 
Reese went on to explain, "They're all super supportive, and they all want you to do your best." Since seniors have more experience than younger team members, they take special care to pass their knowledge down. This is how the team continues to be successful as the years go on. In the end, however, it is down to each horse and rider. As Emma Marshall put it, "You can't do it without your horse."