Virtual Village
How Olympic TikTok offered an inside look into athletes' time in Beijing
Last summer, Olympians appeared all over TikTok, documenting their experiences in the Tokyo Olympic village. Just six months later, Olympic TikTok has made a resurgence during the 2022 Beijing Winter Olympics. As of February 2022, the hashtag "olympictiktok" has 70 million views and the hashtag "olympics" has 11.9 billion. So, what makes this side of TikTok so popular, and what keeps viewers interested?
It likely stems from the way the public perceives the Olympics. The first Games were in 1896 and both then and now have represented the best of the best, an elite club of athletic superstars. There's a sense of awe around the Olympic Village; it's a myth, a legend—something no ordinary person would ever get to experience, until now.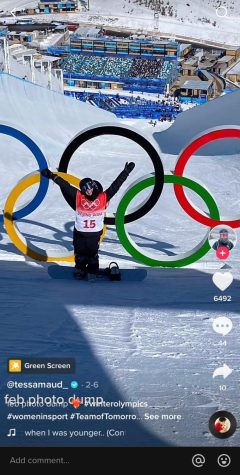 The Olympics began on February 4, and, according to app analytics company Sensor Tower, during the week to follow, 1.7 million people in the US downloaded TikTok. 1.1 million downloaded Instagram and 1 million downloaded YouTube. However, according to The Washington Post, fewer people tuned into the Opening Ceremonies than in previous years. This indicates a shift away from watching the Olympics on the big screen to instead watching shorter versions on TikTok or other media platforms. 
While social media platforms like Instagram rose to prominence in the late 2000s and early 2010s, the curated nature of "feeds" doesn't allow fans to really grasp the everyday nature or experience of a public figure. However, this changed in late 2018 as TikTok's popularity skyrocketed. The shorter videos, which are generally under a minute in length (though sometimes up to three minutes) offered a candid, more relatable look into celebrities—and with them, athletes. 
What makes these TikToks interesting is that they aren't necessarily the same people splattered throughout the news articles. Sure, gold medalists like snowboarder Shaun White and gymnast Sunisa Lee boast 1.5 million and 1.6 million followers respectively, but smaller TikTokers also make up a large portion of what teenagers call Olympic TikTok. The type of content varies from YouTube-style vlogs to dances with teammates, which helps to humanize world class athletes into everyday people. 
Eighteen-year-old snowboarder Tessa Maud is a popular TikToker who has been vlogging and documenting her experience traveling to Beijing and competing in the Games.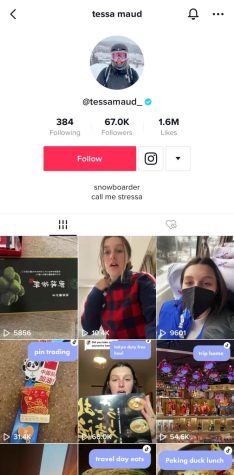 The topics of her videos—and others'—range from larger, more documented aspects like opening ceremonies to parts of the Olympics that people might never have considered. A common topic on Summer Olympic TikTok was the cardboard beds athletes had to sleep in. Some winter Olympians—such as Tessa Maud—continued the trend with a review of the beds in Beijing, which include a zero gravity mode feature. Many TikTokers also do days in the life to show what it's like to spend time in Olympic Village, food reviews to allow viewers a glimpse at unseen parts of the day, and Question and Answer (Q and A) sessions to connect with fans.
Another popular topic is the COVID regulations and policies set in place by the Olympics. American snowboarder Maddie Mastro garnered 678k views on a video of her daily COVID test. German snowboarder Leon Vockensperger posted a video of a robot disinfecting a hallway, and Shaun White showed a facial recognition machine that could identify athletes with their masks on. Oftentimes, the aspect of the pandemic covered by NBC is positive tests and athletes sent home. TikTok documents many of the little steps taken to keep the athletes and population healthy.
In the past, the only Olympians that the general public was aware of—particularly uninformed teenagers—were the gold medalists. However, people like Tessa, who is only eighteen-years-old, demonstrate the reality of the Olympics, which is that Olympians are young, social, and relatable. "The Olympics is so much more fun now that TikTok is a thing," a user commented on one of Ilona Maher's videos. "I forget that they're normal people sometimes and I love it," another said.
It's not a situation that is unique to the Olympics; throughout the last couple of years, many public figures have turned to TikTok as a way to connect with fans in a more casual way. Through each new social media service, the physical barriers between celebrities or athletes and their fans are broken a bit more.