The Circle of Compassion
Father Boyle's Visit to the Bishop's School
On Friday, February 25, Father Gregory Boyle, Founder of Homeboy Industries, came with two of his colleagues, Chris and Gregorio, to share their experiences with the Bishop's community. 
In the beginning of his talk, Father Boyle communicated a powerful lesson he learned from rehabilitating former gang members. "And so you stand with the poor and the powerless and the voiceless and you stand with those whose dignity has been denied," he stated, "and every once in a while you're gonna experience this great privilege to be able to stand with the easily despised and the readily left out. You can stand with the demonized so that the demonizing will stop." 
Homeboy Industries is an organization which Father Boyle founded. According to their website, it is one of "the largest gang-intervention, rehabilitation, and re-entry program[s] in the world." Each year, 10,000 former gang members throughout Los Angeles go through Homeboy Industries' program.
Their mission states that "Homeboy Industries provides hope, training, and support to formerly gang-involved and previously incarcerated people, allowing them to redirect their lives and become contributing members of our community." His message of compassion and kinship aligns much with the Bishop's values and strives to connect the community to other groups who aren't in our immediate community. 
Father Boyle has also visited Bishop's before. In 2016, he was awarded the Bishop's Medal, an honor bestowed upon speakers at Bishop's whose work or message is deeply impactful on the Bishop's community.
Director of Diversity, Equity, Inclusion, and Justice (DEIJ) Mr. David Thompson felt that Father Boyle and Homeboy Industries' mission aligns most with the Bishop's value of compassion, which is also this year's theme.
However, some people were hesitant about how his visit would be portrayed to the Bishop's community.
The Reverend Nicole Simopoulos-Pigato addressed the hesitation in her interview. It wasn't a matter of his message as Rev. Simopoulos-Pigato described his work around compassion and kinship as "compelling" and "messages that we, as the Bishop's community, needed to be hearing as we seek to create a community of inclusion and belonging."
The Rev. Simopoulos-Pigato said that "the hesitancy had to do with wanting to be careful of bringing speakers to campus that portray the BIPOC (Black and Indigenous People of Color) experience through the single lense of violence, crime, incarceration and gangs. We do not want to perpetuate negative stereotypes of people of color." 
Daily Urinal Editor Connor Schneider ('22) also voiced a concern in Issue #110 of The Daily Urinal, which was published on Thursday, February 24 about Father Boyle's visit's possible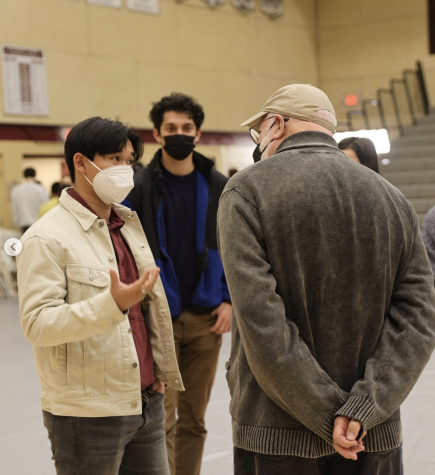 perpetuation of gang members being of only Black and Latinx affinity. According to Connor,  it could "be considered a bad look" because Father Boyle, who is Caucasian and was the only speaker during Black History Month because two other Black speakers could not make it to Bishop's this month. He also said, "It would be more than easy to write off Father Boyle and his work as another form of the 'White savior' lifting up the other races, daresay, 'civilizing' them."
However, besides those concerns he did feel that Father Boyle's message was important for students to hear. "I think our community would greatly benefit from understanding his dedication to compassion and putting it into action ourselves on campus."
Mr. Thompson said that Father Boyle was not only chosen because of his message, but also because, after conferencing with students who voiced their approval of his visit, he agreed that Father Boyle's journey should be shared.
English teacher Ms. Catherine Michaud agreed with the decision to bring Father Boyle to Bishop's. After reading Father Boyle's work, she came to the conclusion that he was able to become part of the community he is working in, knowing and connecting with the people in that community in genuine ways. "His writing makes the people he works with come alive in ways that humanize them for all of us. It's a lot harder to judge," she said.
Maggie Johnson ('22) also felt that Father Boyle's message was incredibly powerful. "While not all of us can open up a large-scale rehab center, Father Boyle's message was a great reminder to be compassionate whenever you can. These acts of compassion never have to be huge, but a little compassion can have a huge impact," she said. 
In Father Boyle's book, Tattoos on the Heart: The Power of Boundless Compassion, which was discussed in 10th and 11th grade Social Justice in American History classes, he communicated his message of compassion through his experiences building a community at Homeboys.
During a lunch meeting session in the Manchester Boarding Room, when asked about the importance of his journey to the Bishop's community, he said that students should, "move away from judgment [and] move towards awe." He emphasized the circle of compassion in which one aims to admire and stand with the "demonized," not judge them. 
The Rev. Simopoulos explained, "Father Boyle's message of the circle of compassion and creating a community in which nobody stands outside of that circle of compassion is really important for our community as we think about how we treat ourselves and how we treat each other."
It seems that, ultimately, his visit and work helps us examine our own biases and, like Ms. Michaud said, "allows us to enter the lives of others that may be totally different from ours."