The Drive to Donate
The American College of Obstetricians and Gynecologists (ACOG) says that a woman's menstrual cycle usually lasts between 2-7 days. Each of those days, a woman has to change her pad multiple times—usually every 4-8 hours. However, not all menstruators are able to access these products due to period poverty: a "global issue of inadequate access to menstrual hygiene products and lack of education regarding menstrual health," according to The Period Poverty Project's (PPP) website. The PPP realizes the importance of having period products readily available for women of all income levels.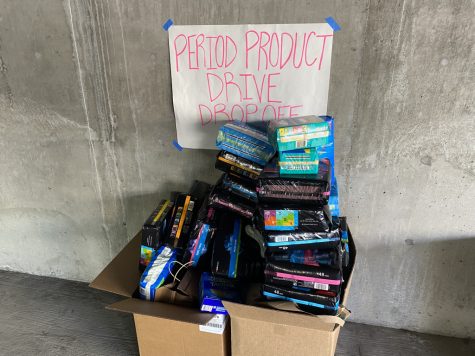 On January 24, 2022, the Period Poverty Project announced in the Daily Bulletin that from January 31 to February 4, the bins in the student center and parking garage will be open for donations. 
Each grade can help with this worldwide issue by delivering menstrual products to the bins in the garage. 6th, 7th, and 8th graders can all bring in pads. 9th grade and 10th grade were assigned tampons and 11th grade through 12th grade could bring in either of the two products. 
Although the specific organization that will receive these donations collected by PPP has not been decided, the products will eventually be packed and donated to women in need. Co-Founder of PPP Yasi Henderson ('22) recalled the first time during their sophomore year that they put out donation bins in the student center and saw the number of products slowly pile up. "One day, [me and Andrea] come into the cafeteria for milkbreak and it was just a huge pile. We got a little emotional," Yasi said. "This drive holds a special place in our hearts," agreed fellow co-founder Andrea Rix ('22). 
On their website, the Period Poverty Project has reportedly already "donated over 128,000 menstrual products to people in need, covering over 10,000 menstrual cycles with their donations." And this is only within the Bishop's community and their network of other schools in San Diego.  
PPP has previously held several annual drives for period products. They then partnered with a local organization or group to donate the products to. For example, the most recent organization that received PPP's donations is the San Diego Housing Commission, which is a model organization in providing affordable housing for those in need. During PPP's first drive, they collaborated with Rachel's Women's Center, an emergency shelter for homeless women in San Diego.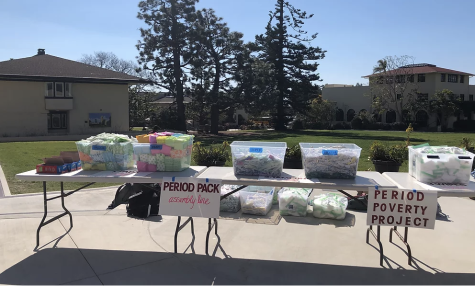 After the donations are collected, PPP usually holds a school-wide "period packing party," which Andrea Rix ('22) described as "therapeutic." At this lunchtime event, students can pack paper bags with period products as they go down an assembly line filled with the donations collected. "The main goal is to create individual kits, rather than donating a whole pack of products to somebody," Andrea said. Yasi went on to explain that it was more practical for homeless populations, as the kits are compartmentalized and hold enough products to cover one cycle.
PPP has also raised large amounts of money to provide funding for those products. On PPP's website, it states, "in October of 2021, PPP raised over $7,500 selling pink polos to Bishop's students! Over 420 polos were sold (nearly half of the student body!), each of which financed ten months' worth of menstrual products for someone in need."
The Period Poverty Project has not only influenced people in need of menstrual products, but they also continue to impact many students through these drives. During our interview with the two co-founders, Advay Chandra ('22) came up and excitedly commented that his advisory had participated in the current PPP drive. "I [told] Mrs. Broderick that we need to set a goal [for how many products to bring in]. You'll be getting at least 50 pads from our advisory," he told Andrea and Yasi.  
As a final note, Andrea and Yasi said, "Come join us in our period packing party at lunch to pack kits of menstrual products to serve someone in need. You might find it surprisingly fun!" If you need therapy or comfort, look out for a period packing party in the upcoming weeks!