Return of Retreats
Building friendship when we need it the most
What did you miss the most last year? If you were lucky enough to escape last year with good health, being able to socialize with others and meeting new people probably topped many people's list. As many now know, having healthy friendships is important towards maintaining one's overall mental and physical well-being and helps one decompress and gain self-esteem. Reports show that not being able to go to school and see friends for most of last year affected the quality of life of many. 
Class retreats are a great way to help students build friendships, and they've long been a tradition at Bishop's, dating all the way back to 1984 under the tutelage of Mr. Michael Teitelman. During a recent interview, Mr. Teitelman shared that it is hard for kids to make friends when they are arriving at a new school, especially when they are all so busy working on demanding academic work. New students can meet others "at lunch or if they're on a team or an arts program," but "it's a whole different dynamic [with] retreats," explained Mr. Teitelman.
Throughout the years, class retreats have been able to help students form and strengthen relationships with peers and faculty at Bishop's, but due to the pandemic, creating those opportunities have been extremely difficult and nearly impossible. "One of the central things about a school like ours is that ability to make connections… When we're all behind screens, it [was] a real complication," Dean of Students Ms. Shea pointed out. 
Jessica Luo ('24), class of 2024 president, was especially devastated for the new students when she discovered retreats were canceled last year due to the pandemic. "The inability to meet new people created a bigger divide between returning and new students which, in turn, heavily affected our class' social dynamic," she said. Senior Maggie Johnson, who joined Bishop's in eighth grade, agreed with this observation. "Retreats are really a time to get to know your classmates without the distractions of school, athletics, and other extracurriculars," Maggie explained. 
The School was very aware of how students felt. Therefore, despite a year full of uncertainty and obstacles, Ms. Shea and Campus Scheduler and Events Coordinator Ms. Kanda Maynard still managed to create some sort of class bonding activity last year, such as a boat race for the class of 2027, a field day for the class of 2024, water games in the pool for the class of 2025, and a movie night for the class of 2023.
This year marked the return of class retreats. Even though the trips were not able to occur all at the same time like they typically were, they have been nothing short of success. New student Alivia Schmidgal ('25) said "I got to meet a lot [of] new people, and made a lot more friends… it was a very positive and fun experience." Adelaide Kessler ('25) enthusiastically expressed, "[The retreat] was so fun! I definitely got to know people better." New freshman Lilian Franqui can affirm that the retreat allowed her to form friendships since students hung out in mixed advisory groups. Ellise Lee ('24) who also joined Bishop's this year as a 10th grader reflected, "I met new people [during retreats], and I'm glad we got a chance to socialize."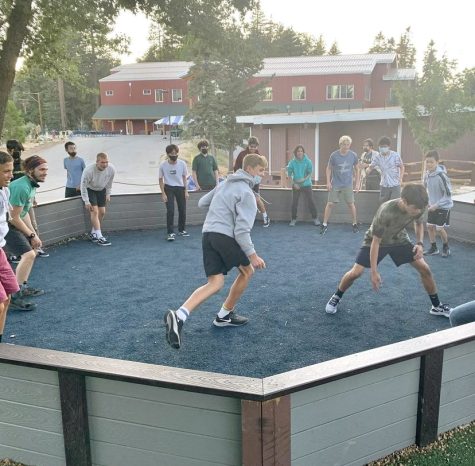 The senior retreat, arguably one of the most memorable events of the year, was also a great experience. "Senior retreat was amazing!" Maggie emphasized. "It was even more impactful than I thought it would be… I got to spend some really great time with some of my good friends, but I also got to chat with some other classmates that I am not as close with." Retreats have been a part of Maggie's life since she was in 8th grade, and she still remembers her first retreat on Catalina Island. Not only did she go night snorkeling, but comically, also cherished the times she slept in tents with spiders. "We really bonded as a grade in the moments when we were most uncomfortable." It's clear that retreats have left a lasting impact on students' lives. 
The voices of the students precisely matched the primary goal of Bishop's, which is for students to build a community and get to know each other as kids outside of a school setting. "When everybody's fresh and full of vim and vigor, [they are] ready to have a wonderful year," Mr. Teitelman expressed. 
Even though the pandemic is not yet a thing of the past and many ideas from the students can't be implemented, with the help of grade level retreats this year, students are already happier and stronger. No matter what the future has in store for us, we are ready for the challenge.