Don't Get "The Twisties" Twisted
The power of Simone Biles' prioritizing her mental health
"We also have to focus on ourselves, because at the end of the day, we're human, too," Olympic gymnast Simone Biles said in a press conference. "So, we have to protect our mind and our body, rather than just go out there and do what the world wants us to do."
Citing her mental health, Simone Biles withdrew from the women's gymnastics team final on Tuesday, July 27, 2021 at the Tokyo Olympic games. She withdrew from the individual all-around competition the next day, and three of the four individual events in the coming days. It was part of a current shift, one recently exemplified by tennis player Naomi Osaka as well as Biles, into understanding that elite athletes are humans too and deserve all of our care and respect. 
These actions were splattered across social media and news outlets the moment they happened. Many people criticized her decision. "Simone Biles quit on her team and her country. She should not be celebrated for it," a TikTok user commented on one of Biles' videos. Conservative TV host Charlie Kirk called her "a shame to the country" on his podcast, and said "We are raising a generation of weak people like Simone Biles." Journalist Piers Morgan wrote an op-ed for the Daily Mail. "Sorry, Simone Biles, but there's nothing heroic or brave about quitting because you're not having 'fun,'" he said.
The US women's gymnastics team was the heavy favorite to win the all-around competition. They won the team gold at the Olympics in 2012 and 2016 and won every individual Olympic all-around competition since 2004. 
In addition to accomplished gymnasts Sunisa Lee and Jordan Chiles, they had Simone Biles, who won her first World Championship in 2013 and has not lost one since. She has 25 gold medals at World competitions, more than any gymnast in the history of the sport.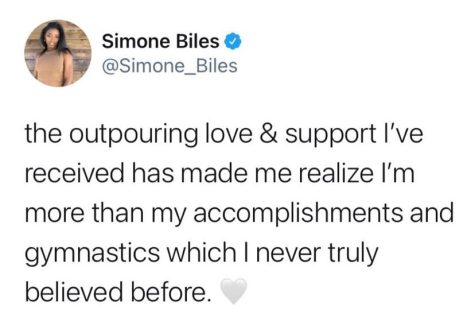 After she removed herself from the competition, Biles explained that she was suffering "the twisties": a dangerous psychological condition that causes gymnasts to lose track of the ground and of their placement in the air. 
Former gymnast and diver Catherine Burns took to Twitter to explain the danger of this mental state. "Driving a car is a good example," she said. "Suddenly, in the middle of driving on the freeway, right as you need to complete a tricky merge, you have totally lost your muscle memory of how to drive a car. It's terrifying. You're moving way too fast, you're totally lost, you're trying to THINK but you know you don't usually have to think to do these maneuvers, you just feel them and do them." She went on to explain that the height of complexity of Biles' skills would only add to the danger she faced. 
Biles said she struggled with the postponement of the Olympics for the COVID-19 pandemic. "Mentally I was kind of emptying my gas tank. I was ready to go in three months and ready to be done. That's what I was striving for." Then, the Games were moved back more than a year. "Now we have to take our foot off the gas," she said. "It's, 'Whoa, whoa, wait. Not three months, now it's going to be 15. So sorry, figure out your training schedule from here on out.'"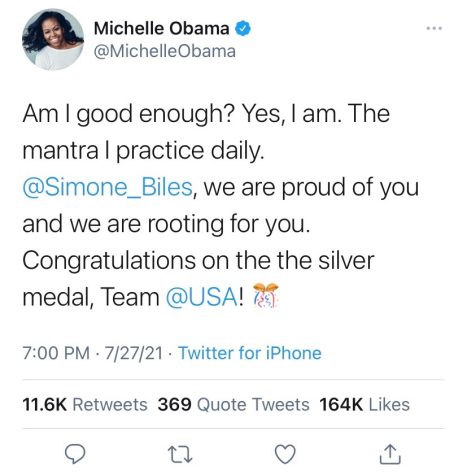 Since her dazzling performance in 2016, Biles has been the generally agreed-upon GOAT: greatest (gymnast) of all time. As the other gymnasts entered the Tokyo Olympics, it was a competition for second place. But, while Biles deserved this status, deserved the recognition for her incredible skill and hard work, she was dehumanized, and people forgot that she felt pressure, that she was a person too.
"Not a lot of people know what it's like to feel like the weight of the world is on their shoulders," Senior basketball player Angie Robles said. "She may have trained incredibly hard to be in the best physical state possible to compete; however, if she's not prepared mentally, then it would have all been for nothing." 
"The endless praise that Biles receives for her 'superhuman' abilities can lead to a kind of dehumanization," Eren Orbey wrote for the New Yorker. It "enforc[es] an incessant expectation that she not only perform but outperform and a sense of bafflement in the rare instances that she doesn't."
"I truly do feel like I have the weight of the world on my shoulders at times. I know I brush it off and make it seem like pressure doesn't affect me but damn sometimes it's hard," she said in an Instagram post.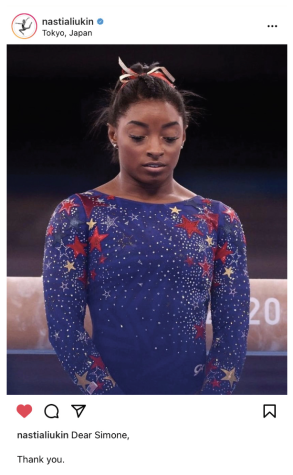 Biles shared that she didn't return in 2020 solely for the love of the sport. Team doctor Larry Nassar sexually abused her, alongside many other gymnasts for the course of many years. It was a revelation that caused USA gymnastics to have to reexamine the culture they had built around these women: property, taught to push their bodies through any and every pain they felt—physical or mental. ""If there weren't a remaining survivor in the sport, they would've just brushed it to the side," Biles said. She made a powerful statement by returning to the sport.
Biles' withdrawal from the games took incredible courage, and she was among elite athletes who are destigmatizing conversations about mental health. 
Japanese tennis star Naomi Osaka made headlines when she pulled out of Wimbledon and the French Open earlier this year because the tournaments did not allow her to choose not to speak to the press. "The truth is I have suffered from long bouts of depression since the US Open in 2018 and I had a really hard time coping with that," Osaka said in an Instagram post. "I am not a natural public speaker and get huge waves of anxiety before I speak to the world's media."
She also released a three part docu series on Netflix called Naomi Osaka. She spoke on the pressures of living up to her status as the first Asian player to rank so highly in tennis and documented the stress of her notoriety. 
The day she withdrew from the team final, Biles said that Osaka's speaking up had inspired her to "focus on [her] mental health" and "not jeopardize [her] health and well-being." These two female athletes of color, both widely considered the best in the world at their respective sports, have demonstrated that being the best doesn't mean you have to be perfect and have hopefully ushered in a new era of stigmatization.
Angie said that she had faced similar struggles with her mental health. "I was constantly being compared to others and it took away my confidence… I realized that I had been playing for everyone but myself and that I wasn't having fun anymore. Once I started playing to have fun—and playing for myself—my mentality got better and I gained more confidence."
In the days following Biles' withdrawal, there was an outpouring of generally positive support across social media. Her teammates supported her on social media and proudly sported their silver medals. "Your fearlessness and ability to do the impossible does not go unnoticed," Sunisa Lee said in an Instagram post. "We love you."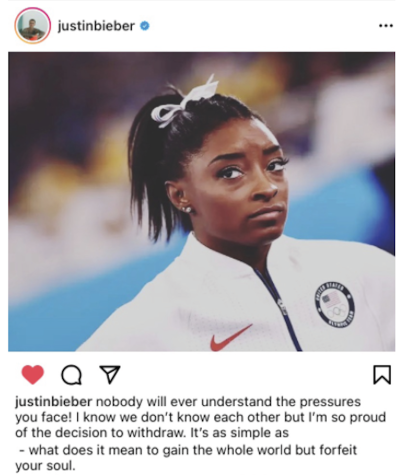 Hundreds of celebrities expressed their support for the gymnast, including swimmer Michael Phelps. "We're human beings," Phelps said. "Nobody is perfect. So yes, it is okay to not be okay."
Biles has remained active on social media, posting to congratulate her teammate Sunisa Lee on her gold medal in the all around and to thank fans for their support. "The outpouring [of] love & support I've received has made me realize I'm more than my accomplishments and gymnastics, which I never truly believed before."
Biles and Osaka have likely inspired a generation of people—particularly women of color—to prioritize their wellbeing and speak up when they are not okay. 
"So yes," Angie said. "I have a lot of respect for Simone Biles. She did what many of us couldn't, especially with such a huge platform as the Olympics."