Pulling on Your Heartstrings
All about Annika Haagensen's senior art exhibition and her reflection on making art at Bishop's.
From November to December 21st, when you walk into the library, you will see the walls of the staircase to your right filled with Senior Annika Haagensen's art. A culmination of six years' worth of work, Annika's exhibition premiered on November 15, 2021.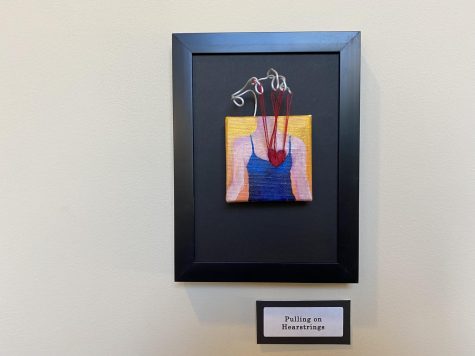 Since taking the photo "Flash Freeze on a Chain"—a photo of a rusted chain in a snowy forest, frozen within a crystal clear ice form—in middle school, Annika has started displaying her art more openly. "I've always liked [art]," she replied simply when asked when she started liking to make art. 
Her time at Bishop's enhanced her understanding of art and provided the necessary materials, like a wide variety of paints and canvases, for success in the visual arts. Annika said that she will remember her time in the art classroom and all of the classes she has taken. "The classes I took opened me up to a bunch of different mediums," she said, "I already knew how to work with acrylic paint, but just being able to have access to all the different colors and brushes was really nice."
Annika's mentor and Visual Arts Chair Ms. Elizabeth Wepsic described Annika's art as poetic, saying that each piece "tells an unknown truth." For example, the story behind her photo, "#2,"was that she walked into a store and found an interesting angle for a photo. She proceeded to take the photo and now it is one the pieces she is most proud of.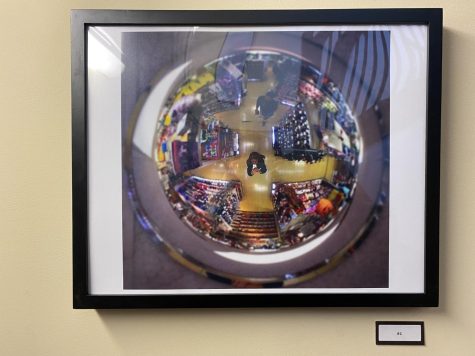 A trademark of her work shown in the exhibit, many of Annika's pieces are displayed in a smaller scale, as shown by two of her pieces which contain printed words combined with paper shapes cut to match the words. One has a cut-out of midnight fog to communicate "A Warm Moonless Night" and the other is of a cigarette with "Smokey Opinions" pasted on the cigarette smoke. "She has an imagination that has led her process. Annika works in a variety of ways and media," Ms. Wepsic commented.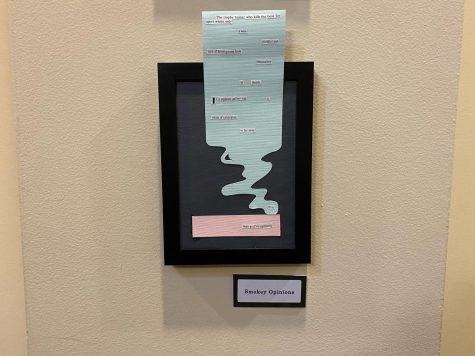 When asked why she picked these pieces in particular, Annika said, "these are just pieces that I am proud of over the years." Out of all her displayed art, her favorite one is "Pulling on Heartstrings," the piece featured on the advertising poster for her exhibition. The piece contains an embroidered heart and a hand that is literally "Pulling on the person's Heartstrings." The costume design course introduced Annika to embroidery, which is incorporated in "Pulling on Heartstrings" and many of her other works. "[I like] 'Pulling on Heartstrings' because it was my first time embroidering a canvas with paint on it. It was fun; It was experimental, but fun."
Her experimental nature comes out in her art and her beliefs about art. "Anything can be art," she said, "I have a piece that I didn't exhibit here that is literally an old cellphone; I just added stuff to it and it's art!"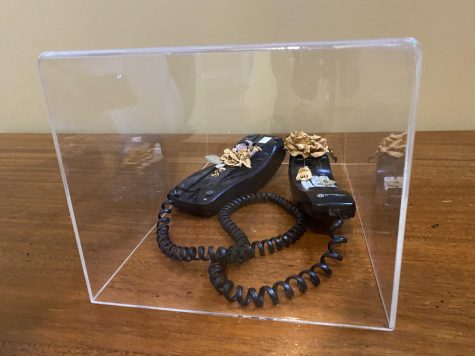 Annika's college counselor, Ms. Noor Haddad's favorite artwork of the exhibition were Annika's sketches. "Sketches to me are a pure form of thought – they're the foundation of the possibility of the beauty of art to come. It's clear that there are so many sketches that exist behind a final piece, and that's why I always appreciate seeing those," she said.
"
I encourage the viewers to not try and find the meaning I place on them, but to find their own meaning in them." "
— Annika Haagensen ('22)
Ms. Wepsic advised viewers to visit the exhibition and take time to focus on the subtleties within Annika's art. She said, "the outcome is always worth it because the artist advances into new spaces with their work and the viewer is touched, moved, inspired, ever changed."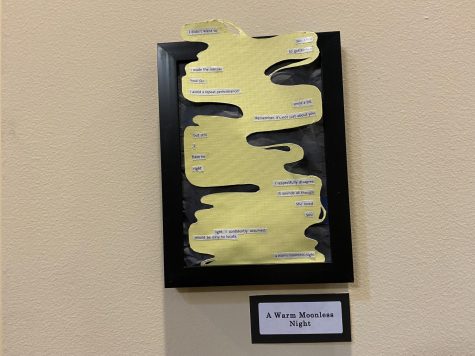 Annika shared a message to viewers of her art, drawing on her encounter with a viewer who shared a different interpretation of Annika's art than she had. She said: "All of these pieces have a special meaning behind them. There's a story behind each and every one, but I encourage the viewers to not try and find the meaning I place on them, but to find their own meaning in them."