The Great Revival: The Bishop's Lunch System
Lunch is Breaking Out of the Box
"We are here for you guys. That's the most important thing. We're here for you," said Ms. Sara Sweet, Director of Food Services. She and her team are dedicated to making a smooth transition from the COVID-19 lunch system of last year to the current system, which is closer to the days before the pandemic, and others are noticing. "I really love Sara and her team and everything that they do," English teacher Mr. Adam Davis shared. They have the "hardest job on campus, and [are doing] a fantastic job."
The kitchen staff serves lunch to almost everyone who studies or works on campus. They are in charge of creating the menu, which not only is delicious and nutritious but also accommodates all kinds of dietary needs and restrictions, such as lactose free, gluten free, and vegetarian. 
The lunch system before COVID-19 hit has always involved multiple self-serve stations such as pasta, salad, tacos, and sandwiches, which did not require much manpower from the staff members and were generally popular, according to Senior Ellie Hodges. In particular, Ellie really misses the salad bar. She continued to mention, "[that bar] was so solid."  
During the pandemic-ridden 2020-2021 school year, Ms. Sweet and her team had to resort to prepackaged utensils and lunches in individually-portioned boxes. This not only was labor-intensive, but it also greatly reduced the culinary variety for lunch. Instead of freshly cooked gourmet food plus self-serving stations, the focus largely switched to safety. While the options were limited last year, it was certainly safe, and some were even able to find a silver lining. Emi Ayala-Sekiguchi ('24) thought the lunches were "easy to transport, especially if you had a club meeting." 
By the time the 2021-2022 year rolled around, with the new CDC guidelines in place, Ms. Sweet and her team were ready to open up the cafeteria a bit more. She believed the transition is "going pretty well," but noticed some serious roadblocks. 
To begin, this lunch system in our "new normal" remains very labor-intensive. Due to the fact that there are no self-serving stations anymore, the kitchen staff now have to go back and forth between cooking and serving. In fact, Ms. Sweet had to step away multiple times during our interview to serve more pasta to the hungry students.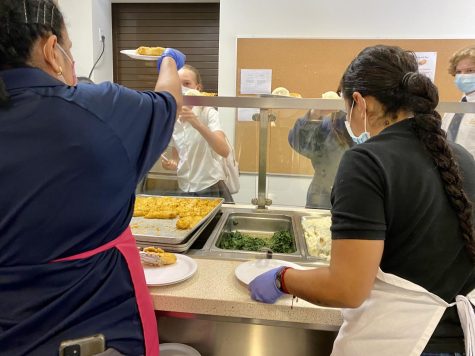 Although the number of kitchen staff has "increased by one position to help clean and serve," Ms. Sweet continued to stress over other COVID-induced challenges that she has little control over. Many students and faculty may have noticed that some days, pasta is served in disposable paper bowls, and plastic utensils are provided, whereas on other days, reusable bowls and silverware are used. 
Ms. Sweet shared that, this is, in fact, due to the School having "a hard time finding dishwashers." Additionally, the new plates which the School ordered will not arrive for awhile. This is because the pandemic is affecting productivity all over the world, and it is difficult to predict if and when supplies will arrive. Therefore, Ms. Sweet encourages the students to do their part, and take their dishes to dish drop instead of leaving them all over the campus. This will help reduce the workload of the staff and minimize misplacement of the dishes that we currently have.
Just a couple of weeks ago, Ms. Sweet was informed that the location which was supposed to deliver 300 lbs of meat to be used for lunch a couple of days later, did not have enough to fill the order. Fortunately, she was able to find another 100 lbs somewhere else to make up for the shortage, but things like that just happen nowadays. Although the kitchen staff "[has] limitations just like [students] do," Ms. Sweet said passionately, "we feel we are still just trying to make good food that you guys like, and do the best we can." She continued, "When you like something, don't like something, [or] see a problem, talk to me." =
Overall, the newly adapted system is well received. Ellie expressed that even though many students miss the freedom and variety of self-serve stations, the quality of the main courses currently is way better. Wendy Gonzalez ('24) also applauded the kitchen staff for their continued efforts to find ways to cut down on waste. These are all good news, given the current lunch system may have to remain for the unforeseeable future due to the ongoing pandemic. 
While there are some obvious downsides to the current lunch serving system, such as the higher cost of extra manpower, and potentially longer lines; there are also elements which, to some, are definitely improvements from the old system. During our interview, Mr. Davis shared a hilarious experience that involved a hungry middle schooler who dug his most likely unwashed bare hands into the cheese bowl on a taco Tuesday. Mr. Davis laughed as he said, "I don't think I've ever had cheese since."
Though self-serve stations will probably come back by necessity, Mr. Davis reflected, he doesn't think they'll come back anytime soon. "When it comes to students taking the safety precautions needed, that's where I lose my faith," he said. He questioned if there needed to be more people policing in order to make sure that we're staying extra cautious as a community, and chuckled when questioning if the School needed to pledge allegiance to our community health and those guidelines. 
Food for thought; maybe this new system should stay for good?