'Tis the Season to be Sustainable
Christmas is just around the corner. Whether it is the holiday food, family and friends, or just decorating around the house, everyone is looking forward to a time for celebratory traditions and meaningful experiences. In the most wonderful time of the year, not everything is as positive as it seems: especially our environment. 
In the period between Thanksgiving and New Year's, the average American household generates 25% more waste — that's about 1 million more tons of trash each year, according to the Environmental Protection Agency. That covers everything from food waste to gift-wrapping paper, household decorations, packaging plastic, and old electronic devices that are discarded as soon as new models emerge from the market. "In my opinion, we are a consumerist population. We confuse happiness with consumption.We buy and waste far too much stuff," said science teacher Dr. Pamela Reynolds, looking through factsheets regarding our environmental footprint in our society. The U.S. population is anticipated to grow from 328 million in 2018 to 404 million by 2060. One study predicts that it would take 5 Earths to maintain the human population if everyone's expenditure patterns were similar to the average American. 
Additionally, light pollution is also a significant aspect of the generated waste during December. The Department of Energy calculates that Americans burn 6.6 billion kilowatt-hours yearly using holiday lights–that's enough electricity to power more than 800,000 homes for a year. NASA explained in a video that parts of our planet are up to 50 percent more radiant during the weeks between Thanksgiving and New Year's Day. Outskirts in America are where some of the most significant differences are noticed. Moreover, according to Globe At Night, an international association committed to raising awareness about light pollution, excessively unnecessary holiday lighting has various adverse impacts on the Earth: it shines out stars in the sky, disturbs ecosystems of nocturnal wildlife, and drains energy. 
Therefore, this year, consider trying out a new way of celebrating the holiday to help reduce your holiday waste. One thing you can do regarding light pollution is to switch to LED lights. If you do, you'll use up to 70 percent less energy than you would with conventional incandescent light bulbs. Plus, you won't need to replace those bulbs as often; LEDs last about 10 times longer. Another option surrounding your holiday lights involves installing a timer for them. The Energy Department suggests that leaving them on at a maximum of 8 hrs can bring huge benefits such as energy conservation and wildlife preservation. 
Furthermore, try to avoid wasteful products to give as a gift. Is there a lot of unnecessary packaging or waste? Where was that item made? Did it travel around the world to get to you? "There's certain obvious aspects like wrapping paper waste or Christmas trees, but there's also millions of people traveling across the country and express shipping packages," explained Kirra McColl ('20).
There are lots of other options regarding gift-giving; give a gift that doesn't need packaging: an experience. Take friends or family members on a trip to a local park you know they would appreciate or purchase concert tickets for a night of fun without producing significant waste. 
Even though sustainable choices aren't always the easiest ones to make, be inspired by the positive change you are helping to create. Change definitely doesn't happen overnight, but little by little, everything changes a bit. According to Dr. Reynolds, "…live by the 5 R's: Refuse, Reduce, Reuse, Repurpose and Recycle in that order." Give it a try, and you'll be amazed at what you've accomplished. 
Leave a Comment
About the Contributor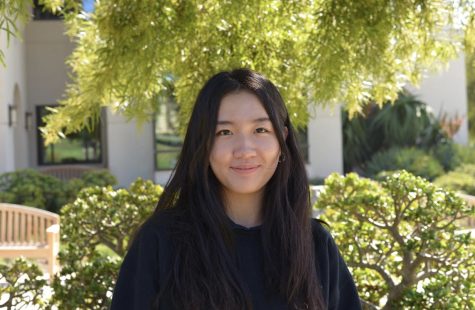 Crystal Li, Editor-in-Chief
Crystal Li joined The Tower in her freshman year when she moved from Shanghai to San Diego in 2019. Now a senior, she fondly looks back on the four-year...