An Unforgettable Orchestra Performance
"I loved the fact that Mr. Anderson integrates both contemporary and classical music into the concert. As someone that is classically trained, I really enjoyed the challenge of improvising my own solos in the jazz pieces—I've never performed something that wasn't directly written onto a page," Eliana Petreikis ('20) said, looking back on her solo in a bossa nova piece performed in the recent winter orchestra concert. 
The music played by the orchestra this year was a change from previous traditional concerts. This change was mostly brought about by the arrival of the new orchestra director, Mr. Robert Anderson. "The concert was much different since we played jazz pieces in addition to orchestral pieces," said Nicholas Liu ('22), a violinist. "We had a wide variety of music that took us back to the styles we played with Mr. Goltsman. Soloing and improvisation were a new thing for most of us, but freeform over a full orchestra is a totally different experience than the jazz band and has a completely different sound and feel," explained Connor Schneider ('22), a saxophone player. With this freedom, both string and woodwind players were able to step out of their comfort zones and improvise a small tune that is rare for orchestra members to do. 
Overall, the concert was organized neatly into two balanced sections. Orchestral chamber music covered the first half of the concert. Aidan Kaplan ('23) began with a passionate performance on the piano of "Allegro in Sonata No. 5 in C minor, Op.10 No.1," by Ludwig van Beethoven. "Although it was nerve-wracking to be recorded officially on the Saturday concert, it was fun to play my piece because I just love playing the piano," he said. Following the keyboard solo, Aidan and James Hou ('23) performed a duet of "Minuet in C" by J.S. Bach. "It was a really cool experience to perform with other Bishop's students since each one of them has such a unique style," James said. 
Next, James continued to duet with Natasha Mar ('23) with "Etude No. 1 in G major" by David Popper. "It definitely pulled me out of my comfort zone to play a piece that didn't require an entire orchestra, but rather a small group or just one other person," Natasha explained. "It was a ton of fun rehearsing those pieces, and I thought it was a great adjustment to our previous traditional concerts."  After, she and Aidan performed Adagio Sostenuto in Piano Sonata No. 14 in C# by Beethoven. 
The fifth chamber grouped showcased freshmen members including Crystal Li, Athena Hernandez, and Aidan on the piano. They played five movements by Dmitri Shostakovich: Prelude, Gavotte, Elegy, Waltz, and Polka. "It is definitely nerve-wracking to play solo in the orchestra concert, but overall, I enjoyed it because it allowed me to share my musical capabilities with the audience," said Athena. 
After this, "Turning Tables," by Adele was performed by Naomi Deokule ('21), with accompaniment from Crystal and Athena on the violin, as well as Gavin Lee ('21) on the viola and Natasha on the cello. "I am so happy that every person in the orchestra had the opportunity, if they wanted, to play a solo or chamber piece," Athena said. "As I participated in multiple, I find playing new styles of music very entertaining for both the audience and me as a violinist." 
Lastly, a quartet consisting of Eliana, Vanessa Yang ('21), Gavin, and Novalyn Petreikis ('23) finished the Chamber music section of the concert on a skilled performance of "Adagio Moderato" written by Alexander Borodin. "We had to make sure that each of our individual parts sounded good, since we couldn't just hide behind our section, and then we were able to fit it all together so that it worked," Novalyn explained. 
Next came a short intermission, where orchestra members arranged the stage for the next half of the concert: the Symphony Orchestra performances. In total, they played four songs. Mr. Anderson was able to include diverse pieces of music that came from a variety of cultural backgrounds. The first song was the "Prelude to Act I" written by Giuseppe Verdi, a movement of La Traviata. The strings portion of the orchestra began the piece with soft, delicate notes and was soon joined by the woodwind sections with an upbeat vibe. 
Following that was "Aragonaise (within Carmen)" written by Georges Bizet, which showcased a strong, confident beginning with multiple melodies played by both the strings and woodwinds. 
Next came a bossa nova piece, a style of Brazilian music popularized in the 1950s and 1960s, called "Bossa Rojo" by Bert Ligon. Many members of the orchestra improvised a solo throughout this piece: Novalyn, Rohan Laurent ('24), Gavin, Miggy Gaspar ('20), Alex Kuncz ('21), and Eliana. 
The last piece on the program was called "Tenor Madness," a piece composed by Sonny Rollins. This jazz blues piece also showcased a variety of improvised solos featuring Athena, Crystal, Aria Liu ('23), Natasha, Connor, and Aidan. "My favorite piece was Tenor Madness because everyone came in on time with such energy and excitement," Nicholas said, looking back on the high spirits of orchestra members playing this piece.
"Throughout the entire concert, you can tell everyone was so comfortable with each other, they all performed extremely well together which made all pieces super powerful, you could tell they all enjoyed what they were doing," said Zaina Ghouri ('22). It truly was a magical night for both the orchestra and audience members. 
Leave a Comment
About the Contributor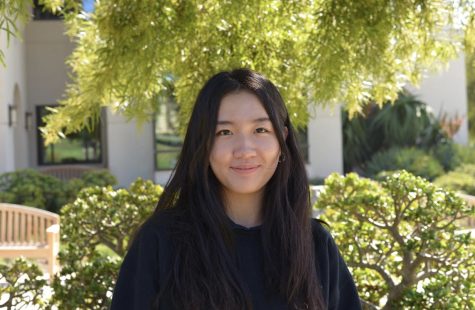 Crystal Li, Editor-in-Chief
Crystal Li joined The Tower in her freshman year when she moved from Shanghai to San Diego in 2019. Now a senior, she fondly looks back on the four-year...