Spotlight: Quanta Student Magazine
For those of us less familiar with science, science news and innovation can be confusing. Luckily, the Bishop's community has Quanta Student Magazine to make scie.
Quanta was founded in 2010 by a team of students eager to write and read more about science—specifically current events related to science, science history, and how new technologies are changing lives. Nine years later, the magazine is still very active; at its helm is Editor-in-Chief Eliana Petreikis ('20), Operations Manager Mia Shiue ('20), and Faculty Advisor and science teacher Dr. Pamela Reynolds.
Each year, Quanta prints one issue full of work from student contributors; additionally, the staff publishes digital content. "The official issue is the most rewarding part of Quanta," said Eliana. "It represents hard work, both individually and collaboratively." 
Eliana joined the staff of Quanta in ninth grade after hearing its current Editor-in-Chief promote the magazine at Upper School Announcements. Since then, she's been hooked. She said, "As a lover of physics and reader of books on astrophysics or quantum physics, I was excited by the idea of having a place to explore and write about a specific topic."
Now a senior, Eliana looks forward to furthering Quanta's reach in the community and creating a legacy from which future editors can build off. "My biggest goal as Editor-in-Chief is to recruit writers in both middle and upper school and to raise awareness about Quanta," she said. "I feel that many students do not really know about Quanta, and I want to promote Quanta and encourage students interested in the sciences to write articles. I also want to make more consistent online publications." This fall's staff writers were seniors Ben Chan, Jasmine Chen, and Tommy Sottosanti; junior Jeffrey Wang; and freshmen Kasie Leung, Emma Myer, Kathryn Silva, and Emily Zhu.
Quanta also offers students the opportunity to explore science beyond Bishop's curriculum. Mia said, "My favorite part of Quanta is that it provides a platform for anybody to write about a scientific topic that they are truly interested in and that they aren't limited to a subject that relates to the science class they are taking." In the latest Quanta digital issue, students wrote on a variety of topics from nanotechnology to corn to deepfakes.
In the future, Eliana and her team hope to make Quanta even more, "consistent and more accessible to the student body," by boosting online content and creating easier ways for students to visit the site. Additionally, they want to spread more awareness about the magazine and attract new writers to join the staff and find the joy in Quanta that these writers did.
Read the Fall 2019 issue of Quanta here.
Leave a Comment
About the Contributor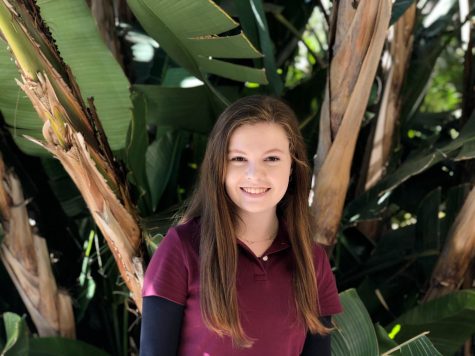 Amy Carlyle, Editor-in-Chief
Amy Carlyle is a senior and Editor-in-Chief of The Tower. She came to Bishop's as a sixth grader and joined the staff at the start of her freshman year....