Alumni Career Panel
On Wednesday, April 17, during Upper School lunch, five Bishop's alumni sat in the Manchester Board Room. They made up the Alumni Career Panel, a yearly panel put together by the Alumni Association to inform students (and interested teachers) about finding a career after Bishop's. 
The five alums included: Annie Kadota (banking), from the class of 2008; Sravanthi Tripuraneni (health care), from the class of 1996; Chris Ludwig (accounting), from the class of 2010; Chelsea Smith-Carmichael Peterson (engineering), from the class of 2007; and the mediator, Koree Blyleven Wooley (law), from the class of 2005. 
Each alum introduced themselves, the college they attended, and their occupation before moving on to answer questions. Ms. Wooley asked the first two to the panel, along the lines of: "What did you wish you knew when you were in high school?" and "What does a typical workday look like?" As an answer to the former question, Ms. Kadota said, "Don't feel like you have to know what you want to do the day you graduate Bishop's, because it's probably going to be completely different from what you had originally thought." The rest of the time was left open to student inquiries. 
Audience questions ranged from the topic of how Bishop's prepared the panelists for their careers to what they experienced during the transition to college. Ms. Smith-Carmichael Peterson attested to how the rigor of Bishop's helped her beyond high school: "[At Bishop's ] you really become used to doing ten things at once, and being able to multitask but manage your time is such a critical skill." 
A common piece of advice given was that life shouldn't be planned out step by step; leave room for exploration and surprises. "I wish that I would have been more open [to other classes] and not so laser-focused, especially in the first few years of college," said Ms. Smith-Carmichael Peterson. 
The two isles of seats facing the panel were filled almost completely with students, leaving some to stand or sit in the back; a large audience—helped in part by the pizza, cookies, and lemonade provided. "I thought the alumni panel had a great diversity of career paths and everyone was very eager to answer questions and give any advice they could," said Alex Delatorre ('19) of her experience as an audience member.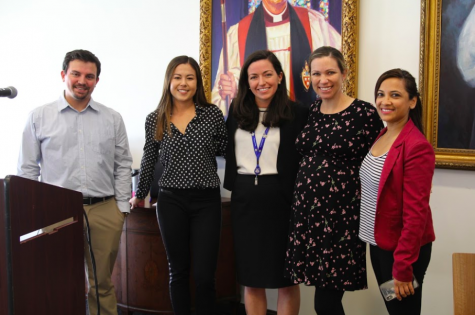 Leave a Comment