Meet The 2019-20 Daily Urinal Editors
     It's everywhere: on restroom walls, strewn on student center tables, in our inboxes. The Daily Urinal is a Bishop's staple. An independent publication, the DU publishes daily articles written either by its editors or submitted by the greater Bishop's community. The DU is run by a team of senior editors who edit articles and make publication decisions. Meet this year's team: Kirra McColl, Sabrina Tian, Carly Phoon, and Timmy Kelly.
     Each senior had their own path to joining DU history, but all share common themes: namely, passions for writing and giving students a voice.
     Carly said, "I've wanted to be part of the DU ever since I was in sixth grade. The DU is arguably the best catalyst for real, schoolwide discussion on difficult topics. I've looked up to the past editors for years. They were incredibly smart and quick-witted, but I looked up to their subtle (and sometimes not subtle) rebelliousness too. I wanted to be a part of that legacy."
     "Is 'college apps' too blunt?" Timmy joked. On a more serious note, he corrected: "I think there's something very special about having a publication that is not affiliated with the school and can publish virtually anything. I'm inspired by people talking when they don't think I'm listening. I eavesdrop a lot on what people are saying and thinking about. I hear a lot of opinions lingering around Bishop's but too many people are afraid to speak up so publicly. I'm willing to write and put my name on those thoughts."
     Throughout the school year, the editors have stuck to their vision of featuring student opinion. Readers have seen a variety of heavy topics, from standardized test score anxiety, to the cases for and against extra time, to personal opinions on a documentary shown to an upper school enrichment about the difficulty students under Deferred Action for Childhood Arrivals (DACA) face when applying to college.
     On DU controversy, Kirra remarked, "We can be that outlet for people who have things at school that bother them or who have opinions they want to share," she said. "We can solve real problems, because the first step is always looking at that problem and talking about it. The DU has the power to make change."
     In addition to the DU's noble mission, it also emphasizes the importance of humor. Some of the most popular comedic articles this year have been Kirra's "Ode to Gumby," a funny albeit sincere tribute to her favorite movie franchise, and staff writer Maya Minagawa's ('20) iconic piece "Quiz: Which One of my Cats are YOU Based on Your Favorite Vegan Yogurt?"
     One responsibility the editors have is to write the sidebars of each issue. Each issue is overseen by an assigned editor, who edits the piece and ensures sidebar completion. Known for being silly and satirical, the sidebars are often a chance for the editors to share their personalities or commentary on the article it is accompanying.
     "Andres Worstell is what I strive for in sidebars," Kirra said. Andres Worstell ('17) remains a legendary figure in the DU's story, known for his wit, creativity, and compelling (and, at times, controversial) articles. "His sidebars were always so weird and irrelevant. Only maybe 5% of people knew what he was talking about. I loved every word."
     "I get sidebar inspiration from the gripes of my own life," shared Sabrina.
     Beyond the dialogue incited publicly by controversial or opinionated pieces, the DU editors are also privy to behind-the-scenes, and often more humorous, conversations with their readers. Kirra shared, "Something I wasn't expecting was all the good banter in our email inbox. Miguel Solis ('21), Iraj Moradi ('20), Mr. Davis — they all send fun emails in response to the articles or the lyrics quizzes, and there's so many others who respond too. I love what people share with us."
     Each editor also has a trademark. Carly's, for example, is her The Office quotes quizzes in all of her sidebars. She said, "Normally I write my sidebars at midnight when I'm kind of delirious from sleep deprivation. The only things I always plan in advance are my Office quote quizzes."
     Similarly, Sabrina is known for her monthly column, "Meme of the Month," where she critiques popular Twitter and Instagram memes and reveals her favorites. She said, "My funniest DU story was when Isabelle [Kenagy ('19), one of last year's DU editors] asked me if J.J. was actually a real person. I include him as a character in my Meme of the Month articles, but yes: he indeed exists. He is my brother. We are actually related and we both love a good meme." J.J. Tian ('21), whom Sabrina portrays as a fictional professor of Memeconomics at the university UC Berkmeme, is her partner in reviewing the month's best memes.
     In what is arguably the most progressive and impactful year for the Daily Urinal, the editors have established a lot in terms of creating civil discourse and publishing a variety of student viewpoints. At the same time, there is always work to be done and goals to bear in mind. For Sabrina, the goal is more personal: "My goal for the year is to try and write a variety of articles. I can't write my same crackhead s*** forever."
     More generally, Carly hopes the DU will continue fostering the discussion it has thus far. "In recent years, its influence waned from administration censorship and lazy editorship. Our goal was to make the DU an integral part of Bishop's again, and we've already achieved that. It's so rewarding when people, including teachers, tell us how we've revived the DU. Long term, we want to pass the editorship legacy onto motivated younger writers, and of course, continue fostering discussion."
View Comments (3)
About the Contributor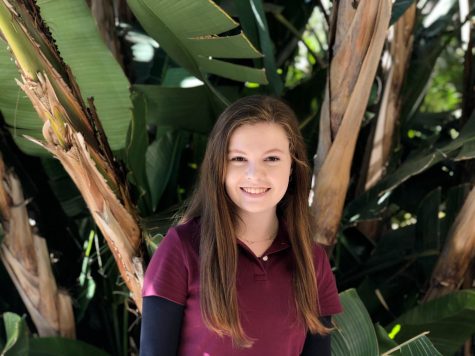 Amy Carlyle, Editor-in-Chief
Amy Carlyle is a senior and Editor-in-Chief of The Tower. She came to Bishop's as a sixth grader and joined the staff at the start of her freshman year....