New Restaurant Cruisin' into La Jolla
As you drive to school, the morning sky a bleak and dreary gray, raindrops trickling down your windshield, one sunny vision glows ahead: a beautiful periwinkle siren in a halo of light. Right behind its walls, exuding the scent of warm bread, is Cruisers.
Cruisers Gourmet Subs, which opened this spring, is a surf and beach themed sandwich shop that offers salads, cookies, and of course, sandwiches – a very summery spot.
The restaurant, founded by siblings Mr. Kris Shea and Ms. Kathy Sandler, has another location in Steamboat Springs, Colorado, which opened in 2011.
Cruisers replaced the recently closed Wahoo's Fish Tacos at 637-39 Pearl Street, bringing an end to Wahoo's era of sticker-decorated windows. The location has not lost its charm, though — just around the corner is a new mural commissioned by Cruisers. "La Sirena," painted by local artist Ms. Natalie Bessell, is a sunset-esque blend of purple, orange, beige, and yellow.
Ms. Bessell said about the mural, as quoted on Cruisers' website, "There is a female energy through all forms, powerful energy.  It is in the ocean that we swim in, the land that we tend to, the fruits that nourish us, it is all things created and creating.  In my mural, 'La Sirena,' the Siren and the Sea exist as one."
Inside the restaurant, Cruisers boasts a variety of sandwich options, ranging from their toasted subs to their signature "Toasties." Sabrina Fogel ('20), who recently tried the Club Toasted Sub, said: "It's a bit pricey, but their bread is fantastic." In addition, the restaurant offers a number of salads and a simplified kids' menu.
Leave a Comment
About the Contributor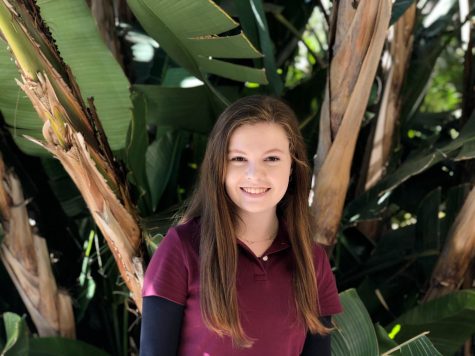 Amy Carlyle, Editor-in-Chief
Amy Carlyle is a senior and Editor-in-Chief of The Tower. She came to Bishop's as a sixth grader and joined the staff at the start of her freshman year....