Reaching Savasana: Senior Earns Yoga Certification
Bishop's students partake in a variety of sports — soccer, field hockey, lacrosse, water polo, baseball, volleyball, etc. — but few achieve this special title: yogi.
Charlotte Mack ('19) began taking regular yoga classes after an injury temporarily kept her away from dance. "I couldn't dance for a year, so I started doing yoga with my mom because she's super into yoga too. I really enjoyed it. I stopped doing ballet around the same time I started doing yoga and I never went back because of my foot injury, but I just started realizing that I was falling out of love with dance and in love with yoga." After months of regular classes, Charlotte sought her own teaching certification.
"Last summer I decided to do the teachers' training. It was a three week program, nine hours a day, everyday except Sunday. It's a 200 hour teacher training for basic yoga certification, and then in March of this year I also decided to get FlowLIFT certified."
FlowLIFT is a yoga-based fitness style invented by Carolina Vivas and Amanda McCarroll, teachers at Buddhi Yoga in La Jolla. These classes practice yoga technique but with the added challenge of using ankle and hand weights for an even more intense and strengthening yoga-inspired workout.
Charlotte currently teaches nearly every day at two different studios, as well as works at the desk, and hopes to begin work at a third this summer. In addition to her regular schedule, she also substitute teaches.
Gabe Worstell ('20) said of Charlotte: "Her FlowLIFT classes are amazing. She really makes it a welcoming and encouraging environment. It's all challenge-by-choice, so you never feel forced to do anything you're uncomfortable with or not ready for. It's insane how hard she works in every class: she instructs, she does the exercises and she gives words of encouragement without missing a step. I always leave feeling stronger than when I walked in and it's an incredible feeling."
As Charlotte leaves Bishop's and her studios behind, she wants to continue teaching yoga and fitness classes at Boston University, where she will attend school, and beyond. "I already looked at the application for the fitness center at Boston University. If I don't get one there, I'm going to find a yoga studio nearby and apply there," she said. Additionally, she plans to study occupational and physical therapy at Boston University — a path inspired by her dedication to yoga and the body.
She said, "I think what keeps me so captivated by yoga is that it's so challenging. The mentality of yoga is so astonishingly different than the mentality of dance. In savasana, you have to let go of all outside thoughts and I've been doing yoga for years, but I think I've only been able to really, truly be in savasana maybe three times. That aspect, of just attuning yourself to your mind, is what I really love about yoga."
Leave a Comment
About the Contributor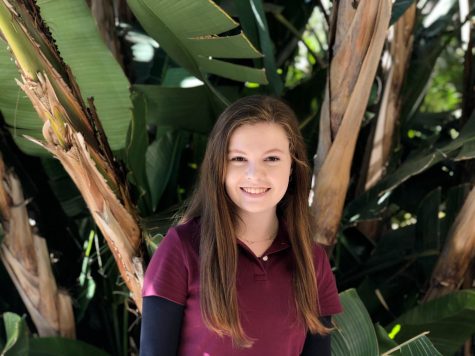 Amy Carlyle, Editor-in-Chief
Amy Carlyle is a senior and Editor-in-Chief of The Tower. She came to Bishop's as a sixth grader and joined the staff at the start of her freshman year....