Growing up speaking a mix of Valenciano (Catalan) and Spanish in Alicante, Spain, then learning English and French in school and beyond, language laid the foundation for how Mr. Moisés Gómez-Pastor navigates the world. His parents were inspired to name him Moises when he was born on Saint Moses' Day, and he is sure to bring blessings through his lessons to our students. Previously teaching at University High School of Indiana, then at The Francis Parker School,  Mr. Gómez-Pastor joins the Bishop's school as a new member of the world languages department. 
Mr. Gómez in his natural habitat, the great outdoors. (photo taken from the The Bishop's School)
Q: Why did you choose to teach Spanish? 
For me, I see language as a tool to open and find out more about various cultures. Growing up, I spoke Catalan and took English and French classes in high school when I started getting really interested in learning other languages. Other than exploring culture through language, traveling is also something I really like to do to learn different perspectives and traditions. When I am able to travel, and communicate with locals using the languages I learned, it really brings a lot of insight to me. The connection between traveling and languages is like a gateway to understand how people think through the words they use. 
Q: What has been a moment that stands out to you in your teaching career? 
Last year I taught a Spanish literature class at Parker revolving around Hispanic communities in the United States. We got to read different short stories sharing perspectives on growing up Hispanic in the US, and I connected that to the musical In the Heights (2021), written by Quiara Alegría Hudes and Lin-Manuel Miranda, which also explores the same concepts.
Q: Having lived in both Spain, Illinois, Indiana, and now in Southern California, what from your previous homes' cultures would you like to bring here?
One funny and kind of weird thing I share with my students every year is a little figurine in the back of my classroom called Caga Tió. Caga Tió is a dressed-up wooden log part of Catalan tradition, usually taken place during Christmas time. It's kind of like the Santa Claus of the small towns of Catalonia, it gives presents to little kids. There is a story behind it, and that story is something I like to tell my students in December. It's a cultural tradition that I love to share with my students during the holiday season.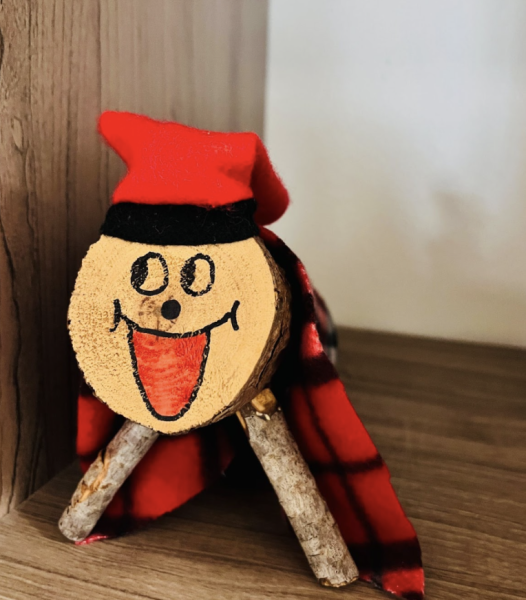 Q: What has been the most memorable place you have traveled to? 
It's hard to pick one, but last year I visited Malaysia — where my partner is from. We spent time with family, traveled the country, and the food was amazing too! My favorite [dish] was Nasi Lemak [a fragrant herb-coconut rice cooked in pandan leaves served with sambal]. 
Q: Besides teaching, what hobbies do you like to do in your free time? 
I love running and yoga especially in the winter. Running for me means running outdoors. The whole thing with the treadmill is not something that I enjoy but running outside while listening to music is one of those things that really helps me take a break from my day. After the first five dreadful minutes of starting to run, I can run for a long period of time without any thought. As for yoga, it is similar to running in the way that it really helps me relax.