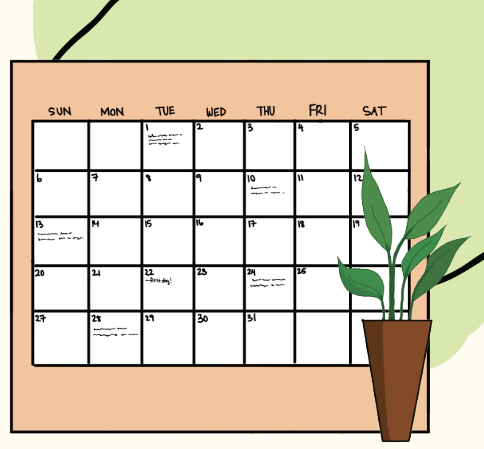 Messy schedules, disorganized desks, and daunting classes — these are just a few signs of stress at the start of the school year. A new year can be tricky to navigate, but luckily, many students have plenty of tips and tricks for starting the year off right!
Organizing Your Workspace
The week before school starts is a time for organization and reflection. Whether it's your room or your workspace, cleaning your physical habitat can clear your mind, too. Anna Yang ('26) said, "Before I start the year, I clean my desk. I feel more prepared because there's space to actually think so I'm not distracted by whatever's on my desk." Anna also explained that she used post-it notes as a planner every week.
Many students also emphasized time management as a habit to kick-start their year. Reagan Kliber ('24) recommended "getting a calendar, notebook, or journal to section out your time." It doesn't have to be a physical calendar. Google calendars or Apple calendars are great alternatives. Reagan also suggested that students should also "make sure to write in breaks" to avoid burnout.
Managing Course Load
Each year, many students get overwhelmed with the number of courses they're taking and their different challenges. Students may grow frustrated as they face these new difficulties, but it's important to be patient. Catalina McFarland ('23) suggested giving "yourself time to adjust." She explained that "harder classes, new teachers, and added responsibilities can feel daunting in the first few weeks or months of the school year." 
At Bishop's, students are often motivated to take the hardest classes and participate in every extracurricular. "Do not feel pressured to take most or all more-rigorous classes," Katy Silva ('23) said. "I know people who have their entire schedules loaded up with honors and no free periods, and they have been exhausted."
History and Social Sciences teacher Mr. Matthew Valji said, "I've noticed that there is often a misconception about how much work adding an additional class would entail." He explained that adding an honors course not only takes away the opportunity to work on other coursework during a free period, but also adds more to your workload. 
He said that adding an honors class would result in 560 minutes of total homework. "I strongly encourage students to have free periods and to be realistic about adding additional courses to an already challenging academic schedule," he reasoned.
Reagan recalled taking all offered honors classes in tenth grade, saying it was a mistake. "Honors Chemistry slapped me in the face," she said, laughing. She explained that while students may be recommended for an honors course, they shouldn't necessarily take it. "An example: me trying to take Honors Chemistry along with Honors Spanish, Honors European History, plus a nasty sports schedule. Not normal!" she exclaimed.
"The school year is a marathon, not a sprint," Catalina added. She also commented on how the rigor and culture of Bishop's may pressure students to take too much on their plate. "Just because they affect everyone does not mean that you should put your head down and suffer through the stress and burnout," she said.
"Don't feel bad if it ever turns out you need to drop down to a lower level class. At the end of the day, you are doing what is best for you and you alone, and you shouldn't feel guilty about making your school load more bearable for you," Katy added. Ariadne Georgiou ('26) agreed, saying, "There's no shame in saying 'I've taken too much on my plate.'"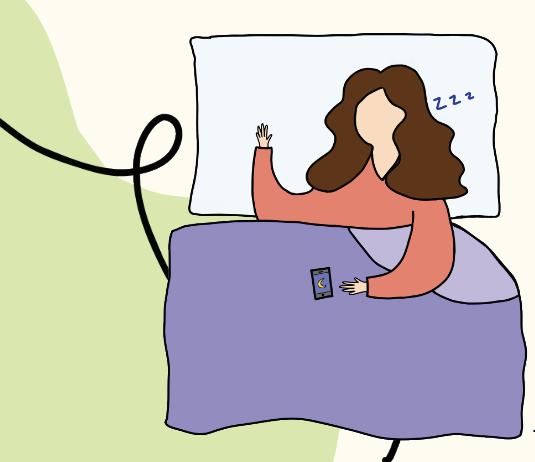 Implementing A Steady Sleep Schedule
It is also important to pay attention to sleep and mental health. Catalina suggested spending more time with friends and taking a few extra hours of sleep before school starts. "Taking care of yourself is not an act of weakness, but one of strength," she said.
Reagan started her year off by consistently going to bed at a reasonable time every day and waking up at a reasonable time too. She explained that since she was in kindergarten, her mother implemented this rule. "So, when school actually starts, I'm not scrambling to get my life together," she said, "You'll lose sleep if you go to bed late and wake up earlier. You'll lose concentration, energy, and your good mood."
Angelina Kim ('25) similarly explained that one of her main tips was to "have a structured schedule that involves enough time for sleep." While reflecting on her year, she realized that if she had kept a more strict schedule she would "have procrastinated less and gotten more sleep. And lots of sleep for me is super important otherwise I have to chug 10 gallons of coffee the next day to survive," she said with a laugh.
 Navigating Extracurriculars
However, that isn't to say that incorporating extracurricular activities and a few challenging classes isn't important. Charlie Ahn ('26) said, "It's important to go around, be affiliated with clubs, and really get the Bishop's experience. Do a lot of the clubs and be involved in the community. That's a way to meet new people."
"I wish I knew about the different clubs and stuff. On Blackbaud, there's a Google Doc where you can see service clubs and regular clubs," Anna said, reflecting. "It's easy to overcommit to clubs at the start of the year and drop some, whereas it's harder to join in the middle of the year." 
Ariadne explained her method to avoid this issue. "I like to look at my calendar and think about all the things I've committed to and how I'm going to incorporate those," she said. "I make a list of all my commitments this year and kinda understand how I'm splitting up my time between them." She noted that she loved the app Notion to make checklists that kept her on track throughout the school year.
The pressure of taking so many extracurriculars can be a lot. Many students sign up for too many activities and become stressed. However, this is not something to be afraid of! Learning what works and what doesn't as you go is a part of the high school experience. 
Acceptance of new possibilities is important to ensure a smooth year. "Be open to new friendships and see the beginning of the year as a fresh start. Don't feel like you have to stick with the same people or activities as last year," Catalina explained.
The beginning of a new school year can be hard to face, but with proper time management, organization, and careful attention to your mental health, you'll come out of this school year with your head held high, no matter the challenges. All these tips can help you as you start your journey this year!