Spring Cleaning: Service Dreaming
Three Bishop's service clubs hosted a spring cleaning drive for people in Tijuana and San Diego
From kitchenware to toys to baseball gloves and bedsheets: three Bishop's service clubs — Build A Miracle, Kids Gear For Baseball, and San Diego Rescue Mission — hosted a Spring Cleaning Drive collecting all kinds of donated items. 
Between March 20 and April 11, 2023, the clubs collected donations in the parking lot. The School often hosts a spring cleaning drive for two to three causes at once because a lot of the items they need are overlapping, said Director of Community Service and Social Innovation Mrs. Jacqueline Gomez. 
Build A Miracle fundraises money with the goal to build homes for impoverished families in Tijuana, Mexico. The Bishop's chapter has built six houses and the organization as a whole has completed over 430 homes since 1999. 
Kids Gear for Baseball collects donations of kids baseball gear that can be given a second life for kids in Tijuana. Kids can choose from an assortment of donated gear they might be missing, allowing them to play the sport they love. 
San Diego Rescue Mission works to end homelessness in San Diego with community outreach, hunger relief, and housing programs. This is the second drive the organization has collected donations from this year,  providing homeless San Diegans with their own hygiene kits and backpacks for their belongings, said Jeremy Feng ('25), leader of the Bishop's chapter. 
"I'm guessing we got probably 100 pairs of shoes or more. We had a lot of bats and helmets and gloves." said Jimmy Sampson ('25), the leader of the Bishop's chapter of Kids Gear for Baseball. He estimated that the drive will help around 200 kids in Tijuana. According to all the club leaders, the drive was successful and will have a great impact.  
 Leader of the Build A Miracle Bishop's chapter, Grace Dabir ('24), said "we're helping a lot of families, especially because the sheer volume of things that we got can be spread out to so many different people. And so many different items that can be used in different [homes]." She estimates that five families will be aided from the drive. The items collected will have a lasting impact, Grace said, "this is just another thing that will help the families start their new lives in their new, beautiful house."
San Diego Rescue Mission drive will help homeless people in two distinct ways, said Jeremy. The organization has "different operations. For example, some things would go directly to people on the streets as outreach, while others would go to people in the emergency relief center." The organization primarily collects two items: backpacks and twin bed sheets, for each of the operations respectively. "If you're homeless on the street, a backpack is a great way to store your belongings. And number two, they're looking for twin sheets. And so that's with the actual rescue center itself. They have emergency relief housing and they could always use more sheets," said Jeremy. [he said he would try to get an estimate of how many backpacks and bedsheets were donated] "All the supplies that we donated will definitely be put to use and it will impact everyone," Jeremy said.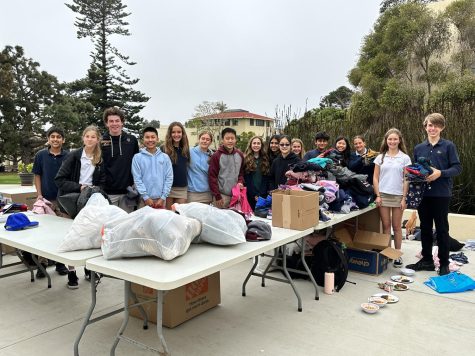 Kids Gear for Baseball supplemented the baseball gear portion of the drive at school with a two weekend-long drive at the La Jolla Youth Baseball Pony League, where the club had a lot of success. "And because they're all baseball people, they all love gear, too. A lot of gear," said Jimmy. All together, "we got like a full SUV packed worth of gear and took it to Country Day and then they are collecting all the other leagues."
Build A Miracle's collections will be put to good use right away as the club is hosting a building trip on April 22, 2023. In addition to building the foundation to a new house, "we're going to be delivering the things to the community center. And either the family that we're building the house for will receive them or another family that needs them are going to be able to get them," Grace said.
The School has hosted an annual spring cleaning drive for eight years. "Typically every year we try to donate items that support our on campus service clubs. And then we have always donated to Sharia Closet," said Mrs. Gomez. Sharia's Closet collects clothing and diapers for people in need, but does not have a student representative at Bishop's. 
The timing of the drive, which spans across Spring Break, was chosen because "the goal is to make people aware about it before spring break. So hopefully over spring break they spend that time doing their spring cleaning and then they bring it back when they return from our spring break," said Mrs. Gomez.
"I was happy with the outcome because typically we only ask for clothing and shoes, but I was happy to see that we supported Build A Miracle with a lot of, like, cool, like household items and like, we got a lot of furniture donations for them that they had to come and pick up in a truck," said Mrs. Gomez.
Every year, the spring cleaning drive supports different student-led service clubs, with the exception of Sharia's closet which is donated to every year. "Every year it just depends on what service clubs are active and what the need is. And I usually typically try to support as many clubs as I can during the school year," said Mrs. Gomez.