A Little Birdie Told Me: Spotlight on Parakeet Cafe
Located along Silverado Street in La Jolla, California, the parrot-print wall and the familiar "A little birdie told me" quote painted on the windowpane are immediately recognizable as Parakeet Cafe. In the midst of the Village, it boasts salmon burgers with labneh, smoothies of every fruit imaginable, and even sky-blue lattes.
The journey to build Parakeet started years back with a spark of an idea: Mrs. Roizen-Goldwasser and her husband Mr. Jonathan Goldwasser partnered with Juice Crafters — a health and wellness juice bar in LA. Mrs. Roizen-Goldwasser discovered Juice Crafters while getting her Masters of Arts in Spiritual Psychology at Santa Monica University.
"I loved everything about [Juice Crafters]," she explained. "Everything was organic, amazing. Super well-curated, super creative. The menu was perfect." And so, she told her husband, "We need to bring it to San Diego because there's nothing like it here."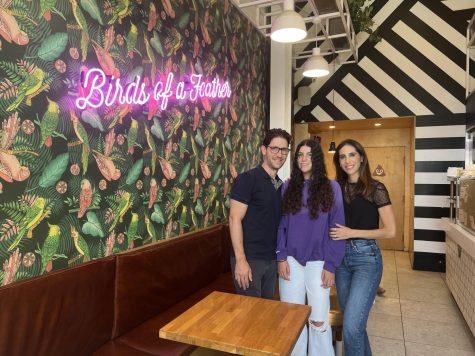 And they did just that. The Goldwassers first opened four Juice Crafters locations in San Diego. Then, in 2017, they opened the first official Parakeet in the La Jolla Village. Currently, they have nine Parakeet locations in San Diego and plans for a Newport location as well.
Eating healthy and well-sourced food has always been important for the Goldwassers, especially after their youngest daughter, Michelle, was born with a rare disease that led to tumors forming on her lungs and skull. While looking for ways to help her daughter, Mrs. Roizen-Goldwasser soon realized she could impact Michelle's blood count positively through healthy meals, leading her to become "super apprehensive with everything around food," as Mrs. Roizen-Goldwasser explained.
That was "the beginning of the journey" for Mrs. Roizen-Goldwasser. Eating healthy became an integral and irreplaceable part of her and her family's lives. "I needed to hold onto something in order to stay healthy and just keep moving forward," she explained. 
Even after Michelle, fortunately, made a full recovery, Mrs. Roizen-Goldwasser knew she wanted to do more with her newfound knowledge. "I wanted a healthy lifestyle for myself. But also being able to share that with others was something that I knew I needed for myself."
"[Parakeet] was amazing because it gave everything to me," Mrs. Roizen-Goldwasser said. "I found a purpose and said, 'Okay, this is bigger than myself. And I can use this experience to help other people and have a better life."
To Mrs. Roizen-Goldwasser, making Parakeet a restaurant that brings people together through food is very important. "We have customers that I've seen since day one, that come every day. We built a restaurant for the community," she said. "We really authentically care about the people that come."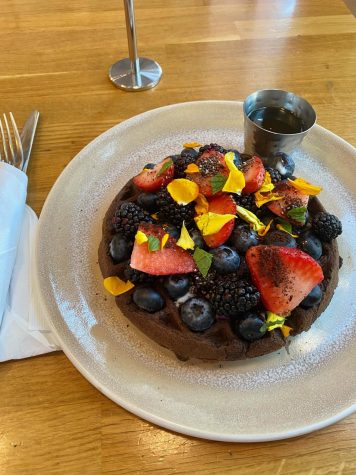 Mrs. Roizen-Goldwasser and her husband's desire for creating a welcoming atmosphere contributed to choosing to open the first location here in the Village. "If we are gonna start somewhere," Mrs. Roizen-Goldwasser said, "Why don't we start where it's part of our community and our daily routine?"
This sense of community is certainly very obvious to anyone who goes to the Parakeet — especially to Bishop's students. "I would always see names that I recognized and then see people that I knew… It's always nice to see faces that you know," said Zenzele Greene ('22), who worked at Parakeet last year. Khoudia Sambs ('22), who also worked at Parakeet, shared a similar sentiment. "My favorite thing about the job was how friendly all of the coworkers were and getting to work with some of my friends." 
In addition to working there, many students are also frequent customers. Lela Felix ('26) loves walking to Parakeet with her friends after school. Sarah Kaplan ('23), another big fan of Parakeet, spoke of its welcoming environment. "I love the owners of Parakeet … they are always so welcoming whenever I come in!" she exclaimed.
Another aspect of Parakeet that Sarah loves about the cafe is the quality of the food. "I really enjoy Parakeet's matcha! It is my favorite thing to get there, and I find it is the best quality matcha tea in La Jolla." She added, "[That] is why I keep going back."
Using good ingredients is central to Mrs. Roizen-Goldwasser's mission for Parakeet. To obtain the best quality possible, they source their food from J.R. Organics. A family-owned farm in Escondido, J.R. Organics, a certified organic farm in Escondido. "Everything starts with just sourcing the highest quality ingredients that we can get,"  Mrs. Roizen-Goldwasser explained. Even though it may be expensive, "We will always honor that super high quality."
To curate recipes that matched this mindset, Mrs. Roizen-Goldwasser pulled from many different sources and was constantly looking for ideas. "I had a note on my cell phone," she mentioned. "And it had a list of the items that I would love to serve, and we just experimented like that." Among other methods, she got inspiration from recipes she cooked at home, dishes from other restaurants, and meals from when she was traveling.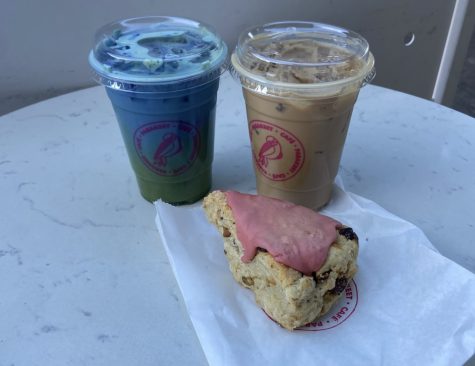 She also took inspiration from cuisines she and her family had personal experiences with. "Pretty much it's bringing to the table things that represent us," she explained. "That's why you see a lot of Mexican-infused dishes,  and also Mediterranean [dishes]."
Creating recipes has also given Mrs. Roizen-Goldwasser a newfound creative outlet. "Creating these amazing recipes with sophisticated flavors and different textures and colors…and the ideas and the drinks and adding a little bit of this and a little bit of that…It's very fun for me," she said.
Of course, running and managing a restaurant is a difficult feat. For Mrs. Roizen-Goldwasser, who characterizes herself as a perfectionist, it was even harder — especially towards the beginning. Yet, she has a very positive outlook on how Parakeet changed her mindset. "I think that's why I opened the restaurant," Mrs. Roizen-Goldwasser said. "I needed to learn the hard way that I don't control anything." She added, "It has given me flexibility in all aspects of my life, and it has been a great learning experience."
And Parakeet truly has been great. For the Goldwassers, for San Diego, and for Bishop's students. It is truly an irreplaceable part of the community.