Winter Sports Profile
A recap of winter sports seasons and a preview into CIF runs
After starting official practices on November 5, 2022, five competitive Bishop's sports teams have been working hard to try to be the best. Girls Soccer racked up some key wins and finished high in their league. Boys Soccer rallied as Coastal League Champions and earned a bye in their first round of CIF play. The Girls Basketball team learned a lot about themselves as a generally young team. Boys Basketball stayed competitive with reputed teams in San Diego and looks to make a solid run in playoffs. And, Girls Water Polo collected their 5th straight Coastal League title to earn the top seed in Open Division CIF. 
Girls Basketball: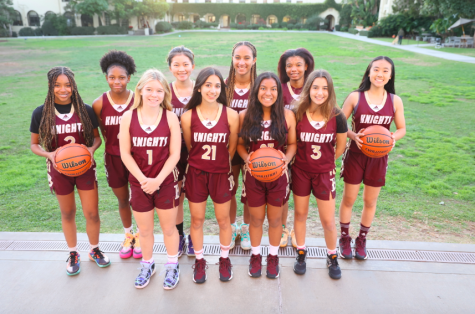 This year, the girls basketball team, led by senior captain Katelyn Wang, has spent most of their time learning to play with an underclassmen heavy team after graduating four seniors last year. Two of the seniors were nominated McDonald's All-Americans and went off to play at the collegiate level. Katelyn describes the season to be completely different. "We had to find comfort in taking care of the ball. It was hard to expect freshmen to act composed. The starting lineup and composition is different. I was inspired but had to be patient."
Heavily impacted with the departure of their seniors, the team experienced several losses, and they have primarily focused on learning from each other. As they welcomed four new freshmen to the team this season, Katelyn likes that they have started "printing out papers to discuss plays and going back to basics to rebuild foundations." Katelyn adds that "rebuilding doesn't matter about record, but about growing forward."
Carrying an already small team of just 10 girls, Katelyn mentions that many have suffered injuries threatening the season significantly. Although it was a big night and not everyone could play, Katelyn marked her senior night as a highlight because "[her] teammates and friends showed up to support" and "really tried to come together as a team."
When most teams get pumped during practice or games, they listen to hype music. With the girls basketball team, Summer Hu ('25) and Malaya Taylor ('25) like to fight over playing funny music. Katelyn says, "Summer plays Pirates of the Caribbean making everyone laugh and have a good time."
Their schedule for CIF is still undecided but as Katelyn looks to the end of her final basketball season at Bishop's she reflects by saying, "things will come to a close. I am proud of everything."
Boys Basketball: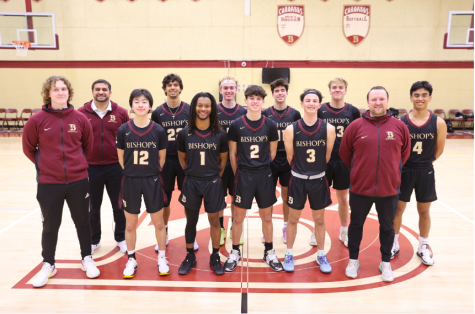 The boys basketball team had an improving season beating out a lot of teams whom they had lost to in previous seasons. They finished 3rd in league and ended the regular season with a 16-10 record, also hitting key milestones such as Tyler Hagan's 1000 points and both he and Luke Ball ('23) earning All-Coastal League accolades. 
After starting the season with a win against University City, the team experienced several ups and downs to end the regular season on a high note. Jake Molinar ('23) analyzes the season saying, "we had a lot of injuries and didn't have our head coach for a few games but still stayed as one team and prospered through the adversities together."
In doing so, the team had to find confidence in their play through music and their leadership. Compared to past seasons, Jake says, "we're definitely a lot better. A lot of seniors had to demonstrate more leadership making us more confident." Before all games, the team "blasts Luke Seltzer's music, especially The Color Violet by Tory Lanez to get us hyped up," Jake says. Depending on whether the game is played at home or away, the boys cheer on other sports to not only hype those teams for their game but to get the team together before their own. "We always have a team dinner before every game so that we can come together before we start playing," Jake added.
Their chemistry came primarily from their joking atmosphere. Jake says, "we keep things light and fun even though it can be tiring" and adds, "when things get serious, we're competitive and get on each other to do better because of the brotherhood."
On Tuesday, February 14 the boys played Eastlake in their first round of CIF at home at 7:00 PM. Although it was a tough one point loss, Jake says that throughout the season "it didn't matter who we were up against, we were competitive and dominant with team chemistry."
Girls Soccer: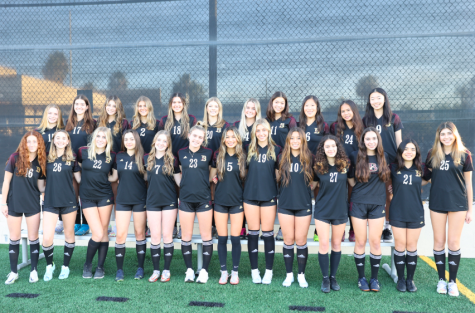 This season, Girls Soccer faced some tough losses against powerhouses like Francis Parker and Cathedral Catholic. Fortunately, they were able to win some away games to rally as 4th in the Coastal League. Primarily sophomore heavy, the girls had to learn how to develop team chemistry in key games throughout the season. Senior captain Jordyn Mariam mentioned "[the team has] a lot of younger players that bring a lot. We used to rely on upperclassmen." 
Learning to play with a younger team was particularly hard with a lot of players having to miss practice and games. "We had a lot of injuries, especially seniors," Jordyn says. "Making sure everyone was healthy was hard. We only had our full team for a few games."
Girls soccer season ended with an away game 2-1 win against Pacific Ridge and a memorable senior night against Francis Parker. Although Jordyn didn't know it was going to be her last high school soccer game ever, she added saying, "Senior Night and the team party was super fun even though we lost."
Although the team didn't qualify for CIF, they achieved a lot of their personal goals. Jordyn says they maintained "a casual playing environment while having a lot of fun. We are competitive and want to win but it's not always about the result for us."
Boys Soccer: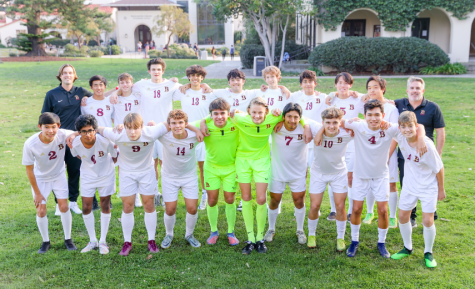 In recent years, the Bishop's Boys Soccer program has faced rewarding seasons, such as making it to the CIF finals just last season. This year, primarily senior and junior heavy, proved to make an even better run, finishing the regular season having a 16-1-2 record and winning the Coastal League. Senior captain Jonathan Negrin argues that this year "[they] have a better team and can win [CIF]."
Last year, the program graduated 11 seniors, forcing the five seniors this year to step up into a new role. Jonathan admitted jokingly, "Yes, there is a lot more yelling from me" and his other senior teammates too. Speaking of which, Jonathan likes that "Kelsea gives a team talk before every game. It hypes some people up."
From winning the league to earning a bye in their first round of CIF, the team has many notable highlights. Jonathan mentioned his very own; "Probably getting my first goal. I scored against Escondido Charter. It was a longshot from 20 yards out top left corner. I play center mid and don't score very often so when I do it's important."
Boys Soccer CIF officially started on Wednesday, February 15, but the boys play their first match on Saturday, February 18 against  Bonita Vista. "For the most part, [this season has] all been up to adversities with injuries and sickness but other than that, it's been smooth sailing." 
Girls Water Polo: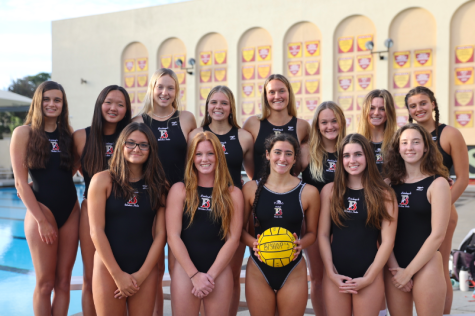 Following in the footsteps of their previous seasons, the Girls Water Polo team leaves an extraordinary mark once again in their 2022-23 season. Finishing 17-8 in regular season with a 7-0 record against San Diego teams and beating Orange County powerhouses Laguna Beach and Newport Harbor, the girls are looking forward to a long run in CIF Open Division. 
Last year, Girls Water Polo lost seven seniors all of which were key starters that now play collegiately. So, five girls had to fill in the remaining positions and senior Lisbon Ziegler said, "the team environment improved because we started with a less talented team compared to the previous year and had to rely on team chemistry more." And the team chemistry became the result of working hard together at so many practices. They dedicated both Thanksgiving and Christmas breaks to three hour practices each day when no other team was on campus. Through bonding activities, they learned to play with each other and work through different challenges together.
The season started off strong with a second place finish in Villa Park and a close game to top seed in the nation, Orange Lutheran. But the season took a turn in the middle and Lisbon Ziegler '23 mentions that the team "struggled with team camaraderie in the middle of season. We had to have a lot of hard talks and conversations." At the end of the season, the team "started finding a rhythm and working together."
Facing a lot of challenges with players and coaches being gone sporadically, Lisbon added that the quote that hypes everyone up the most is "If you change the way you look at things, the things you look at change." 
With this and other inspiration, the team banded together and "beat Newport and Laguna by really banding together to go formal. The program hasn't beaten them in a while so it was really cool," said Lisbon.
This week, the girls beat El Camino 13-5 in the semifinals of CIF after beating Rancho Bernardo 19-4 in the previous round. They now play in the finals on Saturday, February 18 at 7:00 PM at La Jolla High School.