A Short Recap of Shorts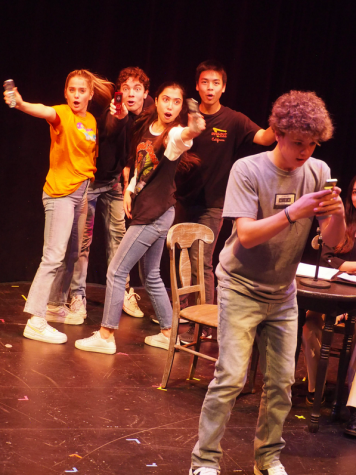 As viewers took their first steps into the Black Box, their eyes were immediately greeted with Valery, played by Emma Madany ('24), staring blankly ahead, occasionally swiveling her head as if examining something. Two weeks ago, Shorts began on a still, eerie note; however, the assortment of emotions it took the audience through its course were anything but still.
As the room settled down, Seagulls, directed by Eliana Nahl ('23), began. Giving us a window into Nahl's experiences with artistic expression, gender, and burnout, the short focused on Valery's telepathic abilities, fatigue from use of them, and her relationship with the idea of a traditional woman's life. Through Valery's interactions with her friend Di, played by Riley Brunson ('25), and Cliff, played by Daxton Gutekunst ('23), the audience gained a personal connection with each character and extension a new outlook into themselves regarding the themes Nahl delves into.
Following Seagulls, Leon Trostky – one of the most prolific Marxist Revolutionaries in the Russian revolution – played by Ben Hollingshead ('24), took a seat in his cozy office, taking notes, unbeknownst to him, in preparation for his murder. The Assassination of Leon Trotsky, directed by James Stutts ('23), showcased Trotsky's final moments, with his assassin Ramon Mercader, played by Raphael Delgado ('24), and close ally James P. Cannon, played by Dane Jorgensen ('24). But why Trotsky? Stutts detailed that "when researching historical subjects, you find people with really strong personalities, and Leon Trotsky is one of those people." He further elaborated: "I think the morality of Trotsky as a character and his assassin are very interesting to compare."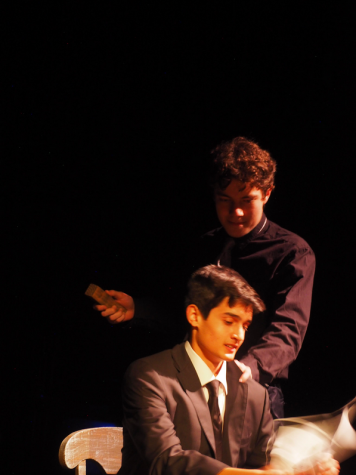 With Trotsky stabbed and his murderer lying unconsciously on the floor, the audience entered The Philadelphia, directed by Mihir Bhagatwala ('23). The audience followed Mark, played by Eric Chen ('24), whose day went completely wrong. When he joined his friend Al, played by Zayd Aslam ('23), at a restaurant, whatever he tried to order from the waiter, played by Bella Bravo ('26), the restaurant didn't have. Everything Mark tried to do, the opposite seemed to happen. That state of being, where everything is going wrong, is called a "philadelphia." But Mark eventually found out he can use the situation to his advantage, asking for the opposite of what he actually wants, therefore turning a frustrating situation into a favorable one. The short, Bhagatwala delineated, "is centered around comedy [based around the struggles of Mark], but has a lot of underlying messages and themes" – one of which being how the change of perspective can completely alter one's circumstances.
Continuing the comedic trend, 1900's Women Bonding, directed by Maddie Ishayik ('23), depicted a conversation between two women regarding the ramifications of gender roles they have been placed into. Balancing absurdist humor with the occasional serious quip, the short delved into women's trauma caused by abuse by their husbands. While Marie and Cassandra, played by Eve Paris ('23) and Catalina McFarland ('23) respectively, smile through most of the conversation, Cassandra can't help but occasionally blurt out her desires to break free from her husband's clutches and murder him.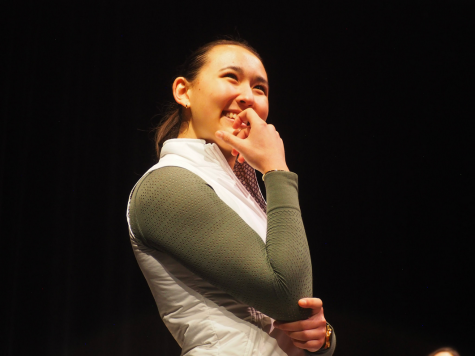 On a lighter note, the next short: I Can't Think of it Right Now, directed by Katy Silva ('23), features John and Marsha, played by Selene Wang ('25) and Isabella Combs ('25) correspondingly. It focused on the comical aspect of a couple forgetting and arguing over the name of a bygone Hollywood movie.  Each ridiculous guess John made escalated the tension and made the audience even more eager to find out what the name was, until finally bringing us to the forthcoming answer: Braveheart. Silva explained "I really just wanted to do something which would make people laugh, kind of a feel good thing." And laugh the audience did. The interplay between John and Marsha, very reminiscent of parents too determined for their own good to remember some arbitrary fact, does a great job of inciting a deja-vu-like hilarity.
In an unexpected twist however, the last short: 21 Chump Street, directed by seniors Kosi Eguchi and Sarah Kaplan, was an exciting musical number based on a true story about racist police and drug abuse. The short starred an undercover cop Naomi, played by Sophia Gleeson ('24), naive high school student Justin, played by James O'Brien ('26), a Narrator, played by Safina Abraham ('25), and 4 cousins, played by Lainie Beamer ('25), Mira Singh ('25), Marcus Buu-hoan (24'), and Raphael Delgado ('24). When Naomi was sent to investigate drug abuse at a high school in a poor community, she found herself being pursued by Justin, who was willing to do almost anything for her affection. So Naomi seizes the opportunity, manipulating the innocent teenager into getting her weed in exchange for a date. Of course however, Justin's unquenchable love for Naomi ends up unrequited, and Justin ends up framed for drug trafficking. Through these events, the short brings attention to corruption in the police force, demonstrating how it targets low-income communities often filled with minorities and wrongfully ruins students' lives.
As always, this year's shorts were incredible; the actors, directors, and crew all did an amazing job, and I have no doubt whatever they work on next will be just as enjoyable. But don't fret if you missed out, as the musical Working, which has much overlap with shorts' cast, will also be in theater later this month!