Belt, Strum, Roar: The 2023 Singers' Showcase
"In the jungle, the mighty jungle, the lion sleeps tonight." You might never have been able to see a lion on stage if it wasn't for the 2023 Singers' Showcase. 
An annual treat to attend, the Singers' Showcase allows members of the Bishop's choir to perform songs that they've individually taken the time to prepare. "We hear the kids sing as a choir all the time, but now they really get to shine on their own," said Dr. Christine Micu, Director of Choral Music, about the event. "It's really fun for me to see their growth from year to year — especially as soloists — and their confidence, expression, and character," she adds. 
And with seniors Sarah Kaplan and Maddie Ishayik MC-ing for the Showcase, laughter filled the transition periods between songs. "I loved how much fun [the performers] had," said Head of School Mr. Ron Kim after the show.
The Showcase was the Starry Knights' — Bishop's' barbershop quartet — last with their senior singer, Maddie Ishayik. The group took on the Showcase finale, singing "The Lion Sleeps Tonight" by Solomon Linda. "I was really happy to spend time with my boys," said Rithvik Raguram ('24), who dressed up as a lion part-way through the song, about his last Singers' Showcase with Maddie. Raphael Delgado ('24) added, "At the end of the day, all we want to do is have fun and entertain people, and I think we accomplished both of those things." 
Additionally, Mihir Bhagatwala ('23) said that the Starry Knights' finale was "equally as flawless as the earlier heartfelt and emotional songs," while also "[taking] a more comedic route." Throughout their performance, the quartet pretended to be animals, doing hand motions and making jungle noises. 
Maddie also sang a number from Company called "Being Alive." The song details the conflicted mind of a man, Bobby, who worries about spending the rest of his life lonely. Sophia Gleeson ('24), Sarah Kaplan, Raphael Delgado, and Kosi Eguchi ('23) acted as Bobby's friends and family in the background, speaking encouraging words to the worried character.
"I really love the song," said Maddie, adding later that, "It's sort of known as one of the songs you're not supposed to sing for auditions. It's a little overdone and I figured that I wouldn't really ever have a chance to perform it except for here."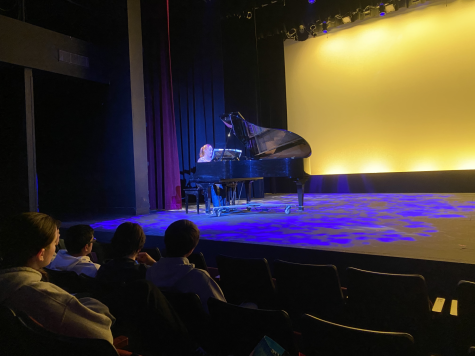 Laurel Daly ('23), who sang two original songs at last year's Singers' Showcase, opted this year for her favorite Fleetwood Mac song, "Silver Springs." At the outset, she wanted to perform another original, so she wrote one the day before her audition. "I really was not in love with the original… so I ended up doing the Fleetwood Mac song, which I was happy with," said Laurel. 
As a senior singer, Laurel hopes to leave a legacy for future Singers' Showcase performers: "I hope someday we get more… singer-songwriters because it's also a great place to network yourself a little bit and have people hear original stuff that they may not have heard before."
As for senior Sarah Kaplan, she sang "Time" from the musical Tuck Everlasting, a song that holds a lot of sentimental value for her. She explained before singing that she sang "Time" in her first musical in fifth grade — she was one of the youngest cast members. Eighth-grader Katharine Pierce said of Sarah's performance, "She was really good and [her song] made me cry." 
Reflecting on her last Singers' Showcase, Sarah said, "It's cool to watch yourself grow as a performer and singer over four years — from where I was when I did this in sophomore year or when I watched it in freshman year — it's a cool little journey," she noted with gratitude. "The thing about being in a choir is the whole point is you're trying to become one voice, and so it's super special that Dr. Micu gives us this moment to be soloists."