What you need to know about the recent surge in illness around campus
You may have noticed more people absent from school recently, or maybe more people with a cough or carrying a box of tissues on campus. No, you're not imagining it: there really are more people getting sick, not just in Bishop's, but also around the United States. 
"The usual number of sick students is 10, at most 15, per day," explained Ms. Eva Flores, who works in Attendance and Student Center Support at Bishop's, "but on Tuesday [November 8] we had a total of 76 students absent." That's about 9% of the student body missing, compared to the usual 1% on any given day.
The cause is most likely cold or flu, according to Ms. Flores, but the Centers for Disease Control and Prevention (CDC) also warned against respiratory syncytial virus (or RSV) which has been traveling quickly across the United States. 
Ms. Flores and the CDC alike attribute the sudden spike in cases to the repeal of some of the Center for Disease Control's guidelines. "We've been in a bubble for so long," she clarified, "that being exposed again to good old regular germs has made us more [susceptible]." In other words, after being protected from sickness for such a long time, our immune systems experienced a shock after we stopped wearing our masks, social distancing, and washing our hands so frequently. 
But despite the strong probability that students are getting common colds or influenza, there hasn't been much confirmation, because parents have been unable to take their kids to doctor's offices. Because of the sudden spike in cold and flu cases, doctor's offices have been overwhelmed by patients hoping to get a diagnosis or treatment, according to Ms. Flores.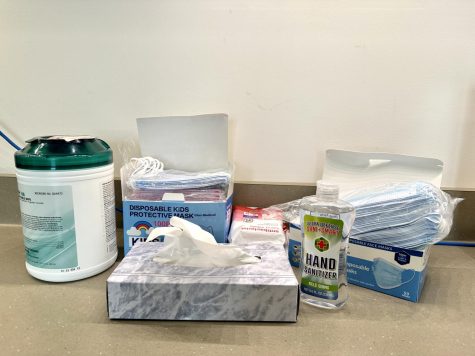 Besides taking the usual precautions — washing hands, wearing a mask, staying home while sick — there isn't much students can do, and even those instructions can be impractical at times. 
Lily Gover ('24), one of the 76 students absent on Tuesday due to a cold, stayed home the first week she was sick but decided to come to school for the second week while still experiencing some mild symptoms. She explained that academics were what prompted her to return, saying that she "had so much to do" and is "in a lot of honors classes and they go through the material so fast that it's really hard to catch up."
But no matter how you have been affected by the recent outbreak in colds and flu, one thing's for sure: COVID will have lasting impacts on the Bishop's community, the United States, and the world as a whole, and this rise in other illnesses is only part of it.