Knights On A Chessboard
How the Bishops chess scene has developed into a thriving community
"It's an entire world of just 64 squares," says a quote from the popular Netflix show The Queen's Gambit. New York Times reports that the number of Chess.com users – a website dedicated to everything chess – doubled from 8,000,000 in October 2020 to around 17,000,000 in 2022. Among these new and old chess players, many are Bishopians who've found themselves swept up in the recent craze.
A major source of chess's popularity are social media stars who've formed an internet chess community. Some stars are people called chess Grandmasters who've started content creating careers on platforms such as Twitch and YouTube. 
On Chess.com, a Grandmaster is the highest obtainable title for chess players and many are an inspiration for Bishopians such as Neil Zhu ('25) and Jasper Jain ('23). Jasper, co-president of the Bishop's chess club, said, "I have a lot of [favorite] chess players…I like Eric Rosen who's a really strong Grandmaster but he also just seems like a good person." Neil's favorite player is Daniel Naroditsky, a 26-year-old Grandmaster from America. "He's very educational and he explains moves in very great detail," Neil explained.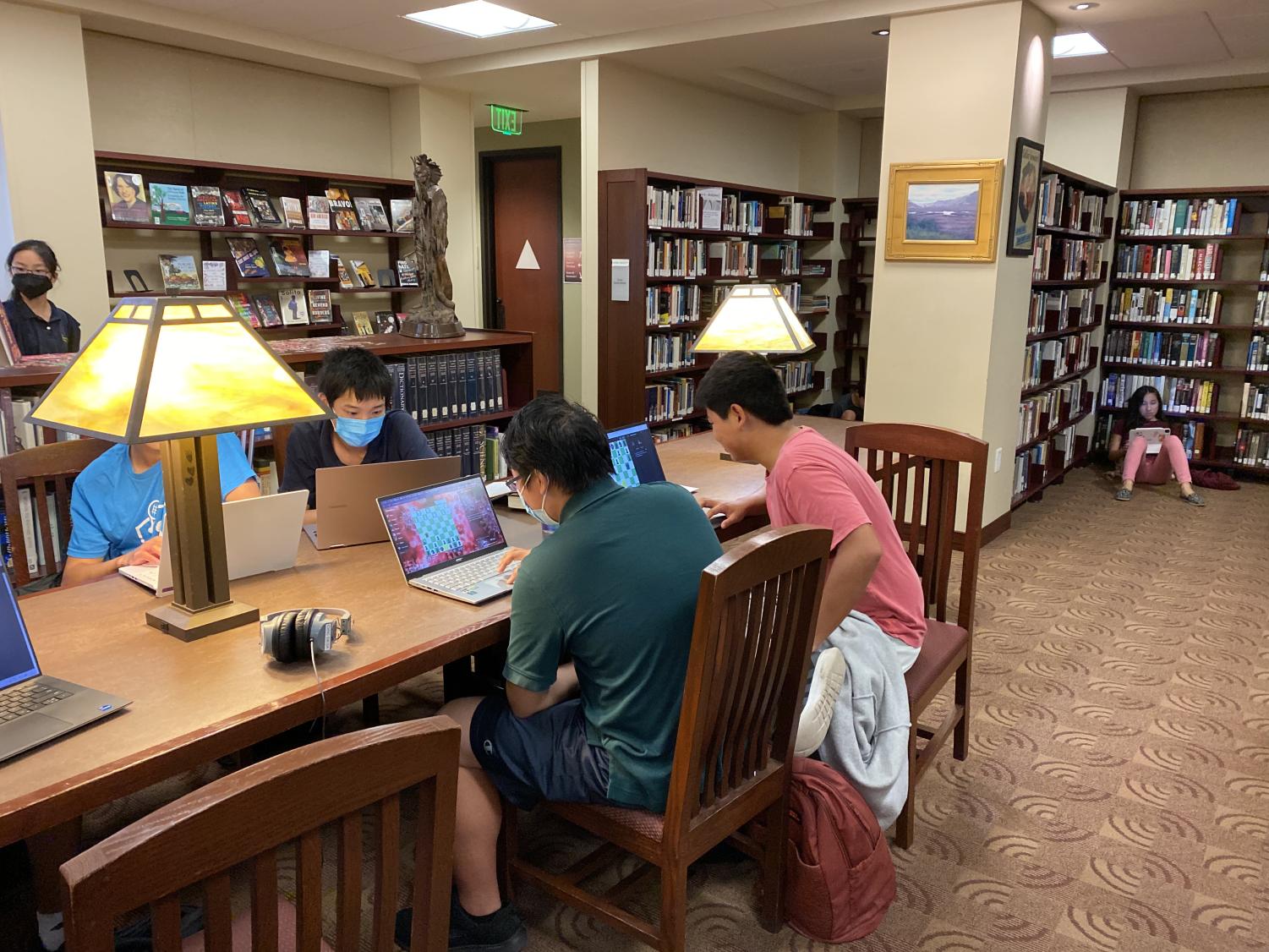 The Bishop's chess community, however, is unique in the sense that others, such as Julia Bonaguidi ('23), can take inspiration from those around her to learn chess. Julia recounts, "I started playing chess at the beginning of my junior year. I first joined [the] chess club because my sports coach made references to chess which I didn't understand. I took it as a challenge to learn how to play chess." She also notes the willingness of many Bishops students to help newer players, saying it "is what makes Bishop's such a special place."
Other players, like Neil, found their beginnings beyond the Bishops community. He said, "I saw my friends playing it…I started playing a bunch of games online and I played in a couple tournaments in downtown San Diego." Now, Neil is in the 93rd percentile of players on Lichess, a website similar to Chess.com. 
The sudden rise in popularity hasn't gone unnoticed. Neil mentioned how he sees students playing chess "everything single free period." This enthusiasm made him describe how "[chess] is way more popular [at] Bishops than any of the schools [he] went to." Jasper adds on to this observation, saying: "I don't think [chess] was that big a few years ago… now there are a lot of people who are really into it and that's across all grade levels."
 Julia attributed the growth to the chess club itself.  "Jasper Jain, Daniel Xu ('23), and Ryan Davis ('23) have done such a great job of building up our school's chess club as well as teaching newcomers how to play the game."Jasper observed "a lot of people who play chess at Bishops started getting really into it and I think we are generating a chess community." He added, "They're realizing that it's a beautiful, creative game." 
Chess's sudden rise to popularity has also brought the spotlight onto recent controversies within the greater chess community. On September 4 at the Sinquefield Cup, Magnus Carlsen, a popular Grandmaster, withdrew from the tournament, implying that his opponent, 19-year-old Hans Niemann was cheating. They were paired again in the Julius Baer Generation Cup where Carlsen resigned after only making two moves against Niemann, according to The New York Times. These actions sparked a flurry of online controversies, debates and theories between the two Grandmasters. 
Chess.com published a report on October 4, 2022, which released information about Niemann's previous matches and his record on the website. As of October 21, 2022, Niemann is suing Carlsen for defamation, and wants $100 million to be paid in damages. 
Neil finds that this controversy, in some ways, can benefit the chess community as a whole. "I think it's not a good event, but I think it's increasing chess's popularity because the news is spreading everywhere," he said. Neil noticed how this has brought more attention to the community and even people who aren't actively involved have become more aware of recent events. 
Jasper noted,"Maybe there have been some sensational headlines…but I don't know if it'll result in people going to the game." Despite this, he added, "A lot of people have come up asking me about it just because I play chess," showing "people are talking about it [and] that's good." 
A trip to the second floor of the library during lunch or X period is often marked by a lively crowd surrounding the two chess sets, signifying the important role that the library has played in chess's popularity. The crowds are a result of Library Director Ms. Alisa Brandt putting out chess sets for Bishop's students last year. 
Ms. Brandt mentioned how there was a similar chess craze about 15 years ago, around 2007. Back then, students played on the painted chess boards outside the Bentham steps which can still be seen today by students leaving or entering the double doors. 
Neil also finds that chess promotes interactions among students. "It's a very social game, you can chat with your friends while playing," he said. "I think interpersonal differences have a way of disappearing at the chessboard and for a few moments that you're there, you just have this blank state" Jasper added, "And it's for that reason that it's very easy to connect with people over the game…You can turn those initial sparks into deeper connections and it's a good way to meet a lot of new people." Julia agreed by saying, "It's sort of like a universal language, or in some cases an "ice breaker." You get to meet new people you probably wouldn't have otherwise had an opportunity to meet." 
While recollecting the various memories that he created through chess, Jasper fondly recalled nights with his friends: staying up "way too late yelling at each other about blitz chess" or trying to find a way around difficult positions. "It's been a lot of fun getting to learn the game with them." 
Julia also remembers playing chess with a random college student while she was on her official visit to UC Berkeley. "I was at a restaurant and a random college student challenged me to a game of chess. I lost, but then I had a nice conversation with the guy. Honestly, that was one of the moments that gravitated me towards choosing UC Berkeley: the spontaneity of playing chess with a stranger." 
Ms. Brandt agreed that chess is "a great social thing to do." She added, "I think it works really well with the students here because it is a mental game; you have to have some planning and thought about your next step." 
The social aspect, however, may not be all positives. Neil said,"It's very fun [to play in the library] but I understand it can be disruptive to people who are trying to study." 
These disruptions forced the librarians to confiscate the chess boards temporarily to help students keep games at a reasonable noise level. Ms. Brandt elaborated on the decision: "The goal of the library is to make it accessible to as many students as possible no matter what their goal is," she said, "We constantly struggle with that balance between being a quiet academic place versus a place where people want to socialize."
At the end of the day, whether you're a Grandmaster or just someone who wants to try something new, chess is a game for everyone. Jasper summarizes, "The good outweighs the bad; it can definitely be frustrating [sometimes] but there are also highs." 
Ms. Brandt said,"chess is one of those games that are timeless…and I think it's wonderful." A lot more people are picking up the game as a result, which is a change that Neil views positively. Neil exclaimed,"Chess should be open to anyone who wants to play…I think everyone can play chess!"