Ben's Top Picks: Best Halloween Costumes at Bishop's
From inflatables to mohawks, here are the best of the best.
Candle-lit carved pumpkins, bags overflowing with candy, horror movie marathons, and most importantly, costumes in every direction.  Despite landing on a Monday, this Halloween was full of spirit, as students and faculty alike went above and beyond with their costumes. From group costumes, dogs dressed up, and inflatables three times the reasonable size, there was a little bit of everything this year. But who did it best? Who went above the rest? Doing my best to stay unbiased, here are the top ten best costumes this Halloween!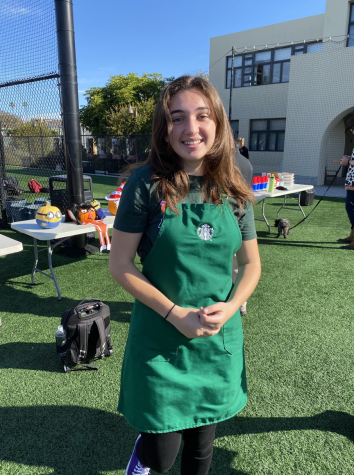 Starbucks Barista: Riley Lincoln ('25)
A costume that so many of us can relate to, Riley's imitation of a Starbucks barista was creative and smart. With the Starbucks branded green apron, Riley places at #10 on the list.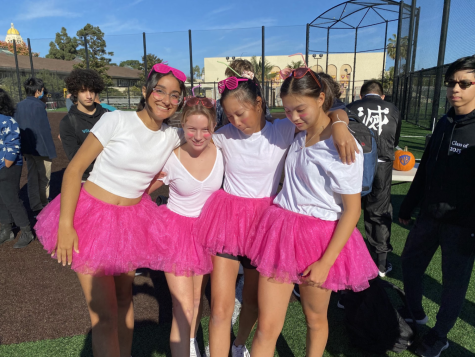 The Pink Drink Group: Sashi Chuckravanen ('25), Emmie Kao ('25), Angelina Kim ('25), Sophia Lampe ('25)
For our ninth place spot, we have yet another costume with Starbucks origins. With "little time until Halloween" and "in need of an idea" as Emmie put it, the group decided to take an abstract approach to the Starbucks pink drink. Sashi explained that although "the idea came together quickly" the outcome was "one of if not the best costume I have done."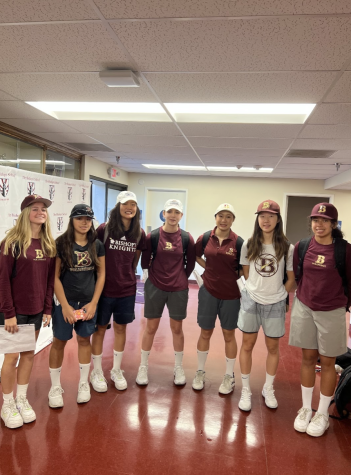 Volleyball Coach Todd Mattox: Lyla Beamer ('25), Sierra Lever ('25), Rebecca Liu ('26), Paige Meyers ('26), Audrey An ('23), Matsa Shi ('24), Nalani Muniz ('24)
An iconic costume for sure, given the group's mass and grade demographic, this costume had members of the Varsity Girls' Volleyball Team dressed as Head Coach Maddox. Its clear Bishop's link and originality earned its place as the eighth spot.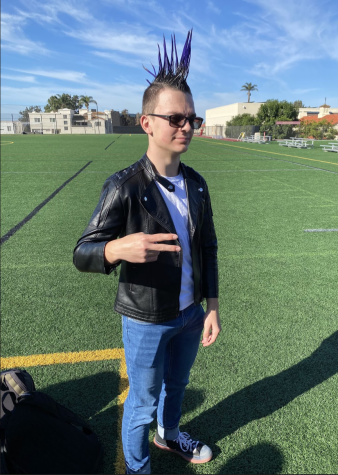 High School Punk: Eddie Hunter ('25)
Eddie Hunter's take on a High School Punk left many laughing, and therefore had to make the list. From the spikiest purple mohawk I have ever seen to the shiny black leather jacket, this costume had it all. Eddie explained that the inspiration behind the costume was his "want to have an excuse to wear a mohawk and to take the leather jacket out of my closet."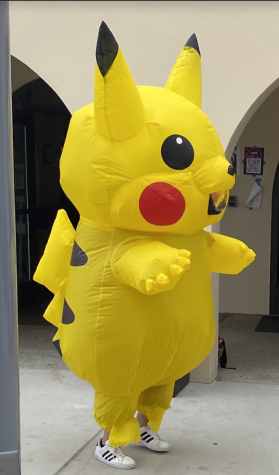 Inflatable Pikachu: Unknown 
Whoever this person was—student, teacher, or faculty—they sure did a good job staying in costume. Not only was I unsuccessful in recognizing who was in this huge inflatable, but I was also unable to find anyone else who knew the face behind the infamous giant Pikachu. Despite this, the costume's size and presence on campus landed it the sixth spot. To this person behind this costume: please email [email protected] if this is you!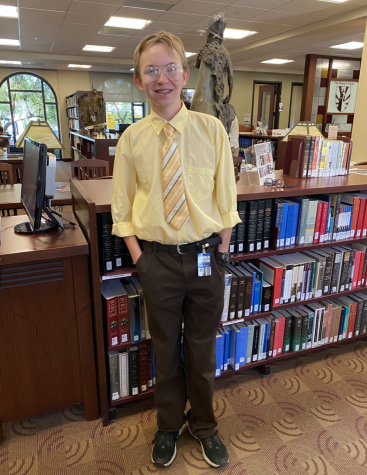 Dwight from The Office: Charlie Freedberg ('27)
This may not be the first time I have seen this costume, but it sure is the most accurate one to date. From the almost dull yellow work shirt to the iconic glasses, this costume had to make the top five.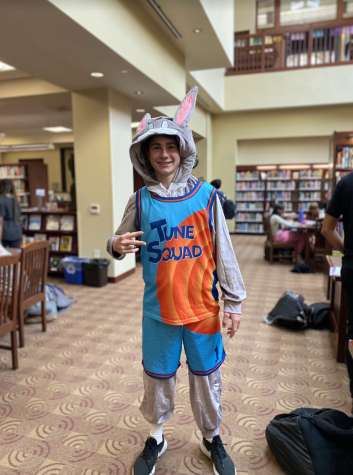 Bugs Bunny from Space Jam: TJ Gibbons ('26)
Looks can be deceiving, and this was certainly the case for TJ's Bugs Bunny costume. At first glance, he may just seem to be another student too cool for costumes, getting away with some sports jerseys. But in reality, TJ was wearing a full body bunny costume with a Bugs Bunny jersey to match the look in Space Jam. That is fantastic. 
Elsa from Frozen: Evan Chang ('28)
Our youngest member to make the list, Evan went for a classic but undeniably noticeable costume. The wig, the dress, the thought behind it, it had to be rewarded. Evan explained that "it just felt right" to wear. Well Evan, it sure does, because you have made the top three.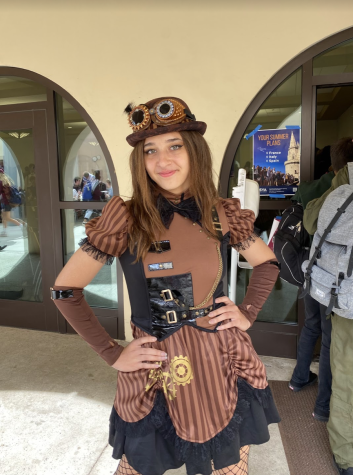 Steampunk: Jazmine "Jazzy" Joseph ('23)
Coming in just short of the top spot, Jazzy's intricate, show-stopping costume of a Steampunk (not a character, but rather an aesthetic). This costume was creative, detailed, and obviously took a lot of hard work. Bravo, Jazzy!
Woody from Toy Story: Coach Charles Johnson (ft. his dog Jorgi)
Coming in at #1, this person was undoubtedly the crowd favorite. Coach Johnson's take on Woody from Toy Story, along with his dog, Jorgi, as Slinky, stole my heart away. For those of you who know Coach Johnson, you know his love for his dog.So to include his dog in his costume, and execute it to perfection: that's just gold. Congratulations, Coach, you are the top dog.