Slava Ukraini: The Art for Ukraine Fundraiser
Over the past few months, civilian attacks, bombings, and other unfathomable situations have become the cruel norm in Ukraine. As a result, various people and organizations all across the globe have come together in an effort to support Ukraine's resistance; and on September 17, Bishop's showed their support in the Manchester Dining Room (MDR) with the Art For Ukraine fundraiser. The occasion showcased both student and adult artworks, snacks for donors, and the Bishop's jazz band to set the mood.
 The event began with two Ukrainian speakers brimming with gratitude and optimism. The second speaker, Viktoria Lebedynska –  who recently immigrated from Ukraine – exclaimed that it would be a victory of light over darkness, a triumph not only for Ukraine but for freedom itself.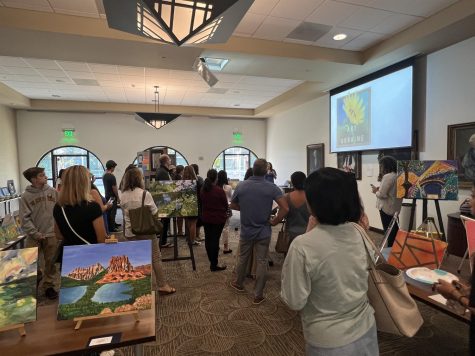 As soon as the event started, the MDR became packed with students and parents, all browsing the large catalog of artwork made by a myriad of students from sixth to twelfth grade, with many of the pieces made specifically in support of the Ukrainian resistance. The gallery featured many paintings of sunflowers, which are the national flower of Ukraine. Head of Art Department Mrs. Wepsic said a majority of those compositions were made recently by sixth graders who were really excited at the prospect of helping Ukraine's resistance, devoting much of their time creating as many sunflower paintings as they could over the last month.
The idea of the event began with Ayden Chang ('23), who ran this fundraiser alongside his co-leaders in the club Learning for a Cause, Juni Raisinghani ('23) and Charlotte Banta ('23). Through their experience of holding other fundraisers – from donating computers to financially unstable Syrian students to creating solar panels to power schools in underprivileged areas – he and the rest of the club were well equipped to make this fundraiser a success. 
And a success it was! They presented 105 pieces of art made by over 60 student participants, and managed to raise over 3,500 dollars. As Juni put it, "It was a great turnout! I didn't expect this [many people]."
Since this year will be his last at Bishop's, Ayden wanted to hold an event which he has a strong, personal connection with. "With the Ukrainian conflict going on right now, I wanted to do something. Obviously, it's not feasible for me to pick up a gun and fight [in Ukraine], [but since Art Teacher] Mrs. Wepsic and I have done a lot of things together, I reached out to her… and this is what we came up with." He specifically wanted to incorporate art into the event in whatever way he could, whether that be visual or musical. Since he's been in the school jazz band in past years, he integrated a live performance into the event while pieces of visual art became the items to be sold.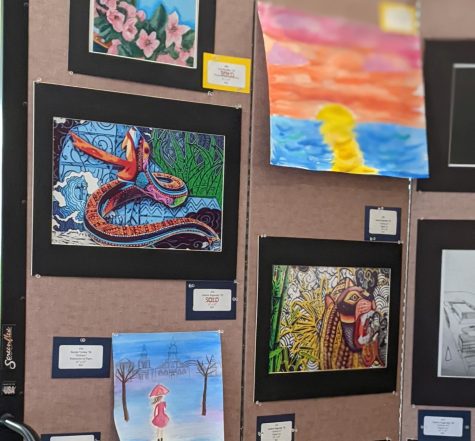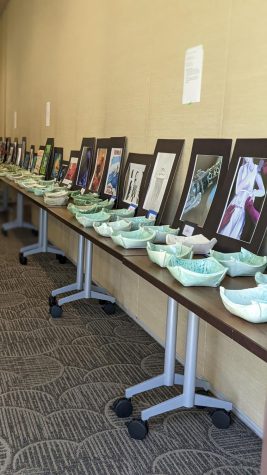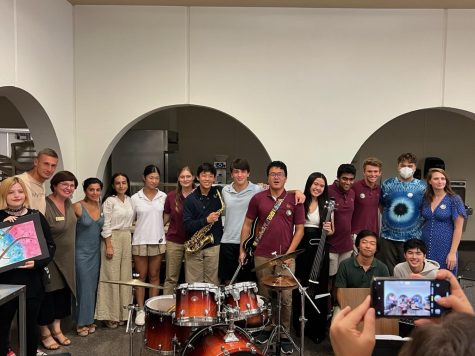 Right in the middle of the collection were the works of Andres Zagursky ('25) – pictured in the image to the left above this text. Highlighted by their vibrant colors, his collection of pieces featured collages of alebrijes, which are sculptures based on mythical creatures from Mexican folk art. They often have exuberant color schemes and contorted proportions made up of a mishmash of various animals' body parts, ranging from lions to porcupines. Andres created these pieces during the "Myth and Magic" project in his art class through various different digital platforms, using a process of experimentation with those mediums to bring the pieces together. When he heard about the fundraiser, he was eager to support the cause, and donated five pieces!
The event came to a close with bustling conversations and a final speech from Ayden thanking everyone for their support. Ukrainian families both in and out of the country are going through some of the toughest periods of their lives, so events like these, no matter how big or small, go a long way in helping those in need. After a very long seven months of war, it may feel endless like an endless and unwinnable fight, but each dollar donated is one closer to victory; and if we continue on this path, the conflict will surely end in Ukraine's favor.