Saying Goodbye to Your First Hello: Mr. Francis Donald's departure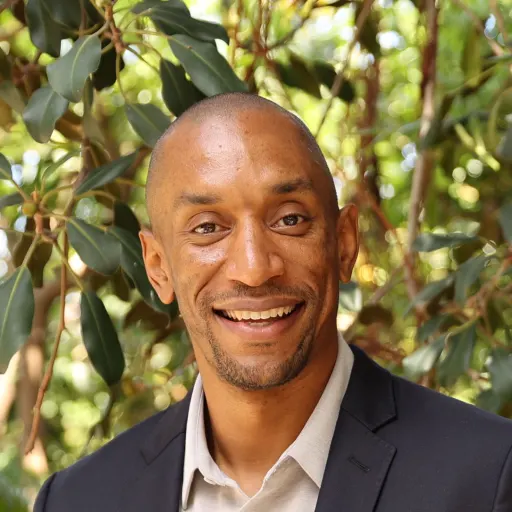 My first impression of Associate Director of Admissions Mr. Francis Donald was during my Bishop's admissions interview. During my Bishop's admissions interview, Mr. Donald eased my nerves with his personable demeanor and comfortable conversation. I admired how he spoke of the lacrosse players he coached, gesturing to their picture on his wall. It quickly became clear to me that he had a profound impact on the students he came into contact with. Later, Mr. Donald became my advisor, and no doubt someone I trusted to talk about whatever was on my mind. 
Mr. Francis Donald has been with Bishop's for six years, all of which he has spent giving his full attention to the admissions process. He also acts as the advisor to Better Bros, a middle school affinity space that promotes positive masculinity, and is the middle school boys' lacrosse coach. "You can often hear his confident tone as he guides families around campus, always methodically explaining to a T the resources and buildings Bishop's has to offer," said Cristian Casillas ('22). "It was bittersweet to hear that Mr. Donald was moving," Cristian continued, noting that he's "invaluable to Bishop's." 
Mr. Donald explained the decision came down to simply moving up in his line of work in the admissions department. "I worked as an Associate Director of Admissions here, and now have the opportunity to be the Director of Enrollment at Pacific Ridge, while being able to stay in San Diego," he shared.
His favorite memory, he shared, has been working with the Bishop's students and faculty. "I've really enjoyed being a part of the community and working with families who are interested in coming to the school," he began. "Through coaching lacrosse, having an admissions role, and working with students, I've seen this community's unity and watched dedicated students grow and get to know it from both sides," he explained. 
His colleague and fellow Associate Director of Admissions, Ms. Lauren Beattie, said that Mr. Donald "brings great energy to the team and keeps us all laughing. He truly has a gift at making people feel welcome and building a sense of community. This is something countless families have felt going through the admissions process, and something I experienced first hand when he helped me transition to life at Bishop's."
Mr. Donald said that what he's enjoyed most is getting to know the diverse lives of Bishop's families within the entire San Diego community. Ms. Beattie spoke to Mr. Donald's attribute of connecting with others, saying, "He meets people where they are and finds a way to connect to each individual. He holds himself and others to high standards and does everything with integrity, pushing those around him to be better. He will leave his mark in many areas: lacrosse, Boy Band, Better Bros, middle school advising, and so much more."
Mr. Donald also described his appreciation for the well-roundedness of the students he's observed. "Within the school, it's been really nice to work with Bishop's students who not only care about their school a lot as a student—listening to them talk about their favorite classes—but also the teachers and faculty they are engaged in the community with during their time here."
Ms. Beattie elaborated on the impact of Mr. Donald's departure. "Pacific Ridge's gain will certainly be our loss, but we will send him off with gratitude for all the ways he made Bishop's a better place. Luckily he'll be close by and I imagine we'll see him on campus from time to time, especially if the kitchen is serving his favorite meal, Korean beef, for lunch."
Director of Admissions Ms. Vivien Mallik explained that although she and Mr. Donald have only worked together for a year, she appreciates that time. She said, "He's a consummate admissions professional. I have really enjoyed working with him this past year. I also really appreciate all the ways in which he contributes inside and outside of admissions."
Ms. Mallik elaborated on the significant role Mr. Donald played in helping her adjust to the environment at Bishop's. "Mr. Donald has been instrumental in my adjustment to a new school and new school culture," she said. "He has been able to provide historical context, helpful anecdotes, and sound advice to me as I've transitioned to my role as director of admissions and financial aid," she continued.
Ms. Mallik concluded by recounting some of her most fond memories with Mr. Donald. "We have one-on-one meetings from time to time, just to check in [usually outside.] I also have great memories of our admissions team outing to eat queso at Blanco in the Fashion Valley Mall—one of Mr. Donald's favorite places!"
Mr Donald's presence and valued work at Bishop's will undoubtedly be missed. At Pacific Ridge he will continue his gift, in a more prominent role, of making an impact on the students he is around. We'll miss you, Mr. Donald.