Keeping Up with the Caddies
Strong, tight knit, and successful, the girl's golf team had an incredible season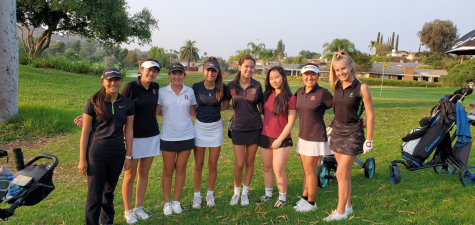 This past season the Bishop's girl's golf team saw their first win in the California Interscholastic Federation (CIF) Division Two San Diego Section match by two strokes; it was their first CIF win, but not the last.
The team is led by two captains Andrea Rix '22, and Grace Sun '23. Although it was Andrea's last season, she described it as: "definitely a fun season, because it was my last," and "what was really fun was the relationships between everyone on the team." The rest of the successful, tight knit team is made up of: Annie Fang '22, Jordyn Mariam '23, Lucy Yuan '24, Sophia (Sopo) Guan '24, Renee Wang '24, Joyce Wu '25, and Ashlyn Garrigan '25.
Big wins were not the only thing that came with the season: rather, lots of new found friendships. In past years, the team has been fairly small, with minimal commitment. Andrea recounted that in previous years they often had to forfeit games due to not having enough players participating, but starting in the 2020 school year there was an influx of commitment and participation. Grace described this past year as, "really [pulling] it together" and making "sure everyone who was on the team was committed." This commitment was prominent with the team's overall domination of the season.
From overcoming big rivals like Torrey Pines High School and Mater Dei High School to riding together in the van, to posting content on their Instagram account (@brummiegolf), the team fostered incredibly strong bonds. Renee said, "We have a lot of trust in each other not just to play well, but also with our lives outside of golf. The team gives really good advice and I know I can tell these girls anything. We have each other's backs." Sopo agreed, "a lot of our team bonding moments happened during van rides to matches—it was great getting to connect with teammates in different grades, that I wouldn't have known otherwise." These girls are here for each other, making their team all the more powerful.
Drive, strength, and positive energy proved this team was not one to mess with. Renee recalled more enjoyable van rides: "We are always playing music like 21 Savage's "No Heart" and talking about things going on in our lives," but the moment they step onto the course "[they] are always determined to hit the best shots and play the best golf we can as a whole." These girls are committed to the team spirit as well as winning matches, and that was illustrated in their domination of the season.
The team went undefeated in the league, with the wins at CIFs, on November 11 and 4, 2021, against Mater Dei High School, and Torrey Pines High School, a longstanding rival, to qualify for regionals in Pasadena. The wins were nail biting, beating Mater Dei by fifteen and Torrey Pines by 2, magnifying the strength of the team.
Grace recalled the day of the tournament, against Torrey Pines, saying "We were feeling really stressed but excited because we had worked so hard for this. We really banded together at that moment." Tensions were high as the score was tied with two groups left to come in. Sopo parred eighteen, which means out of eighteen holes she made the expected score, and the Torrey Pines player then bogeyed, which means she had one over the expected score. The pressure was on.
Lucy, who is ranked twelfth in the nation by AJGA Rolex, needed to par her last hole and the Torrey Pines player had to not birdie, which means doing better than par. She made two excellent shots in front of the water, and her final shot landed two feet from the hole. Grace said "[her] favorite moment of the tournament was when Lucy Yuan had to make her final put for us to claim the win. The rest of the team was standing together and hugging each other waiting for her to make that put and she did and we won." Renee also remembered this moment, "We all collectively jumped up from where we were sitting. She tapped in for birdie, and we all charged down the hill to tell her that we had made it to regionals."
Lucy quoted Steve Nash, who brought his team to victory in the 2005 National Basketball Association (NBA) championship game with the Phoenix Suns, and is the current head coach for the Brooklyn Nets, '"We were excited to win, staying undefeated was the icing" And the cherry on top was defeating the infamous Torrey team at CIFs." A moment to remember, not only did they secure their place in regionals, they had beat their long standing rivals. Even though they did not make it to states, they missed it by just a little, many of them look forward to next season, and hope for the same level of success.