Ellie's Excellent Exhibition
How Ellie Hodges ('22) created her art exhibition, Dear…
Ellie Hodges ('22) is known for many qualities. The baked goods she makes for clubs & affinity spaces, her constant optimism, and her passion and creativity in visual arts. And as a senior, she gets the opportunity to compile her work into a final exhibition showcased in the library: Dear…
With 23 painted and sketched pieces, several photography boards, and a sketchbook, Dear… is an impressive collection featuring strikingly large canvases. The pieces are from Ellie's work across all her years at Bishop's, with one piece from 8th grade. After moving pieces from the art studio at the top of Gilman to the library, the exhibition was ready.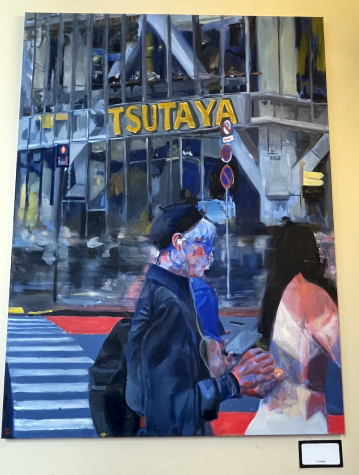 On Friday afternoon, May 20th, the library doors opened to teachers and students interested in Ellie's work. The exhibition will be on display until June 17th. The collection begins with an untitled circular painting featuring a person holding a red balloon. After reading a heartfelt typed letter describing Ellie's feelings of the moment and process of creation, viewers begin a descent down the stairs. The staircase starts with two self-portraits, named "Reaching Out…" and "2AM Accusations." In the corner turn of the staircase, two pieces showcasing city-like environments are visible: a moody room in "Nightclub Music," and pedestrians in "Crossing." Along with the staircase's turn, Ellie's artwork turns to display faces and limbs with intricate patterns, such as in "Tired, Really?" and "Emma, where are we going?" 
Discussing the exhibition a few days prior to the opening, Ellie enthusiastically stated the value of art. She described the value to herself as, "just to be selfish. I see my own art as whatever I want it to say and whatever message I think is important for my audience to hear." She also described her confidence in her art. "I just put it down there and if someone doesn't like it then they don't like it," she said. Ellie's confidence was well-placed, as her exhibition gained positive reception from viewers, receiving many exclamations of "It's so good!" and "Congratulations!
An aspect present in many exhibition pieces is Ellie's art style. She described it as, "I really like confronting people with my work by having huge text and making them uncomfortable with bold colors and abstract shapes." This is visible in the pieces "To Dad" and "Blue." The former features a painting of Ellie sitting down outlined in colorful patterns. "Blue" shows the dangers of plastic pollution in the ocean. At another turn, the pieces become multiple canvases, in the complex and colorful "To J."  Ellie explained the origin and the textual message. "That piece is the first time I did a really abstract shape as the central part of my work. Later on, I felt it needed something," she said. "[Visual Arts Teacher] Mrs. Elizabeth Wepsic asked, 'what about text?' So that was the first piece in sophomore year I ever put a message on my piece."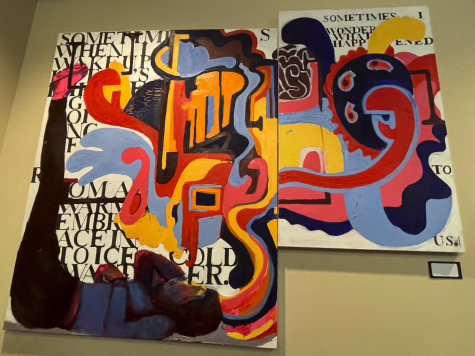 Nearing the bottom, a standout piece is a large 3-canvas piece, To K. "That piece was responding to a friendship that was ending at that time. I could channel my feelings of that experience into the piece," Ellie explained. "I started out with a chunk of charcoal as big as my hand. It was really thick and I sketched this thing out super loosely and when I was painting the brush was as wide as my hand. And I just put huge clumps of paint," said Ellie of the process. 
 The end of the exhibition also displays a series of smaller artworks, including pieces covering LGBTQ topics such as "Looking back," portraits in "The Lonely Realism" and "From Pennsylvania at 4am," and an untitled translucent piece.
In addition to the art pieces, the bottom of the staircase also has a sketchbook titled "Doodles!", featuring smaller works. There are also wooden boards featuring photographs of research for pieces and unfinished pieces throughout, such as "To K" and "To Dad."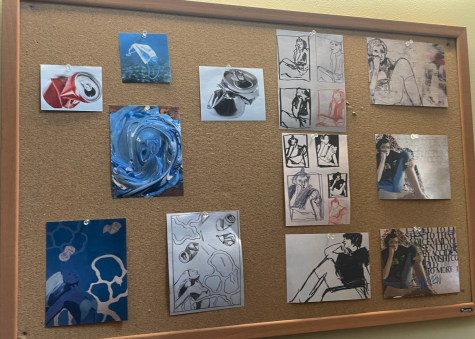 Ellie discussed her reaction to painting and creating art. "I have always found making art really therapeutic in the sense that it helps me release a lot of emotions." Ellie did mention some of the downsides of painting, especially with larger pieces. "Whenever I'm painting and drawing a piece, it's a pretty aggressive process. They are very physically taxing, pretty emotionally taxing but at the same time very therapeutic," Ellie said with a sense of retrospection.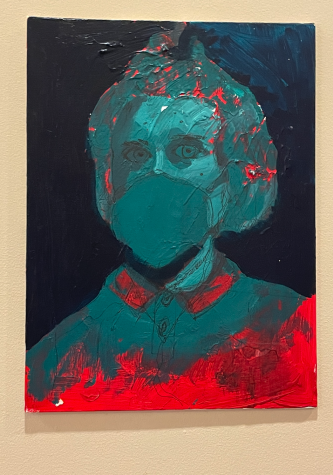 Ellie felt that "To J" showed her personal growth in art, and noticed her current view on the piece. She felt, "Even though I can look at it from a senior perspective and be like 'that proportion isn't right, I should've done this,' In terms of development it took me the farthest as an artist." Ellie is extremely proud of this exhibition, and as she said in her opening letter, "Now that I'm here, I'm left wishing that I could make just one more piece."