Micro-Trends are Polluting Fashion and Our Planet
This year's Coachella festival was dominated by fast fashion micro trends.
Coachella, a music festival in Indio, California, has been hosting music artists, of all genres, since 1999. The first Coachella weekend had 20,000 attendees, but over the year it has quickly risen in popularity with 250,000 people attending the 2022 festival. It is also one of the most fashionable festivals of the season, according to The Guardian. "I think Coachella is one of the events where music and fashion mix really well," Grace Dabir ('24) expressed, "this year I was a little underwhelmed with the fashion side of the event."
After a two-year pause, Coachella saw its return, but many of this year's outfits were some of the most disappointing fashion-wise: micro-trends dominated fashion, clashing with the usual sequins, fringe, gladiator sandals, cowboy boots, form-fitting clothes, vintage inspired looks, and flower crowns, which have been the same since Kate Moss' revolutionary outfits at Glastonbury in 2005. 
Micro-trends, in a fashion cycle, are supposed to last around three to five years. However, with social media platforms like TikTok, micro-trends life cycles are accelerating. With micro-trends lasting barely longer than a season, fast fashion is on the rise and so is the amount of carbon emissions the fashion industry is producing.
Festival fashion on its own is polluting. A 2019 study by Teen Vogue revealed that 7.5 million festival outfits are single-use. Single-use outfits are designed to be worn only once, then discarded, as they are manufactured with synthetic fabrics. These fabrics are cheap and when thrown in the washing machine and dryer, may melt due the hot water. While these clothes not only burn fossil fuels while being manufactured, they also take about 200 years to biodegrade. Micro-trends only enhance this process by promoting fast fashion, especially with their fashion cycles growing shorter and shorter.
The fashion industry as of now makes up 10 percent of the world's carbon footprint, and by 2030 it is expected to make up 50 percent. Brands like Shein produce seven hundred to one thousand new styles daily, often jumping on whatever new trend has taken social media by storm. This issue worked its way into Coachella fashion this year as well. Many prominent influencers were seen wearing micro-trends.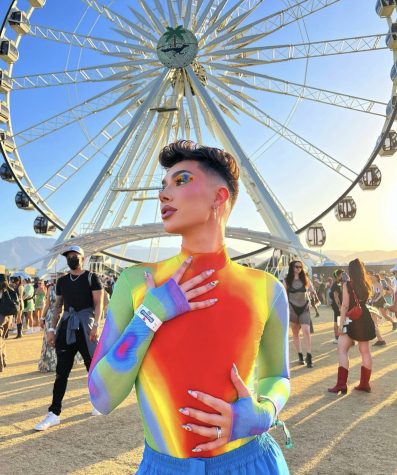 James Charles, a famous Youtube makeup artist, wore this infrared-thermal lighting bodysuit on day three of Coachella. The infrared-thermal lighting micro-trend started with the 'Touch Me Jeans' from Jaded London released on October 3rd of last year, and has since been screen-printed on about every clothing item by brands like Amazon, Shein, and Poshmark. Shein is an extremely cheap clothing brand that releases 700 to 1,000 new styles daily. Shein is a major fast fashion brand as 70 percent of these styles barely stay on the website for more than three months, according to Retail analysts Edited reports.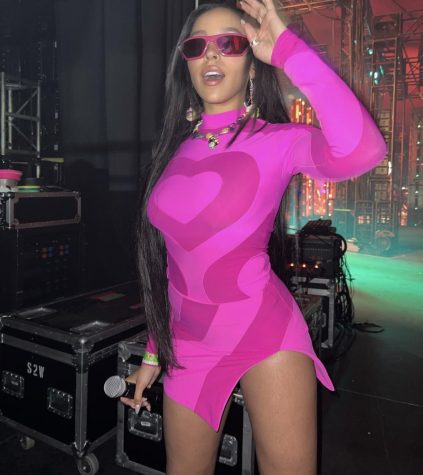 Tinashe is a singer and songwriter and posted in this screen-printed pink hearts dress. Seeing this brought me back to the blue and pink heart sweat vests that were all over TikTok during the pandemic. Since then, the design has been exploited by brands such as AliExpress. AliExpress is part of Alibaba, China's Amazon, and is known for being a fast fashion brand. AliExpress often uses screenshots of influencers wearing a clothing item and sells it for a much lower price, according to Vice UK.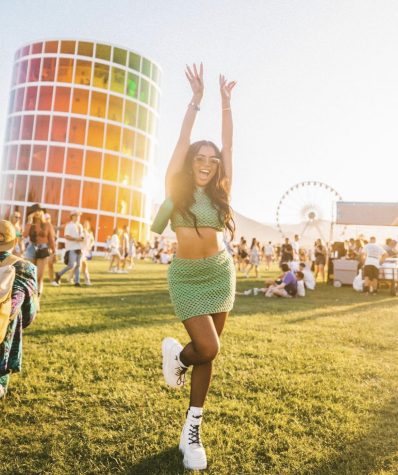 Adelaine Morin is also a famous YouTuber. She wore a very similar outfit to that of Sierra Furtado, and many others. It is already an overused look, in just one festival and it will not last much longer in the fashion cycle.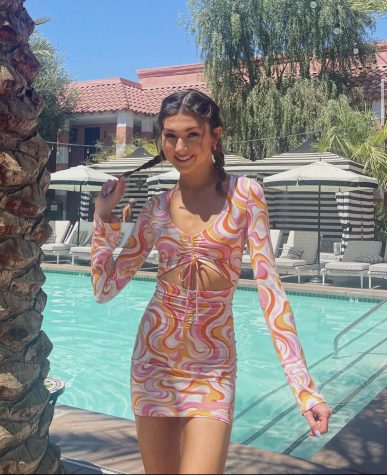 Kate Bartlett, a fashion TikToker, wore this screen printed 70's squiggly lines dress. I have seen this print on tops, jeans, and about everything Shien can get its hands on. This micro-trend surfaced on TikTok over the middle of the pandemic, and had mostly been retired until Coachella.
Madison Lewis, a famous TikToker, also wore a crochet skirt, but instead of a matching set, she paired it with a chain maille mesh top. The chain maille mesh top seemed to be a staple this year, seen on Ellie Thumann, and Hannah Taylor. Since the Prada rhinestone embroidered mesh top took TikTok, countless dupes and similar tops appeared on the market. Specifically, from Amazon, which outsources to carry fast-fashion sellers.