More About Moores
"This is a little weird, but I do indoor skydiving as a sport," said Allison Moores ('26) when asked about her hobbies outside of school. With Allison, you never know what else you might discover, whether it be her dystopian novel, her impressive range of academic interests, or the 11 chickens that her family owns.
Allison's book, Murderer's Blade, will be released as an e-book in March, and the paperback arrives in June – making her one of the youngest published authors ever. For a more in-depth interview centered around Allison's book, see the News tab on the Bishop's website.
Allison came to Bishop's in 7th grade–the unfortunate year of 2020. After starting at a new school on Zoom, she now has a much deeper appreciation for being on campus. "It was definitely harder to make friends while adjusting with COVID," she said. However, the first lockdown did not deter her motivation to pursue her interests, whether old or new.
"Since I was a little bored at the beginning of the pandemic, I actually got into painting and drawing digitally," she said. For Allison, digital art involved finding a reference photo, measuring out where the facial features go, doing the line art, and then adding color. Now, she enjoys working with a variety of mediums, and art appears to be a major aspect of her life. "I love drawing, painting, sketching, everything that comes with that," she said.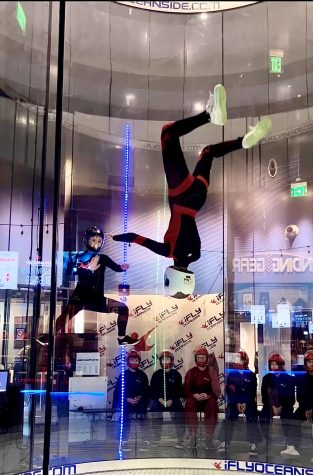 Allison's half-siblings live out of town, but that doesn't mean life at home is boring. "I have a lot of pets," she said, laughing. She has four dogs, three of them being standard poodles and one of them a little Yorkie named Mango. "I had a hamster, but he recently died," added Allison. "He lived, like, three times his lifetime though, so it's okay. And I have 11 chickens," she added, naturally.
When she's not writing, drawing, or tending to her various pets, a more unique hobby of Allison's is indoor skydiving. The first time she went was with a group of friends, and she remembers thinking that it was a lot of fun. "So I went back," she said. "I gradually got more and more into it to the point where I started doing competitions." She practices indoor skydiving regularly now: once or twice every week for 30-minute sessions.
Of course, Allison also loves to read in her spare time. However, she prefers re-reading old books rather than starting new ones. "I like the comfort of knowing what happens," she smiled. Her favorite series of books to reread is the Red Queen series. Her eyes lit up as she explained, "It's about a world that's separated between two different colors of blood, the silverblood and the redbloods," gesturing with her hands. "The reds are taking over and controlling the world – it's a really good story."
Seeing that reading and writing are such avid passions for Allison, one would quickly predict her favorite subject in school. After considering the question, she responded, "I love all subjects, actually." She is deeply interested in science, specifically epidemiology. "I really like studying the science of diseases, as well as microbiology," she said. This interest of hers goes hand in hand with math, which she enjoys as well. At Bishop's, Allison is a year ahead in math class.
And of course, she has always loved English class. "I used to meet with this one teacher and we would write poetry during lunch," she recalled. "It was so fun." Allison has had many inspiring teachers over the years, but she is the most inspired by her mom, who is from Ukraine. "Despite being extremely poor growing up, and going through the cold war with Russia and everything, she still managed to get her Visa, come to America, and start up her new life," she said with an air of admiration.
With so many fields of study to choose from, Allison finds herself changing her mind at times. "If you asked me a month ago what I wanted to be, I probably would have said I wanted to go into epidemiology," she reflected. "But now, I'm sort of unsure. I'm still planning to continue in that field, just not necessarily for the big future."
"I listen to a lot of different types of music," she said. "One day I'll think, you know what? I'm only going to listen to this type of music, and another day I'll think, no, I'm only going to listen to this." This reflection proved to be parallel with Allison's extracurricular life – with so many impressive talents, she has a variety of options to choose from.
"Allison has accomplished so many things even though she's barely thirteen," said Allison's close friend, Kayla Pfefferman ('26). "She's such an overall amazing person and I think it's super cool that she was able to write a book by herself. I can't wait for her book to be released in bookstores!"