Making a Splash
A look into the 3-peat CIF Championship Girls' Water Polo Team's success
On January 6 2022, @Bishops_Athletics posted on Instagram that girls water polo was "seeking its 11th section title in 12 years with the leadership of [their] seniors who will be attending USC in the fall."The Tower sat down with Seniors Deming Wyer, Maggie Johnson, Alex Scafidi, Soyoon Park, and Head Coach Doug Peabody.
 The team is already at a 10-2 record and with their goal for the year on winning their fourth straight Open-Division CIF Championship.
Coach Peabody said that his team that his team "hass had amazing successes in and outside of our county with tournament championships, league championships and CIF Titles.." When giving an estimate to how many girls they've sent to play at the collegiate level,, he said that they have sent "somewhere [near] 55 girls" and and that "we are very proud of that number." 
This number starts with friendship and a strong sense of teamness among the players. Both Deming and Maggie compared the to a sisterhood.. "IIn the end we are a huge family,," Deming said. Deming said. They both talked about their annual Santa Barbara trip that was canceled this year due to Covid. Nonetheless, they still have fond memories of this trip from previous years. Maggie said, "SSome of my favorite memories on this team have been on our [Santa Barbara] trips. We always visit the famous South Coast Deli too many times, go thrift shopping before seeing a movie as a team, and make a stop  at In-N-Out." Deming also said that it's a good time to "unwind and talk to each other." 
Good friends are able to pick each other up after setbacks. For the team, practice and game uncertainty due to Covid was a challenge. According to Maggie, "was a real challenge. According to Maggie, "long periods of training against teammates couldould be extremely rewarding but also very stressful." Deming also mentioned that sometimes "all you can do is hope" and contin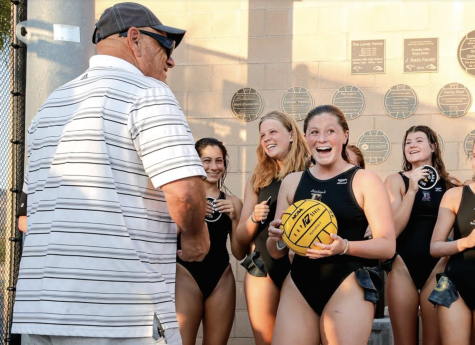 uee to "push through." Soyoon added that "these [tougher] games have motivated us to reflect on the skills that we needed to work on and improve on them." 
The team wouldn't be so legendary without their phenomenal ability to dominate their competition. Deming and Alex referred to something that Coach Ian Davidson often says, "Live with a chip on your shoulder." Deming built on this idea, saying that the team's success largely comes from all the hard work they put in."Our coaches always tell us that we are not defending a championship, but every year we are fighting for a new one," Maggie said. "We work really hard to not get complacent and try and focus on one game at a time." Soyoon agreed with this, saying that during practices everyone is super driven and motivated. "We encourage each other…everyone puts in the hours and goes 100% and beyond during practice and during games," she elaborated.
Although no one has beat the girls in CIFs for nearly three years, the team has had to work hard to maintain winning streak. n other years we have always been the underdogs," Alex explained. "We've had to have fight,effort, and determination." Coach Peabody praised the girls' dedication to the program and the team, saying that their success this year is due to the passion that the girls have for the sport of water polo. "They follow the unwritten rules inside the program of self-sacrifice for the greater good as well as a genuine affection for one another in and out of the pool," he said. 
Maggie said that "the team is so successful because of the culture of the program, [which] values hard work, leadership, and teamwork, rather than individual accolades and individual success." Deming credited their two head coaches, Ian Davidson and Doug Peabody, saying with a giggle, "Doug and Ian are gods of waterpolo" and that she doesn't know how they know "how to deal with each and everyone of us." Deming expanded by saying that they both bring independently fantastic qualities to each practice, whether it be evaluating film or understanding the dynamics and set-up in the pool—all of which are vital for success. Alex also said that the team dynamic is  "not clicky [and] that everyone gets along with everyone"
In their two most recent games they have beaten their opponents (10-22) and (1-22) and it doesn't seem like they are slowing down anytime soon.